Stefan Gabriel, managing director and chief executive of Hitachi Ventures, is one of the 100 leading corporate venturing professionals in our Powerlist this year.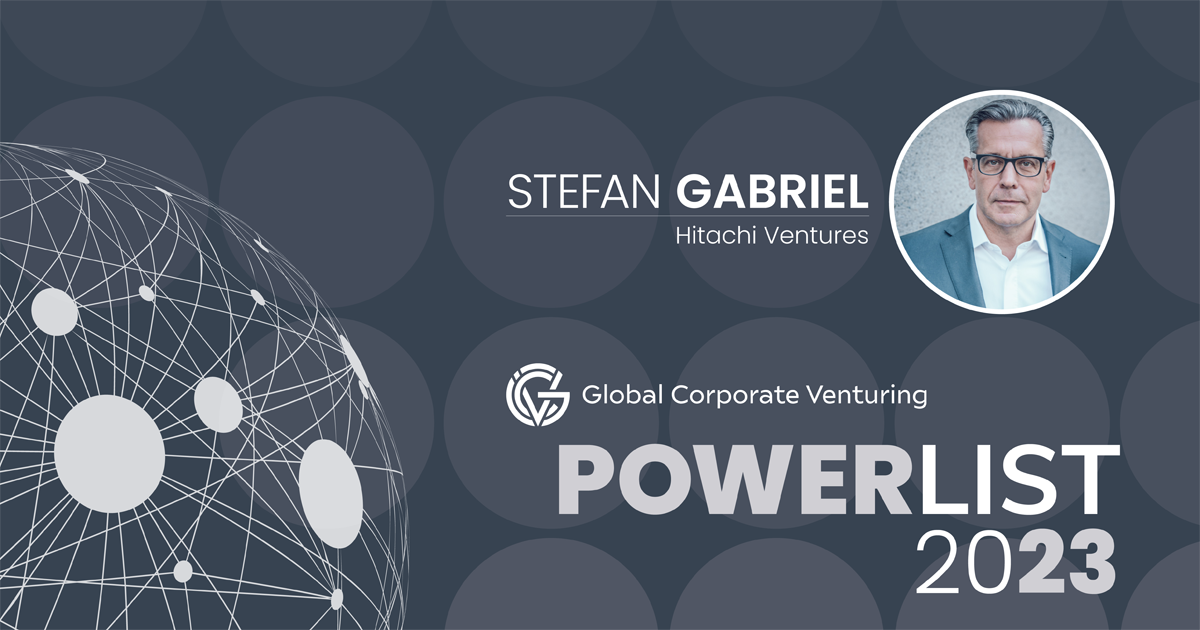 "CVC is the new R&D," says Stefan Gabriel, managing director and chief executive of Hitachi Ventures.
"Strategic corporate venturing adds significantly to corporate innovation and growth. If you invest in minority stakes in startups and foster their collaboration with business units and customers, you will quickly gain a lot of knowledge and insights from new markets, access new technologies and discover business solutions. In parallel, yous hould be a good investor and partner for startups, helping to grow and execute their business plan."
Gabriel, a 20-year veteran of corporate venturing, founded Hitachi Ventures in 2019 and is ambitious about the business value the unit can create for its parent company, Japanese conglomerate Hitachi. The unit aims to contribute to or initiate new business revenues worth millions of dollars for Hitachi over the next few years, Gabriel says.
Gabriel has a specific playbook for strategic CVC, including four key pillars that specifically add value to the corporate mothership: collaboration, strategy, entrepreneurship and culture.
Along with chief finance officer Wolfgang Seibold, he set up Hitachi Ventures to operate independently, while at the same time maintaining a close relationship with Hitachi's senior leadership to exchange strategies and insights to grow new business. Hitachi is the sole limited partner in the Hitachi Ventures fund, but the CVC unit is a separate legal entity, with an independent investment committee. The team will take active roles on startup boards, either as a director or observer.
The ventures team is mostly made up of engineers and scientists with experience in strategy, business development and venture or private equity investing, rather than people with a financial background only, but all come from outside Hitachi and are incentivised in line with the fund's success.
"I report directly to the board, and we all communicate actively and align strategies with all executive stakeholders," Gabriel says.
"We exchange and discuss strategic plans, showcase opportunities and receive good advice from our Hitachi Ventures board. We help Hitachi do deep dives in specific areas and we have discussions around future trends and opportunities, what is happening in this space, how to build or how to grow a business."
Gabriel says that, if set up correctly, strategic venturing is a "tool" that corporates can use to experiment with emerging business areas, too, and inspire business units to expand their business.The most valuable thing an investment can give to a corporate is insights and network, says Gabriel, who was formerly president of 3M's global CVC unit.
"It is not only about the multiples of valuation. Learning from startups to guide new strategies, new business opportunities and understanding new markets, that is what corporate executives really want."
Hitachi Ventures has so far built a portfolio of 21 investments. The 15-person investment team will evaluate 1,000 startups a year, making around eight investments plus numerous follow-on investments a year. The company will invest an average of $5m per deal as a first ticket, focusing on series A or B rounds, but keeps reserves for later stages.The aim is always to find startups that can enter a joint project and collaborate with Hitachi as soon as possible.
Hitachi Ventures works with a team of 14 open innovation and business development experts in the corporate venturing office at Hitachi, whose job it is to help initiate and manage collaboration projects between startups and business units. The two teams have jointly helped set up 80 joint projects between Hitachi and portfolio companies.
Hitachi Ventures recently raised a third,$300m fund, doubling its firepower to $600m. In a few more years the cumulative fund size should reach $1bn. All funds invest in digital, green, energy and mobility and connected industries, with the latest fund adding AI, web3 and B2B SaaS as additional focus areas.
---