Soichi Kariyazono, co-founder and managing partner of Globis Capital Partners, is one of the 100 leading corporate venturing professionals in our Powerlist this year.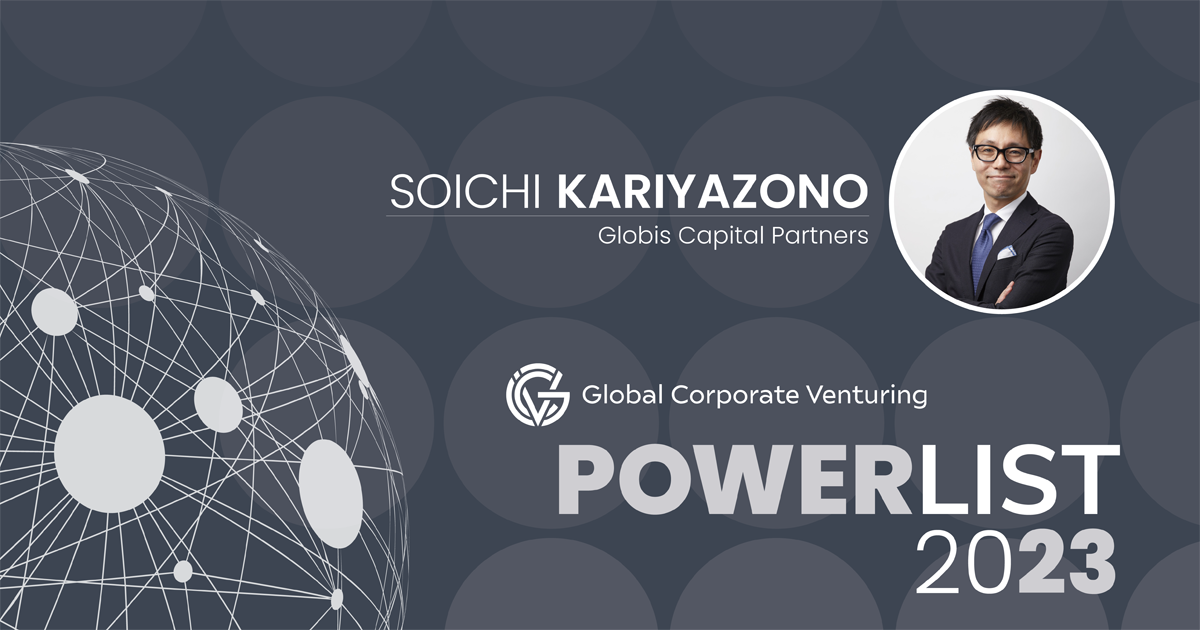 Soichi Kariyazono is a co-founding partner of Globis Capital Partners (GCP), a Japanese venture capital firm closely linked to the ecosystem of education services provider Globis. He has been with the company for more than 25 years, first as fund manager of the Globis Incubation Fund, before becoming a founding partner of the Apax Globis Japan Fund.
Kariyazono has played a pivotal role in GCP's growth over the years. Under his leadership, the firm has become one of the largest fund managers in Japan, raising capital from numerous institutional investors. In April 2023, it disclosed a seventh fund sized at ¥72.7bn ($543m), the largest raised by the firm.
"We are one of the oldest independent venture capital firms in Japan, having started as a business division of the Globis Group," Kariyazono says. "The group has various initiatives including an MBA programme, corporate training, research and publication."
In the late 1990s, the venture capital division became independent through a 50/50 joint venture with Apex Partners. Since then, its management decisions have been separate from the educational arms of the Globis Group, making it a fully independent venture capital firm.
In addition, GCP launched a San Francisco office to strengthen support for the global expansion of its portfolio companies. "Our seventh fund is our largest fund to date, equivalent to around $550m at the current rate," says Kariyazono.
"Our previous fund was around ¥40bn, so we have almost doubled the size. Over the past two years, our team has grown from 15 to 25 people to prepare for a larger fund and to focus on creating global unicorn companies."
The investment unit focuses on deeptech, digitalisation and software-as-a-service companies, and Kariyazono believes healthcare and robotics will be especially important in Japan. In the past year, the firm has invested ¥4bn in seven new companies, ¥2.4bn for five follow-on deals, totalling ¥6bn ($40m).
Around half of the 25-people team are investment professionals and the remainder are deal evaluation and administrative staff.
The GCP team helps portfolio companies with hiring, consultation and other areas. Recently, the unit has focused on changing the mindset of startups from being growth-orientated to sustainability-orientated, emphasising profitability and customer satisfaction. This approach has led to some successful exits, including M&A deals, especially in the healthcare and robotics sectors.
"We have been very mindful of the timing for exits, especially given the fluctuations in the capital markets, particularly in the SaaS area," says Kariyazono. "So while we have not seen any IPOs, we have had a few successful M&A exits in the past year.
"Our portfolio companies are generally doing well, given that the Japanese economy is holding steady. As for our management strategy, we have shifted our focus from simply pursuing higher growth to prioritising profitability and ensuring our companies have a runway of two to three years. We are not in a rush to exit and instead are waiting for the capital markets to open up."
Kariyazono's experience in management consulting at Sanwa Research Institute Corporation and his academic background, including a bachelor's degree in law from Keio University and an MBA from the University of Pittsburgh Graduate School of Business, have been valuable assets in his role at GCP.
In addition to leading the investment unit, Kariyazono is involved in various initiatives that promote innovation and entrepreneurship in Japan. He serves as an honorary chairman of the Japan Venture Capital Association. He also teaches at Globis University, the business school affiliated with Globis.
---