Bill Taranto, president of both MSD Global Health Innovation Fund and MSD Global Health Private Equity, is one of the 100 leading corporate venturing professionals in our Powerlist this year.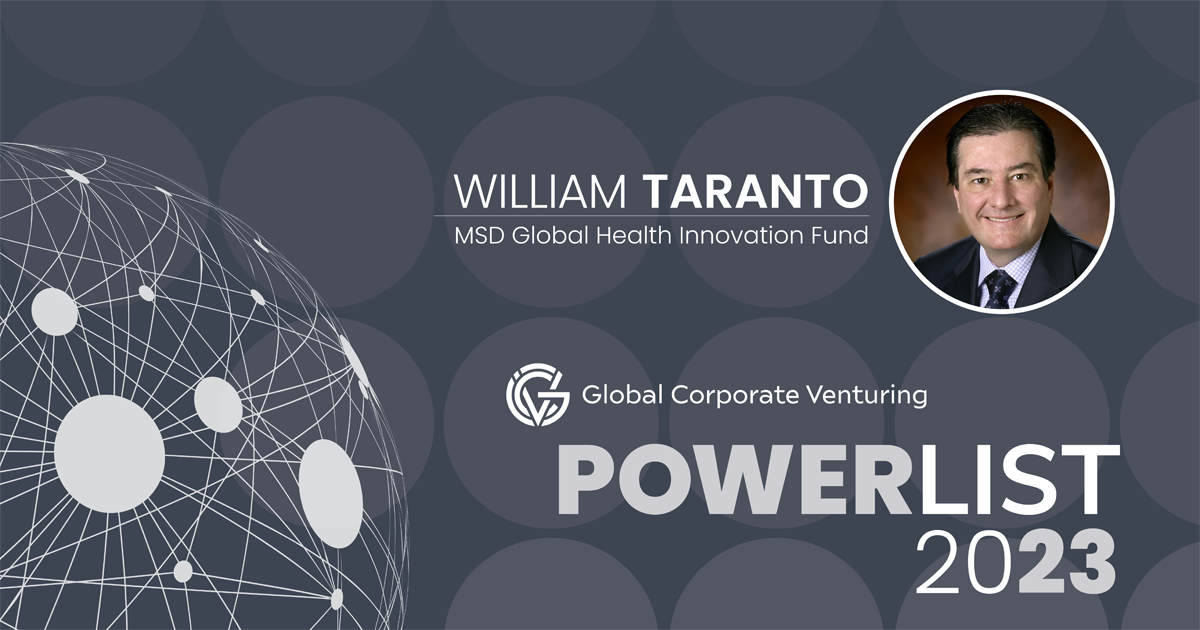 Bill Taranto is president of both MSD Global Health Innovation Fund (MSD-GHIF), and MSD Global Health Private Equity (GHIPE). He is the founder of MSD-GHIF and is responsible for leading the global health capability for pharmaceutical company MSD.
The MSD Global Health Innovation Fund was established in late 2010 as a strategic response to the challenges surrounding MSD's core business of discovering, developing and marketing innovative drugs and vaccines.
Taranto has more than three decades of experience in the healthcare industry. MSD-GHIF is a $500m evergreen fund focused on identifying opportunities that are adjacent to MSD's core business of pharmaceuticals and vaccines. Under Taranto's leadership, MSD-GHIF has invested more than $1bn in 70 companies, with more than $7bn in exits.
The unit's recent deals include participation in the pre-seed round for blockchain-based genomics company IndyGeneUS AI and roles as lead investor on both the $3m venture round for TransVoyant, a developer of digital supply chain services, and the €20m series A round for cancer therapeutics firm Turbine. Other notable investments include PathAI, M2GEN,Navigating Cancer, Syapse, Strata, Precise DX, Trinetx, and Cleardata. Recent unicorn exits include Livongo Health, Preventice Solutions, Ciox and Absci.
Prior to joining MSD, Taranto spent 18 years at Johnson & Johnson (J&J) in various roles. As VP of healthcare strategy and venture at J&J, he was responsible for evaluating and creating new healthcare business models through venture capital and acquisitions. Prior to joining J&J, Taranto spent eight years in investment banking.
---