Kurt Kaltenegger, head of ABB Technology Ventures, is one of the 100 leading corporate venturing professionals in our Powerlist this year.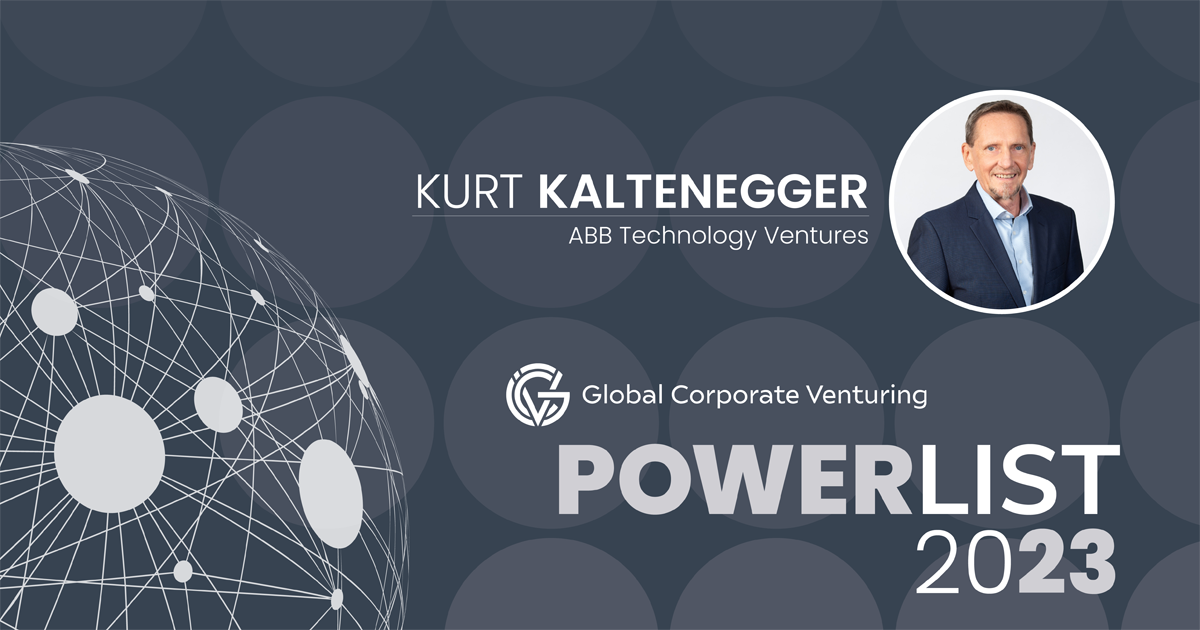 Power and automation group ABB's corporate venture unit has made big steps forward since Kurt Kaltenegger took charge in 2019, resulting in a 2022 where it invested $100m across 13 deals – more than double the previous year and some four to five times the cash outlay.
"When we started ABB Technology Ventures around 2010, we had a typical CVC model where we invested in companies to explore new opportunities," says Kaltenegger, head of ABB Technology Ventures. "We invested in disruptive technologies outside our core technology and core business, just to learn. Our investment committee was anchored into the ABB R&D organisation."
"In 2020, ABB onboarded a new CEO who started decentralising our business organisation. At the same time, we decentralised the venture unit in a way that from 2020 onwards, we were doing venture- as-a-service for the business. It was a type of new business model in venturing."
This new decentralised model means there are four people in the core team, working with staff in the group's four business areas – electrification, motion, process automation and robotics and discrete automation – to find cooperation and partnership opportunities for a strategic investment. The move has helped to turbocharge ABB's VC investment.
"We have teams in these business areas who, with support from our team, are scouting and networking in the startup environment," says Kaltenegger. "And we have a very small and high-level team in the central function. "That means business has skin in the game, and we realised one of the success factors is that when we sign a term sheet, we have already discussed a cooperation plan with the startup. We would not make an investment, and the division would not approve an investment, where they would not see a cooperation opportunity."
Kaltenegger was head of the group's China research centre when he helped form ABB Technology Ventures as its chief technology officer. When unit head Grant Allen moved to Schneider VC, Kaltenegger took the reins. But he does not have a conventional background for a venture capital investor.
"My background is quantum physics and solid-state physics," says Kaltenegger. "I have been at ABB for 32 years and during that time I learned about ABB technologies across the group and was very strongly involved in innovation and technology management."
Kaltenegger initially focused on technology strategy but became more involved in deals as time went on. He moved on to leading teams, and, when the time came, heading the unit was a natural step. "I was growing into that role from a technology background and was learning on legal and the financial side on the job, but nothing was really completely new to me after two decades of technology management in ABB," he says.
"When you are a technology manager in ABB, you have to take care of financials as well and you have some legal exposure, too. You know about IP and how it is handled in different countries, you have to manage teams and you have to build something more or less from scratch."
ABB Technology Ventures' areas of interest include robotics, cybersecurity, distributed energy, artificial intelligence, machine learning, electric mobility and smart buildings, and Kaltenegger pinpoints electrification and industry automation as sectors particularly primed for growth now. But it is not just the technology he finds fascinating about CVC, it is being able to interact with a community that shares ideas and influences how that technology develops.
"If we do four, 10 or 20 investments a year, it is fine, as it is not a KPI," he says. "The most important thing is how it impacts our strategy roadmap and R&D roadmaps, what can we change at ABB on a long-term horizon and how we generate business impact. How many successful partnerships can we develop from that investment? That is more important than the number of investments."
---