Amy Burr, president of JetBlue Ventures, is one of the 100 leading corporate venturing professionals in our Powerlist this year.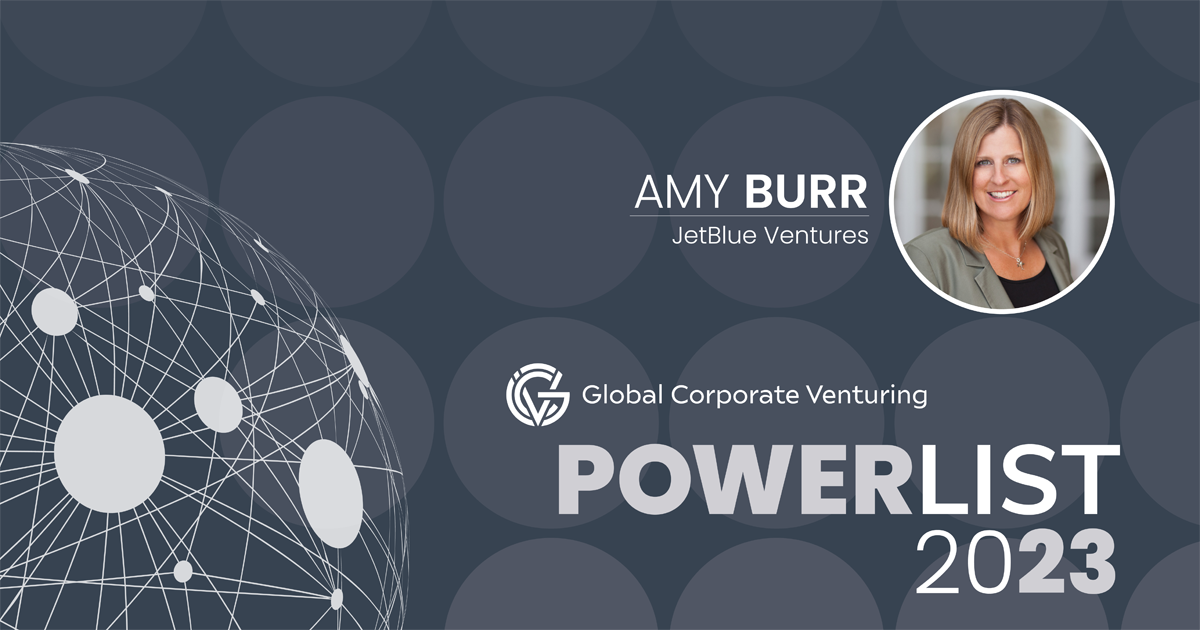 JetBlue Ventures, the corporate venture capital subsidiary of US-based airline operator JetBlue, is led by president Amy Burr. The firm was founded in 2016 and focuses on investments that advance the travel, transportation and hospitality industries. It has 33 active portfolio companies and scored seven exits.
Burr took over the reins of the unit during the covid-19 pandemic and lead it through the difficult challenges that came as most of the travel sector was shut down.
But JetBlue has made the most of the post-pandemic recovery and Burr is especially proud of the team's performance in the past year. "It has been one of our best years," she says. "We made nine new investments and six follow-on deals." One exit occurred in the past 12 months, when ticket management and reservation software company Betterez was acquired by Busbud.
Burr acknowledges the team's strong performance in 2022 was in part due to the macroeconomic environment. The travel sector has proved more resilient than many other parts of the economy. "Our industry has been fortunate to have so much pent-up demand for travel. As a result, we are doing well and are blessed to have strong tailwinds".
Today, Burr is most excited about opportunities in sustainable travel and artificial intelligence data tools to achieve operational efficiencies. Such data-driven efficiency needs are endemic to the travel industry and have room for growth, according to Burr. Recent investments include funding for Shift5, a cybersecurity company specialised in preventing hacks on transport data networks, and backing short-term rental company Frontdesk. JetBlue Ventures also participated in the $25m series A funding round for Kresus, a web3 app that lets uses manage their digital assets.
The CVC unit invests from the balance sheet of JetBlue, but has considerable autonomy. The unit has a mandate to make investments with strategic value.
"The CVC unit has two very real functions – investing for the corporate parent and bringing innovation to the industry," says Burr. Financial performance, however, is still important, "We are measuring total value to paid in and internal rate of return. We are doubling down on our financial focus now." Before assuming her current role in July 2021, Burr served for three years as managing director of operations and partnerships. In this role, she worked closely with the portfolio companies in travel and hospitality, helping to integrate startups into the airline's overall corporate innovation initiatives.
Burr has been involved in the airline and travel industry for more than 23 years. She joined Continental Airlines in 2000, leaving in 2004 to join as a founder of Virgin America. Burr stayed with Virgin America until it was acquired by Alaska Airlines, "I have seen the entire cycle of a startup – the building of the company and the acquisition by Alaska Airlines. I truly can empathise with the founders of our portfolio companies."
Burr leads a team of 12 people – four of whom she hired in the past year. "We have a strong culture," she says. "We are very inclusive in our decision making, ensuring everyone enjoys their time here, while also growing professionally."
Burr credits her mentors for helping her become the strong female CVC leader she is today. "I have had strong female mentors along the way," says Burr. "One of them was Bonny Simi, who co-founded and led this organisation before me. She saw immediately the potential in me to lead, so she taught me all I needed to know about venture capital." As a leader, Burr is admired by her team members and has earned the respect of those who work for and with her. "Amy does a phenomenal job leading the JBV team, and we are looking forward to seeing her continue to bring her innovation experience to life as part of JetBlue's leadership team," says Brandon Nelson, JetBlue's general counsel and corporate secretary.