Erin VanLanduit, head of corporate ventures at Cargill, is one of the 100 leading corporate venturing professionals in our Powerlist this year.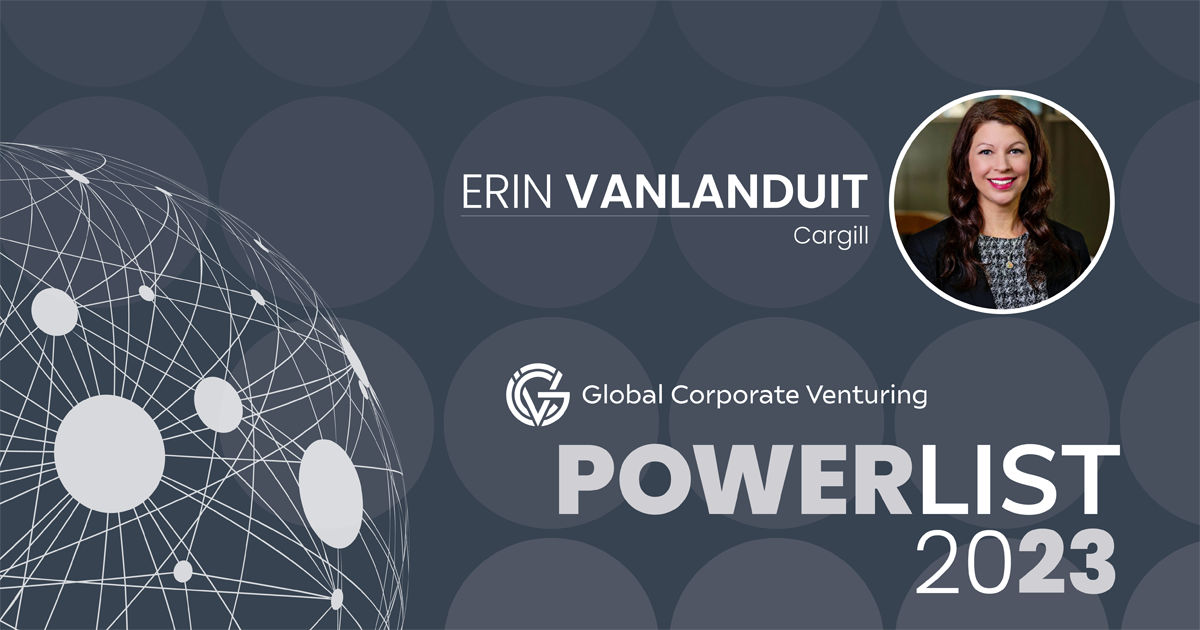 Erin VanLanduit is the head of corporate ventures at global food and agriculture producer Cargill. VanLanduit began her stint at Cargill in 2021, leading its newly established corporate venturing unit, but she has spent nearly two decades working in the food and beverage industry.
VanLanduit entered the food and beverage sector in 2006 after transitioning from her first career as a field artillery officer in the US Army. Since then, she worked across a variety of roles including marketing, brand management, global innovation, M&A integration and corporate venture capital. Her career has spanned organisations including Kraft Foods, McCain Foods, SC Johnson and Tyson Ventures.
"This career path found me," says VanLanduit, "From working initially on the operator side of a corporation and running P&L businesses, I found that I had a passion for innovation and finding new and different ways to help businesses grow."
Cargill's investment unit has a global mandate, with a team spread across multiple continents, supporting dozens of investments all over the world. Establishing career paths for staff is an important retention tool, she says. "It is imperative to create really good professional development plans so that team members are getting the right experience and exposure that they need to grow into their roles," says VanLanduit.
"I expect the best from my staff, so providing them with exposure internally and externally is integral to our unit's success and providing them with the networking and knowledge to grow in their careers and continue flourishing within Cargill."
Cargill Ventures invests in companies that align with Cargill's long-term growth objectives across a variety of verticals such as foodtech, agtech, life sciences, IT and sustainability. Specific investment theses under each of these direct portfolio construction to best support strategic priorities for the organisation.
In response to evolving organisational strategy, Cargill Ventures has spent significant time refining investment theses. This, says VanLanduit, has led to: "The right mix of investments to support a strategic vision for the organisation, while also looking deeper into how we better partner internally with our high-growth businesses."
Since its establishment as a centralised function a few years ago, Cargill Ventures has made a variety of investments across relevant sectors. In 2021, it invested in Bushel, a software developer for the agriculture industry, Aleph Farms, a cultivated protein company, and ReGrow, a carbon MRV technology platform. In 2022, there were further investment in startups, such as Cubiq Foods, a foodtech firm pursuing alternative fat solutions, Grão Direto, a digital commodities trading platform, and Flyability, an industrial drone tech developer.
VanLanduit says Cargill Ventures' status as a corporate venture capital firm has provided a competitive edge and ability to stay active compared with traditional venture capital firms.
"The market conditions at present continue to challenge startups," she says, "We have a tremendous opportunity as a strategic investor to add value to the growth-stage companies we invest in and, unlike VCs that have really pulled back on their investments recently, we are positioned to continue to invest in areas of interest and provide the necessary resources to our companies."
Cargill Ventures is an active member in the VC and CVC ecosystem. The group is a member of the GCV Leadership Society, and participant in ICEX, the information to knowledge exchange network for corporate ventures. VanLanduit is chair of the Global AgriFoodTech Advisory Council for GCV, as well as being involved in organisations that seek to increase investment activity local to Cargill's global headquarters in Minnesota. Increasing diversity in the field is also a focus of the group, through support of women in CVC events and initiatives focused on recruiting from and investing in underrepresented racial and ethnic groups.
---