Mukaya Panich, CEO and CIO of SCB 10X, is one of the 100 leading corporate venturing professionals in our Powerlist this year.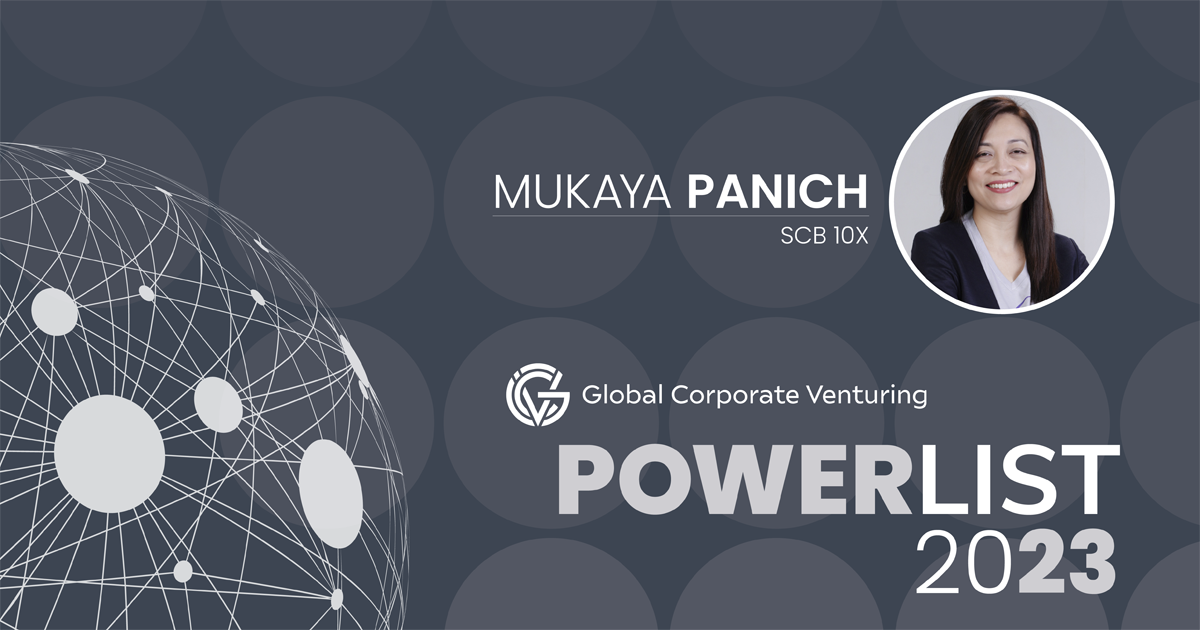 "My passion is to solve tough problems and help entrepreneurs further their goals," says Mukaya 'Tai' Panich, CEO and CIO of SCB 10X, the digital technology investment arm of Siam Commercial Bank, the largest and oldest bank in Thailand.
Since joining to found SCB 10X in February 2020, Panich has been instrumental in driving the firm's investments in disruptive technology startups, with a specific focus on fintech, blockchain infrastructure and artificial intelligence. SCB 10X has made 13 investments in the past 12 months, including new and follow-on funding rounds.
Panich highlights SCB 10X's investment in AI and blockchain startup Together.xyz, a decentralised cloud provider for large language models for AI applications. "Currently, there is high demand for computing power to train large language models for AI," she says. "The company pulls together computing resources from under- utilised GPUs, providing an efficient and cost-effective solution for training AI models, while using blockchain technology to solve efficiencies in payment."
SCB 10X has also incubated and invested in Rakkar Digital, a digital assets custody platform powered by Fireblocks' industry-leading crypto custody technology and network infrastructure. Fireblocks, a portfolio company of SCB 10X, helps institutions store and transfer digital assets safely and securely. Rakkar uses Fireblocks Technology to power its cryptocustody business.
SCB 10X has backed several other companies working on technologies covering blockchain, decentralised finance and AI, including blockchain data analytics platform for web3, Nansen; Talos, provider of institutional trading infrastructure technology for digital assets; and secure cross-chain general messaging protocol Axelar.
"Israel is our largest exposure geographically – we have a strong focus here and have made significant investments," Panich says. "We have also invested heavily in the US and Southeast Asia."
Panich believes the current bear market presents an opportunity for decentralised finance and web3 projects to focus on building and expanding the ecosystem, while paving the way for future innovations. Panich's focus on collaborating with startups is evident in SCB 10X's ecosystem-building initiatives, such as SCB 10X DeFi and Web3 Virtual Summit. The summit, now in its fourth year, brings together top crypto and blockchain founders, industry experts and thought leaders from around the globe to discuss the future of decentralised finance and web3.
Other initiatives include SCB 10X's Venture Builder programme, which offers funding to promising entrepreneurs. Startups selected for the programme also receive mentorship, resources and guidance from SCB 10X's extensive network of partners and customers.
A success for the Venture Builder programme is the crypto-asset and portfolio dashboard platform Ape Board, which it incubated in mid-2021. The startup received seed funding from SCB 10X, along with other investors. It was later acquired by blockchain analytics platform Nansen for an undisclosed amount in 2022.
Panich is focused on driving SCB 10X to be the leading regional corporate VC in Southeast Asia, and for SCB 10X to become one of the leading investors in the blockchain and AI sectors globally.
Under her leadership, SCB 10X has strengthened its team including promoting Pailin 'Pie' Vichakul to be chief operating officer and partner of venture capital, and promoting Unnawut 'O' Leepaisalsuwanna as head of Venture Builder.
With more than 15 years of experience in the investment management industry, Panich was portfolio manager at Pictet Asset Management, where she ran a Pan-Asia fund for five years, specialising in investing in publicly listed technology companies in Asia. Panich has a master's degree in electrical engineering and computer science from MIT and an MBA from Harvard Business School.
---