Donald Wihardja, CEO of MDI Ventures, is one of the 100 leading corporate venturing professionals in our Powerlist this year.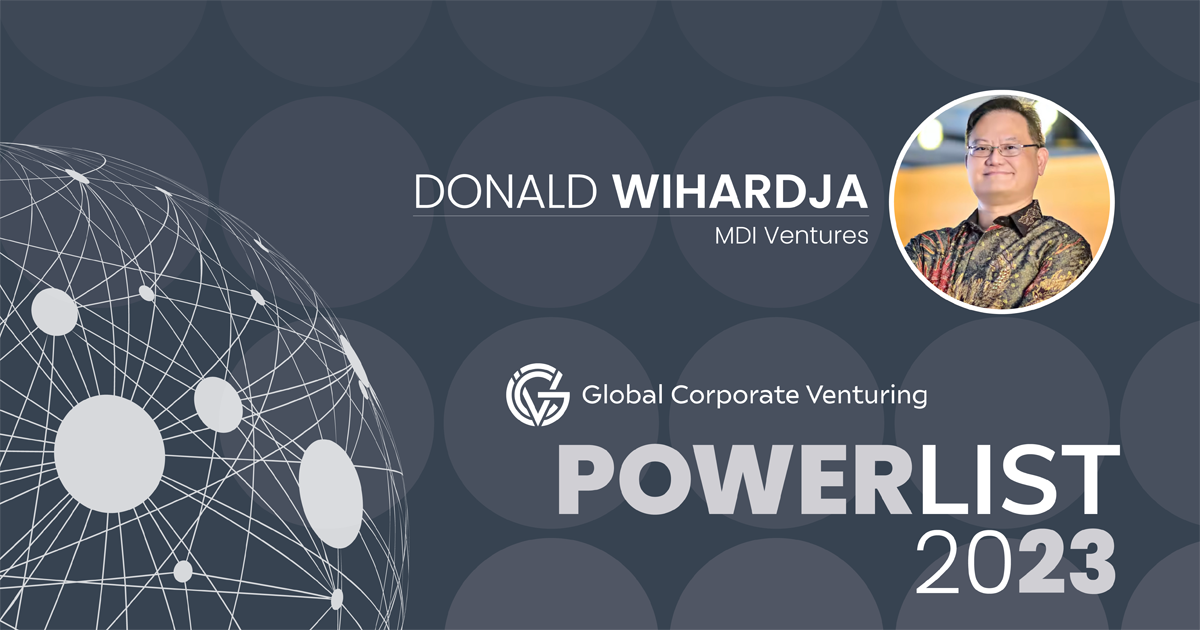 When MDI Ventures was founded in 2015, it operated as telecommunications firm Telkom Indonesia's corporate venture capital arm. Donald Wihardja took over as CEO in 2020 and since then the investment unit has evolved into more of a corporate VC firm.
"We like to call ourselves a strategic VC more than corporate venture capital," says Wihardja. "We are evolving from just taking money from Telkom to doing strategic venture capital funded by Biofarma, which is the pharmaceutical state-owned enterprise for Indonesia, and Pertamina, which is the oil and gas, mining and energy company for Indonesia, as well as a group of companies representing the state-owned agriculture industry."
The model is partly down to the corporate structure of Indonesia, where the largest businesses are state-owned enterprises (SOEs) and the government is keen for them to invest in the startup ecosystem. That has meant considerable growth for MDI which, having established itself as a local corporate venturing powerhouse, is getting requests to form more strategic funds.
"We are fielding a lot of requests from other SOEs to run their VC arm," says Wihardja. The firm already runs seven funds or fund partnerships with entities such as Netherlands-based venture firm Finch Capital and South Korea's KB Financial Group, the latter an example of how it has grown outwards.
"Telkom has been with us for seven years now, but we now have funds that are not only funded by Telkom but by other external, private investors," he says. "For example, our new fund is 40% Telkom and 60% from two banks, one from Indonesia and one from Korea."
MDI has accumulated a portfolio of more than 80 companies and it disclosed 12 deals in 2022. The firm targets startups that are either based in or have a significant part of their business in Indonesia, and its portfolio includes unicorns Mobile Premier League, Nium and Kredivo. Kredivo, which offers credit services to unbanked customers in Indonesia and Vietnam, raised a $270m series D funding round earlier this year, valuing it at $1.6bn.
Recent investments include Good Doctor Technology, the Indonesian healthcare app company, and Legit Group, a cloud kitchen operator based in Indonesia. MDI has also been a backer of Privy, an Indonesian company that provides trusted digital identities and legally-binding signatures.
Wihardja held C-suite positions at contextual advertising network Sitti and digital payment companies Indomog and 2C2P, before spending nearly six years as a partner at venture firm Convergence Ventures. MDI invests throughout Southeast Asia and through to Korea, and local and international startups can leverage his experience on both sides of the fence in Indonesia's early-stage tech scene.
"Although I tell startups that if they get the opportunity to expand, please do so, sometimes I am wary when one of them expands regionally without completely conquering the Indonesian market and they are nowhere near conquering that full market," says Wihardja. "Maybe when you are (multibillion-dollar tech companies) GoJek or Traveloka, you have already conquered the market. But most of the players are just scratching the surface and are still at the beginning, and you need the focus."
The firm takes part in deals from pre-seed to late stage and also runs incubator and accelerator programmes in addition to an angel investment network. As its investment teams are siloed in each fund, it has been ramping up recruitment to support imminent growth plans that include the launch of an impact investment fund, as well as partner funds with three or four SOEs in areas such as biohealth, energy, agriculture and film.
"Building that platform for other state- owned enterprises is what we have to do," says Wihardja. "And building the platform so we can grow a more professional investment team is our job."
---