Tarik Galijasevic, managing director and head of Allstate Strategic Ventures, is one of the 100 leading corporate venturing professionals in our Powerlist this year.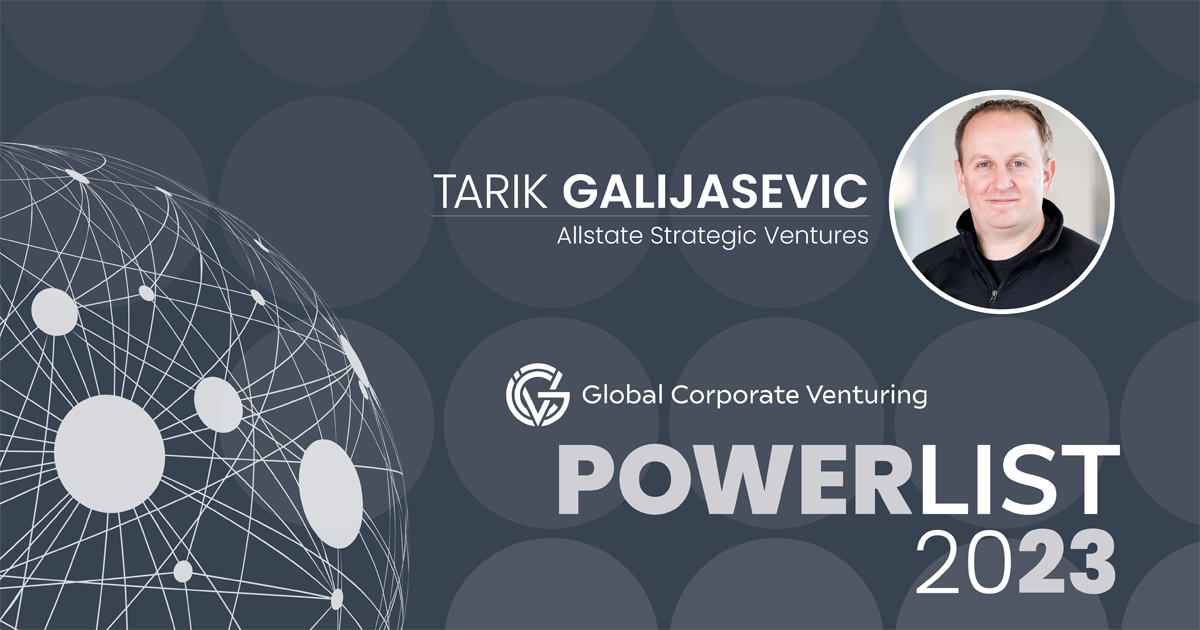 Tarik Galijasevic is managing director of Allstate Strategic Ventures (ASV), the corporate venturing arm of US insurer Allstate. Formed in 2015, ASV invests in early-stage startups and entrepreneurs whose technologies will help shape the future of the insurance industry and adjacent sectors.
When it comes to ASV's investment strategy, artificial intelligence, machine learning and the supporting tech and data infrastructure are investments ASV prioritises since they are crucial to maximising Allstate's potential to serve customers.
"The customer is at the core of our investment strategy," says Galijasevic. "Everything we do is aimed at engaging with them at the point of decision, providing personalised products and services that meet their needs, and serving them as efficiently as possible."
ASV invests in series A to C funding rounds, with ticket sizes typically between $1m and $10m. Since it was founded, the corporate venturing team has expanded from focusing on Horizon 1 investments that bring near-term value to more longer-term Horizon 2 and 3 investments.
Although ASV does not disclose many of its investments, over the past year the team backed five new companies, such as code automation software provider Moderne, and conducted two-follow on deals. Moderne, a US-based startup that provides tools that automatically fix security vulnerabilities in computer code, raised a $15m series A round in February 2023 and ASV took part in the deal alongside Intel Capital.
Galijasevic puts great emphasis on developing and training his team.
"I take immense pride in my team's accomplishments," says Galijasevic. "Through our rigorous training and development programme, we have nurtured several rising stars and emerging leaders who have grown as venture capital investors and individuals."
Francis Lowry, principal at ASV, was one of Global Corporate Venturing's Emerging Leaders for 2023.
"Our efforts have helped them achieve their potential and allowed them to bring innovation and drive positive change in our organisation. It is a true testament to our commitment to building a better future for Allstate."
Over the past year, ASV promoted three members and hired analyst Olivia Bruno.
ASV embraces a flexible work environment and lets employees choose where they work. With ASV team members spread across the US and the UK, they have developed new ways to collaborate and put an emphasis on team development.
"As our team has grown, we have made a concerted effort to provide them with the best learning and development opportunities possible," says Galijasevic. "Our lunch and learns, constant mentoring and focus on market trends have set us apart as one of the top programmes in the industry."
Galijasevic is involved in various organisations and initiatives aimed at promoting innovation and collaboration in the venture capital ecosystem. ASV is a member of the Intellectual Capital Exchange, which brings together CVCs to share best practices and discuss topics relevant to the innovation ecosystem. The team also participates in the Global Midwest Alliance, focusing on bringing funding to the Chicago area.
"I'm optimistic about the future of the industry and the role that CVCs will play in driving growth and innovation," says Galijasevic. "I believe the key to success is being a disciplined investor, but also being flexible to adapt to the changing landscape of venture capital."
Galijasevic started his career at JPMorgan, where he worked in private equity, mergers and acquisitions and capital raising in the transportation and consumer goods sectors. He joined ASV in 2013 after he quickly realised his passion for the venture capital industry.
---