Juergen Eckhardt, executive vice president and head of Leaps by Bayer, is one of the 100 leading corporate venturing professionals in our Powerlist this year.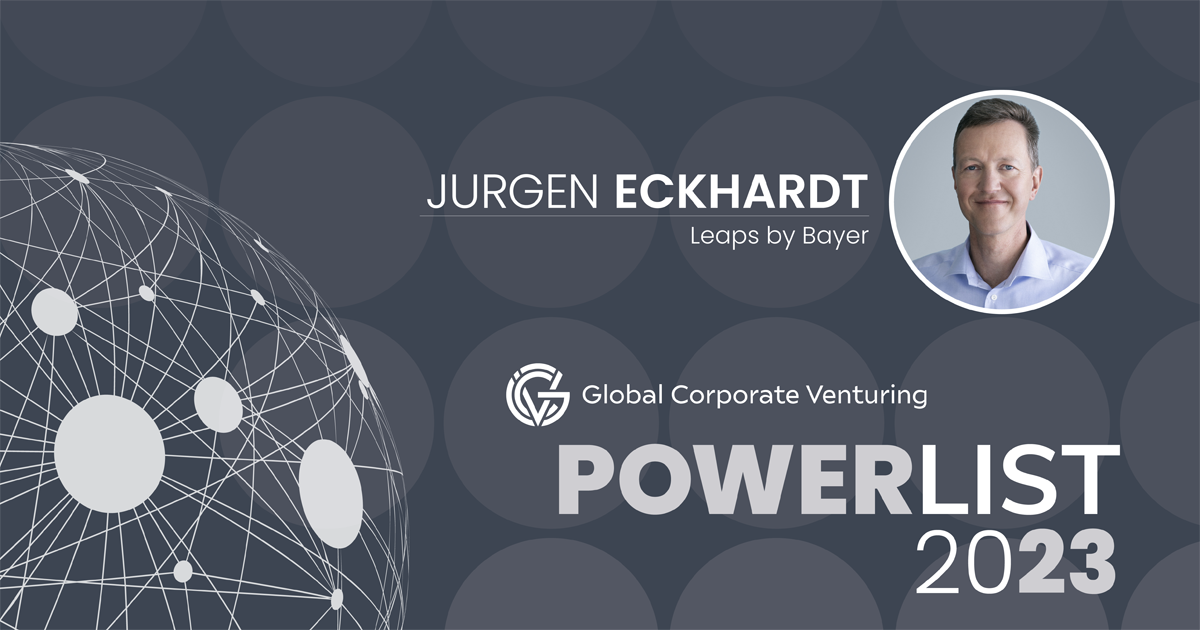 Juergen Eckhardt is the executive vice president and head of Leaps by Bayer, the impact investment unit of Germany-headquartered life science company Bayer.
Eckhardt has a background in both medicine and venture capital. He graduated with an MD from the University of Basel and earned an MBA from Insead Business School. He joined Bayer in 2016 to help develop Leaps.
Previously, he was the head of private equity and venture capital at Bellevue Asset Management and prior to that an associate principal at McKinsey. He started his career as a resident physician in radiology at the University Hospital of Basel.Both careers have taught him the value of sifting through large amounts of information to find that one crucial investment opportunity.
"We see many potential opportunities and we need to find and execute on the best ones, as well as convince the companies we choose to invest in that we are the right partner," he says.
Leaps by Bayer was founded in 2015 and has gradually increased its investing power over the past eight years. It now has more than $1.7bn invested in a portfolio of more than 55 companies. In 2022, Leaps announced a commitment to invest another €1.3bn through 2024.
The Leaps investment focus covers both healthcare and agriculture.
"Life science remains the key focus forLeaps, as articulated in our '10 Leaps' – ten huge challenges that we are aiming to solve by investing in breakthrough technologies. Our 10 Leaps include goals such as to potentially cure or prevent cancer, reverse chronic inflammation and autoimmune disease and reduce the environmental impact of agriculture. Those are all areas that could create a huge impact and where tomorrow's biotech solutions may shift paradigms," says Eckhardt.
Leaps publicly disclosed participation in 15 financing rounds in 2022 and has had several recent exits for companies inits portfolio. The venturing arm has had more than 10 exits in total over the years, including several acquisitions of companies by Bayer.
Last August, Bayer acquired a majority share of the Leaps portfolio company CoverCress, which developed a genetically edited cover crop that can be planted in fields while they are being rested from other
harvests, increasing soil health and creating new opportunities to then be turned into biofuel or animal feed.
One of the Leaps portfolio companies, Recursion Pharmaceuticals, which is developing a machine learning-based drug discovery platform, listed on Nasdaq in 2021 with an initial valuation of $2.7bn.
Recent investments include taking part in the series A round of T-cell-based therapy developer Affini-T Therapeutics. The company's therapies are expected to advance to Phase I trials this year. Leaps also backed the $22m fundraise of Fork and Good, a US company developing cultivated pork using cultured muscle cells. Finding new sources of protein to sustainably feed a population of 10 billion by 2050 is one of
the global challenges that Leaps by Bayer focuses on.
Eckhardt heads a team of 20, including ten VC experts, as well as branding and back-office functions. The team takes a hand-on role in steering the companies in the portfolio, an approach Leaps calls "active incubation", where experienced CVC team members provide resources and strategic planning for the startup.
Despite the difficult macroeconomic conditions in 2022 and this year, Leaps by Bayer has stayed on course and continued investing in the most promising founder teams.
"It is not so different from what we have done in the past," says Eckhardt. "For founders, it is of the utmost importance to have investors on their side who support them in the long run and provide them the opportunity to build a strong, sustainable team, technology and, ultimately, business model. This is what we will continue to do in 2023 and beyond."
---