Jacqueline Lesage, managing general partner, is one of the 100 leading corporate venturing professionals in our Powerlist this year.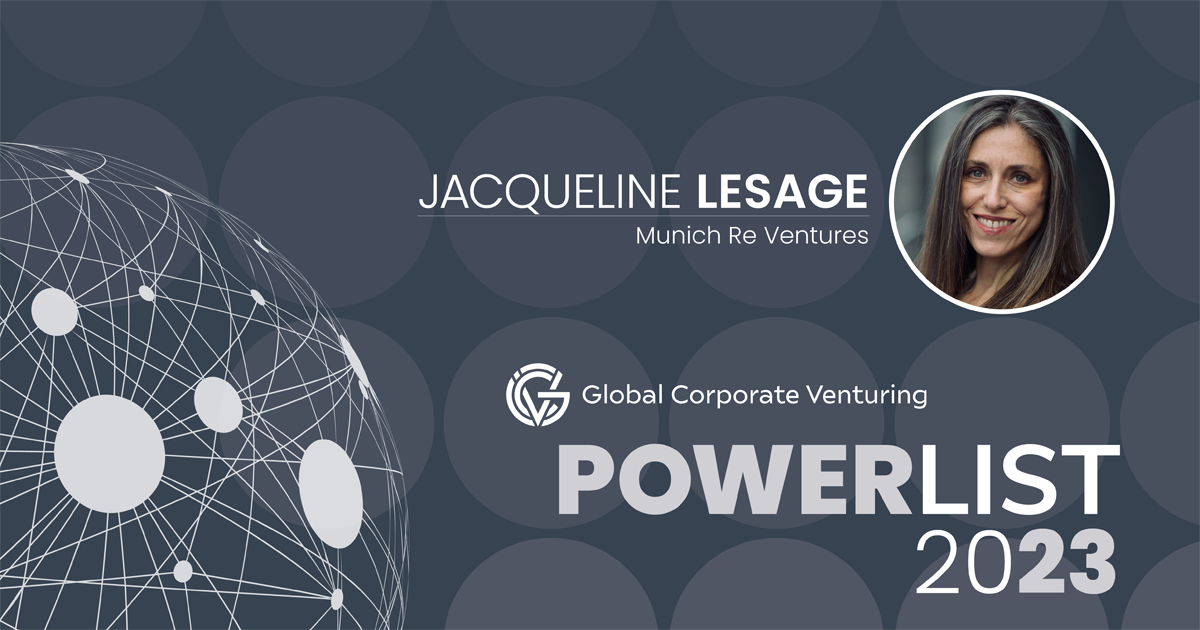 Jacqueline LeSage is founder and managing general partner of Munich Re Ventures (MRV), the strategic investment arm for Germany-listed reinsurance firm Munich Re. MRV's current areas of focus are climate tech, cybersecurity, equipment technologies, the future of transportation and insurtech.
Since launching the firm in 2014, LeSage has expanded the capital under management from $50m to more than $1B across four funds. While remaining an active investor, her goal in leading the firm has been to develop a strong and stable investment platform for the many diverse and emergent approaches that Munich Re takes to accessing innovation.
This meant both creating multiple funds with different internal LPs, and building a financial and legal structure for the firm that mirrors a traditional venture capital (VC) blueprint. As part of this, MRV created a separate legal entity under the Munich Re umbrella in 2018 with a traditional general partner (GP) and limited partner (LP) set-up. The unit then moved its management company into its own legal entity at the start of 2022.
Since raising their newest $500m fund in late 2021, LeSage and her team have built out an enhanced and enlarged portfolio development platform function. The platform helps portfolio companies with talent and hiring, business development, and other sector-specific operational support activities, while also creating strategic value opportunities with Munich Re.
MRV's latest deals include lead roles on a $15m series A round for digital marketplace insurtech, Capitola, as well as a $14m series A round for in-space servicing platform, Starfish Space. The firm also recently backed home electrification innovator, Span, in their series B round.
LeSage holds a bachelor of science in economics and multinational management from University of Pennsylvania's Wharton School and an MBA from University of Chicago's Booth School of Business.
---