Shereen El Zarkani, managing partner of Maersk Growth, is one of the 100 leading corporate venturing professionals in our Powerlist this year.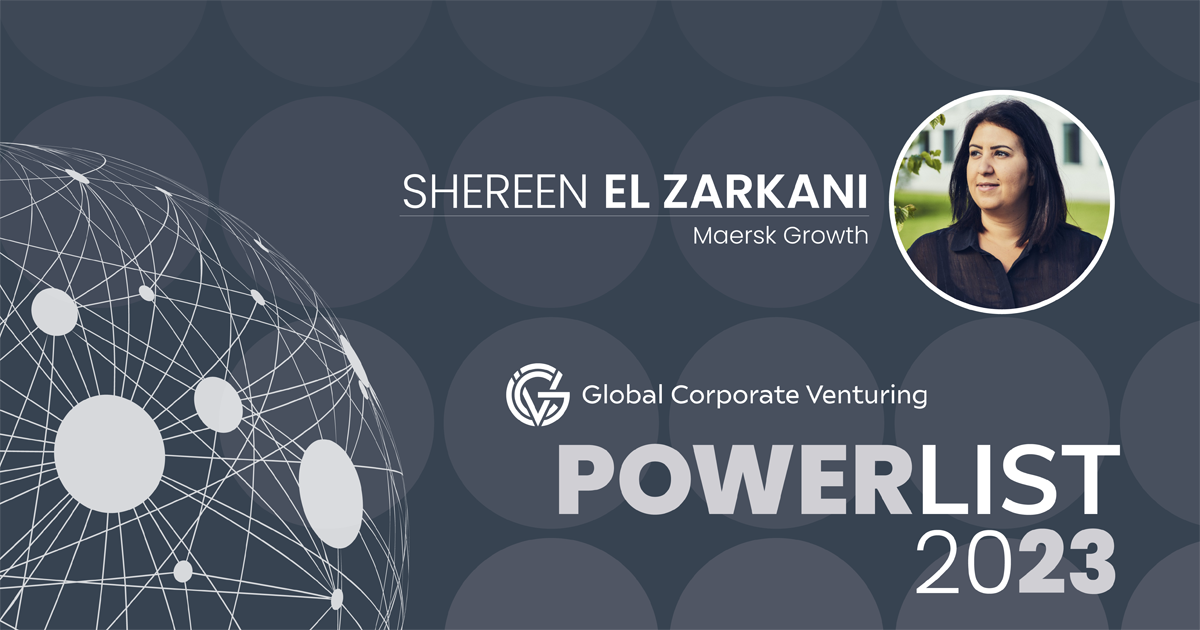 At the time Powerlist 2023 was compiled, Shereen El Zarkani was managing partner of Maersk Growth, the corporate venture arm of AP Moller Maersk, one of the largest shipping container companies in the world. She had stepped down from the unit by the time of going to press.
Nevertheless, we have kept El Zarkani and Maersk Growth in this list, reflecting a strong 2022 for the unit and also in acknowledgement of the particular approach that El Zarkani brought to the investment team.
While many units are run by someone with an investment-based background, she brought experience in marketing, business development and strategy to the role, as well as sales and a different perspective.
"I have experience with people and with customer problems, and I think the idea was to also bring commercial knowledge and understanding of the customer landscape into what we do here," says El Zarkani.
The unit has made more than 30 investments since it was launched in 2017 and currently manages roughly $500m, having closed its second venture fund last year and added a separate allocation for green fuel investments. It also operates a venture client service for its parent company, scouting for startups with products or services that can help solve a problem one of its business units might be having.
The logistics industry is going through a period of rapid adjustment in the wake of the coronavirus pandemic, which showed the fragility of global supply chains. Maersk Growth is tasked with helping its parent company move from being a container specialist into something much more modern and flexible.
"We are in the midst of a very intense transformation, from being just a shipping line moving stuff in containers to an end-to- end integrated logistics company powered by technology," says El Zarkani. "We are very deliberate in that we want to do it with technology and not by throwing armies of people at it, as is typically done in our industry.
"The pandemic showed what we already knew, but maybe the rest of the world was not aware of: how fragmented and fragile supply chains are. Everybody suffered in the past couple of years in some shape or form and we believe the underlying cause is a lack of technology."
In practice, that means Maersk Growth funds everything from Pactum, which is a developer of software that uses AI to negotiate contracts, to autonomous yard truck developer Isee and Afresh, the creator of an inventory software platform that helps grocery retailers reduce waste. All three were part of a dozen investments disclosed last year.
"We are very excited," says El Zarkani. "We think there are a number of cool emerging trends that are coming and, the current economic situation notwithstanding, it is really important to realise the fundamental issues with the supply chain did not go away. People just stopped buying and spending as much."
El Zarkani took care to build a team with a lot of commercial experience that can be passed on to portfolio companies. Maersk Growth holds enterprise selling workshops, where they help startups with their go-to- market strategy. El Zarkani's background in running a large sales operation meant she knew startups' potential customers by name, which stakeholders they needed to work with and how to navigate with each one of them.
El Zarkani says that working in corporate venturing had meant making some adjustments in leadership style.
"From a leadership perspective, I was used to leading fairly large teams," she says. "We had 3,000 salespeople and now it is a team of about 25. We are a lot more hands-on and we work at multiple levels, so I needed to adjust and reinvent the way I lead.
"It is really about bringing that commercial knowledge and understanding and helping the startups navigate Maersk, so we can accelerate our own transformation, as well as unlocking growth for the companies."
---