Roee Furman, managing director of Doral Energy-Tech Ventures, is one of the 100 leading corporate venturing professionals in our Powerlist this year.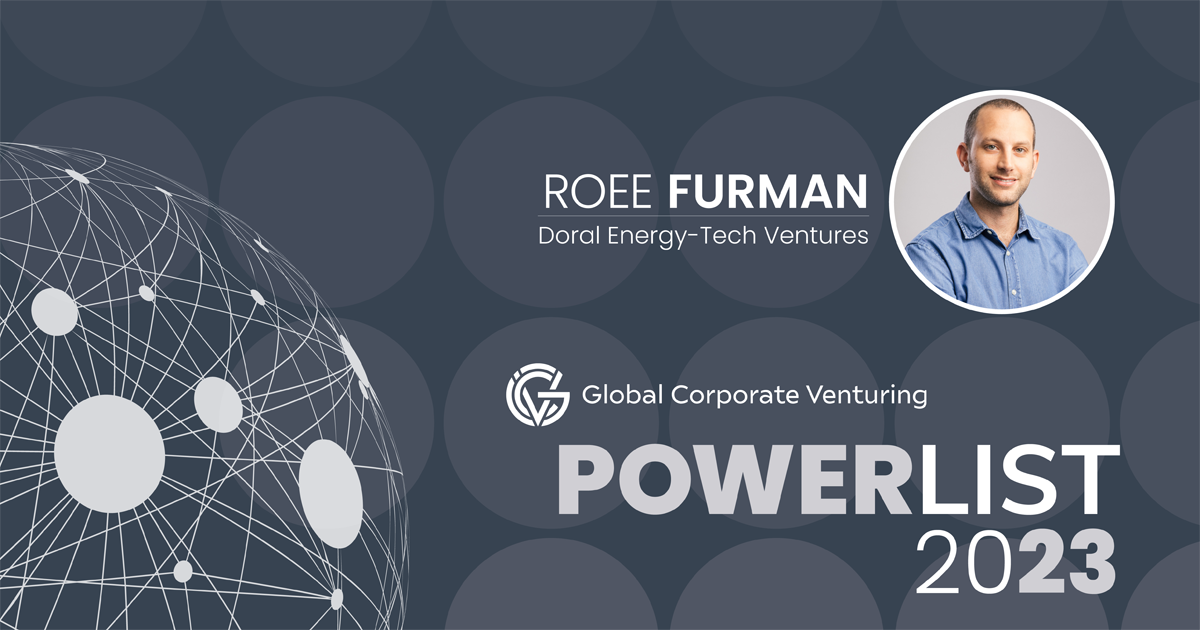 Roee Furman is managing director of Doral Energy-Tech Ventures (Doral-Tech), the climate-tech corporate venture capital arm set up by Israel-based renewable energy company Doral Renewable Energy Resources Group.
"We have had a busy year," says Furman, summarising the past 12 months in which the team made six new global investments, a number of applied research programmes sponsored by Doral-Tech matured, several early-stage startups successfully finished Doral-Tech's acceleration programme and a number of strategic collaborations between startup companies and Doral-Tech began.
In the past 12 months, Doral-Tech made its first investment in Germany with Reverion, a spin-off from the Technical University of Munich, developing a reversible fuel-cell system that electrochemically converts biogas or hydrogen into electricity with an efficiency of 80% and can switch to electrolysis mode to
produce green hydrogen or methane. Doral-Tech also co-invested with Saudi Aramco Ventures in Noon Energy, a US startup company developing long-duration, low-cost carbon-based batteries.
Its portfolio companies AM Batteries secured $25m series A funding and Ascend Elements launched the largest battery recycling plant in the US, after closing a significant series C round and gaining an additional $480m Department of Environment grant. Doral-Tech also participated in Quino Energy and CaPow seed rounds, as well as co-leading the seed round of Helios, along with At One Ventures.
The unit also co-led an investment along with TDK Ventures and Breakthrough Energy Ventures in US-based fusion energy company Type One Energy.
Doral-Tech was established in late 2020 following the unit's first investment, Phinergy, a pioneer in metal-air technologies. The company secured a 32% return for Doral-Tech when it was listed on the Tel Aviv stock exchange. This success story was a perfect head start for Doral Energy-Tech Ventures and was followed by a design partnership agreement for a long duration energy storage project.
The investment arm started with an initial annual budget of NIS50m ($15.3m), which was doubled in the second year to deploy in early-stage energy and climate-tech startups. It was set up to help Doral-Tech gain a competitive edge over other energy companies, alongside enjoying exceptional financial returns.
Before Furman took on the role, he made sure that he got full support from the management team. "I had to make sure that we were patient and willing to take risks, especially at early stages," says Furman. "I also wanted to make sure we could move fast. We have been working around the clock to become relevant."
Net-zero projects are a big investment focus for Doral-Tech. "We are really excited about opportunities in green molecules– anything from green ammonia and hydrogen, through green fertilizers to sustainable aviation fuels. Another exciting area is the carbon-to-value space, which tackles the issue of what to do with CO2 when we capture it. We are also looking into energy management and energy trading technologies," he says.
Doral-Tech has a collaborative code of conduct, says Furman. "We are all very honest and open to new ideas and we act without ego. To me, it is all about collaborative team effort," he says.
Most recently, Furman hired a new team member with a background in regulation and public utilities to help support its portfolio with value creation.
Prior to Doral-Tech, Furman was responsible for strategy and business development at Maisha-Labs, the digital healthcare subsidiary of Maisha Group. There he participated directly in intrapreneurship himself. He led a strategic project for a Canadian healthcare network that included the development of an AI- driven platform to predict and optimise patient flow
---