Jim Gable, president of Chevron Technology Ventures, is one of the 100 leading corporate venturing professionals in our Powerlist this year.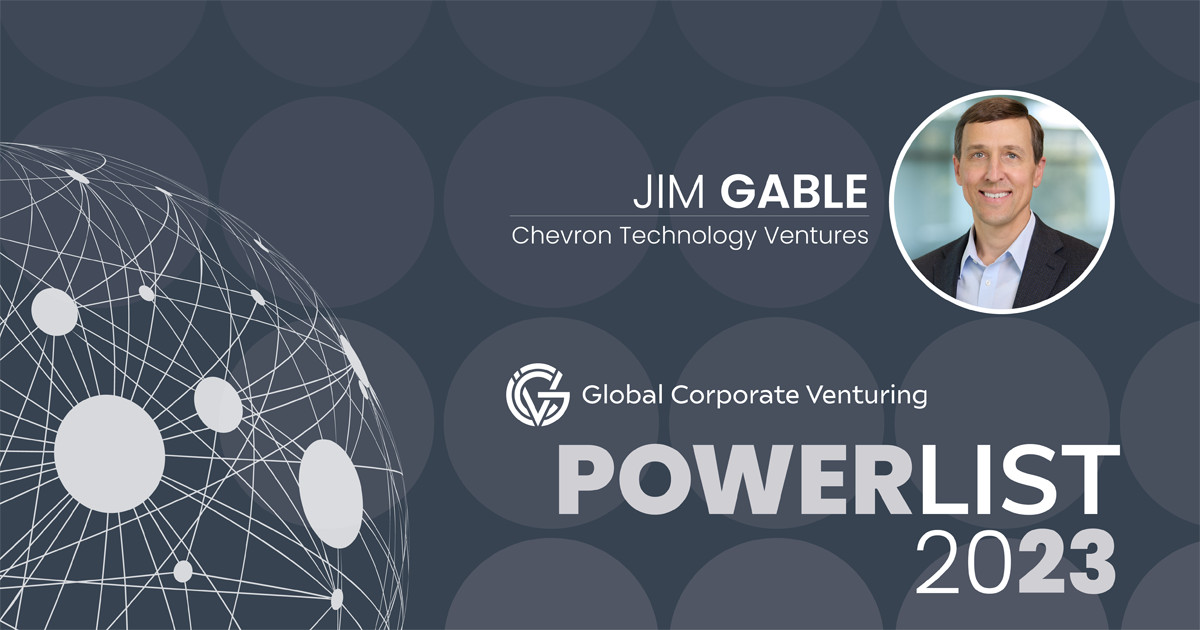 Jim Gable is president of Chevron Technology Ventures (CTV), which serves as the US oil and gas major's primary on-ramp for early-stage external innovation. Gable has spent nearly his entire career at Chevron, working in various parts of the business, including running a refinery and a chemical plant.
Gable headed the VC unit of CTV between 2003 and 2007, not long after the organisation was established in 1999 and rejoined as president in March 2022.
Gable leads a team of 60 employees with diverse experience and deep technical backgrounds, with about 14 team members dedicated to CTV's venture capital work. More than double that number work in transferring external technology into the parent company, a job Gable describes as a "contact sport".
"You have to walk the halls, have good business and personal networks. We have more people focused on that and helping technologies move through Chevron than we have people doing investments themselves."
CTV primarily hires internally, hoping to capitalise on institutional knowledge and established relationships with business units. Gable says internal hires who know the ins and outs of the parent business tend to do well at CTV.
"On the technology transfer side, it helps to have someone with a background of working in business units that can help us with the transfer of technologies into the business. The close connections with the business and its pain points are particularly important for several aspects of what we do."
With those connections, doors open more readily for CTV's project managers who work closely with CTV technology scouts to identify potential solutions for business problems across the enterprise and develop trial opportunities to de-risk the technologies.
A large part of the unit's focus is on technologies that reduce the carbon intensity of Chevron's operations, as well as those that can enable lower carbon value chains. Of special interest are technologies that can support greater use of reliable renewable energy to provide the tens of gigawatts of power required for energy production.
CTV also focuses on carbon capture and renewable fuels that can use existing distribution infrastructure. It has made investing in the hydrogen value chain a priority and sees blue hydrogen as a bridge to emissions-free green hydrogen.
CTV has made 11 new investments in the past 12 months and achieved two exits: ChargePoint, an electric vehicle charging network, and ThoughtTrace, a document and contract analytics software company.
Gable sees CTV's role as helping startups to scale and commercialise technologies. The unit actively avoids taking board seats at startups to focus on commercialisation. This strategy enhances its reputation and credibility, as well as helping it access the best deals, says Gable.
"We generally only take board observer seats. We are not one of those corporates that tries to put in preferential rights or exclusive sales territories. If you start restricting with preferential rights, you will develop a reputation for not helping the entrepreneurs," he says.
A year and a half ago, Chevron launched Chevron New Energies which is specifically designed to commercialise and scale late-stage low-carbon technologies. It has taken in businesses such as carbon capture companies Carbon Clean and Svante, which started off as portfolio companies of CTV.
The unit is an active sponsor of university programmes and accelerators that build up the Houston energy ecosystem. It backs Greentown Labs, a climate tech startup incubator, and Activate Houston, a fellowship for science entrepreneurs.
It also partners with the US government-backed National Renewable Energy Laboratory on Chevron Studio, a project that connects university IP to entrepreneurs seeking their next gig.
---