Brian Schettler, head of AEI HorizonX, is one of the 100 leading corporate venturing professionals in our Powerlist this year.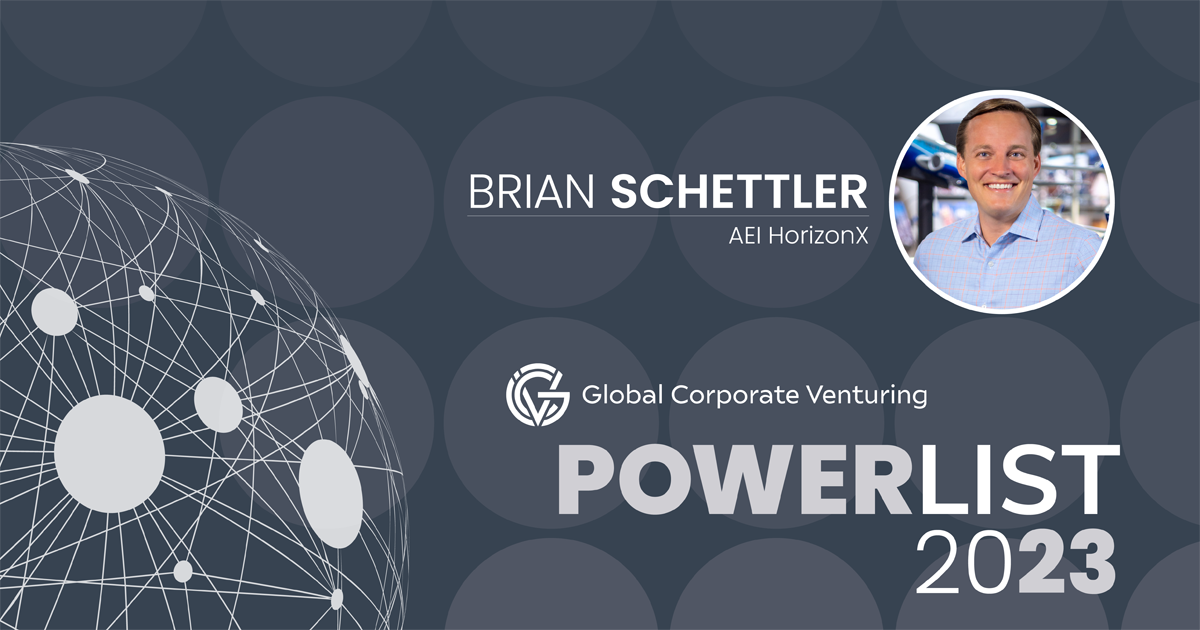 Even before heading up venture investments for Boeing, working in aerospace and defence was Brian Schettler's expertise from the beginning.
He started his career as an electrical engineer designing and building aerospace products. From university, he started his career at Northrop Grumman designing and building aerospace products. He spent the next decade-and-a-half working across a variety of corporate strategy, investment and corporate and portfolio development roles in aerospace and defence companies such as ATK, Cobham and Boeing – where he worked an initial stretch in its defence research and development arm, Phantom Works.
It eventually dawned on Schettler that what can be done with internal resources was not the be-all and end-all of innovation – the external innovation ecosystem can also be leveraged to powerful strategic effect. "What I started pushing on, even back then before corporate venturing was a big thing, was how does a partnership with a big corporate work with the venture community and how we could do more together," says Schettler.
His return to Boeing in 2017 came at a time when Boeing's business was in great shape: its revenues were nearing a 10-year peak and management was more conscious of potential disruption from outside innovation. This provided fertile ground for the formation of HorizonX, Boeing's internal venturing unit, which spent the next four years investing in companies such as EP Systems (aerospace battery systems), Immfly (in-flight entertainment and connectivity software) and AI solutions provider, SparkCognition.
From the beginning it was clear that the mandate did not end with financial returns – it wanted to bring tangible strategic benefits to the parent. "That is really where the rubber meets the road on how you derive the value from the global corporate venturing activities. We spent a lot of time getting that right. It is a cultural element, it is an organisational element, it is process steps, it is managing expectations, and then it is actually executing," says Schettler.
"It took some time, but we really stood up a great capability inside Boeing to realise the value of the technologies in which we were investing."
When the situation in Boeing began to change towards the end of the 2010s, with the compounding crises of the covid pandemic and the 737 Max impacting Boeing's bottom line, Schettler realised that difficult decisions would need to be made in the company. Knowing that there was a needle that had to be threaded delicately, he began exploring ways to reposition the internal investment unit. Spinning out became the most attractive option that would enable HorizonX to thrive.
Schettler began searching for a suitable firm to partner with, one that had both financial heft and sector knowledge. The big leviathans were considered, but a dream fit appeared in 2021 with AE Industrial Partners, an aerospace and defence private equity firm.
The switch may have been borne out of a crisis, but for AEI HorizonX it has also been a boon. The investment fund has access to more capital than it had when it was relying solely on Boeing's balance sheet. It can broaden its focus and bring in more financial returns, offer more to its team and count on the deep investment expertise of its partner, while maintaining strong links to Boeing.
Since spinning out, AEI HorizonX has backed companies such as Second Front Systems – a platform to help defence-orientated software startups move through the complicated government approval process – as well as operational technology cybersecurity company Shift5, and next-generation space solar power provider Solestial.
Whatever the airborne version of an iceberg is, Schettler and his team successfully avoided it and emerged larger and faster on the other side.
---