Informing, connecting and transforming the global corporate venture capital ecosystem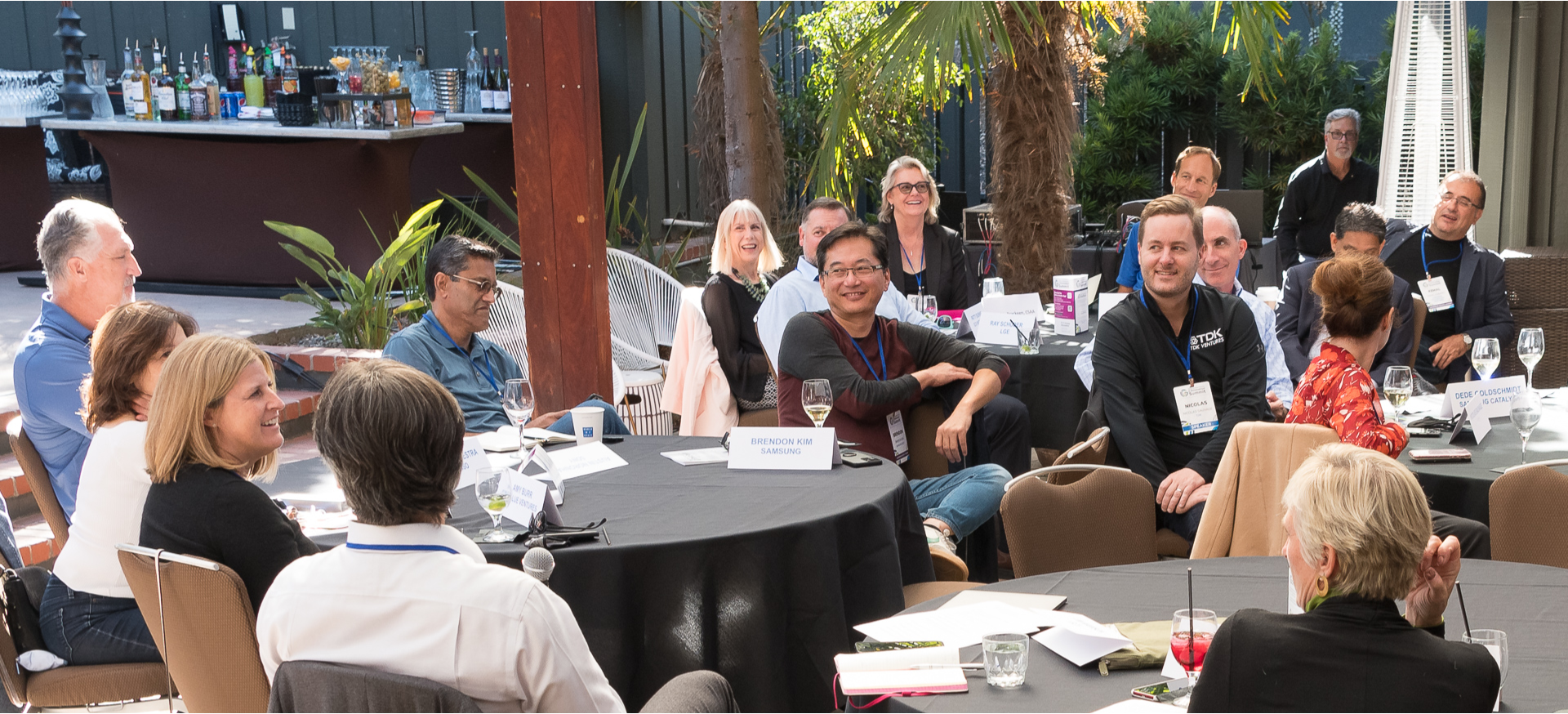 Leadership Society Mission
The Global Corporate Venturing (GCV) Leadership Society's mission is to help bridge the different strengths and ambitions of investors across industry sectors, geography, structure, and their returns (i.e. strategic vs. financial).

Vision and Overview
GCV was set up in 2010 as a trade paper published by Mawsonia and offers corporate venture capitalists (CVCs) additional benefits and services through its Leadership Society.  Formed by the global CVC community in 2016, the Society develops excellence for global corporate venturing leaders and is the prominent voice for the industry through its relationships with local and regional trade bodies and industry advocacy groups
Through the Leadership Society, corporate venture capitalists come together to further the industry in meaningful ways, solve today's innovation and investment challenges, as well as help develop and mentor the next generation of CVC leaders.
The Society sets the standards for long-term sustainability of the corporate venturing and innovation industry.  It provides data and information to members enabling them to supply critical information and benchmarks to internal stakeholders to support corporate venturing activities.
It also helps members develop their leadership skills and professional excellence, find and work with the best entrepreneurs and co-investors, and thereby elevate their overall standing within the venture capital industry.
Similar to corporate R&D and M&A functions, the Society acts as a bridge to the C-suite, deal syndicate partners, entrepreneurs and other industry stakeholders through its data, industry news, events, training, technology, and community collaboration with governments, universities, VCs and angel investors.

Membership
Society membership is open to all corporate venture capital investors regardless of where the parent organization is headquartered, the size or structure of its investment team, or its industry sector investment preference(s).
Benefits include: data and analytics platforms; investment news and special reports; admission to select events; exclusive invitations to roundtable discussions and networking opportunities; portfolio company showcase; assistance with arranging one-on-one meetings during GCV events; branding, sponsorship and speaking opportunities; inclusion within various member subgroups (Hubs), and discounts to a variety of educational programs.  Society members are listed in the Leadership Society app, allowing them to contact one another and join on-line discussions.
Two levels of membership are currently in place (Premium – one year, and Luminary – two year) with varying benefits offered based on associated fees.
Membership is also available to industry partners, academia and government entities at a discounted rate.  Non-CVC members have limited access to Society benefits unless authorized by the advisory board.

Member Offerings
Through its GCV Connect platform, members can self-select areas of interest and find CVC peers with whom to collaborate for the benefit their portfolio companies searching for capital, customers, product development, hiring and, eventually, an exit.
The GCV Institute, with its global reach and robust curriculum, provides professional development for CV team functions as well as foundational CV common language and context for effective parent and external stakeholder engagement. Designed 'by CVCs, for CVCs', the Institute brings together the premier global CV community and GCV's finger on the pulse of the industry with Bell Mason Group's (BMG) deep CV industry research and best practice trends analysis. Leaders from high-performing CV groups share their expertise and insights in videos, panels, case studies and as course mentors.
Through GCV Analytics, numerous Global 1000 companies accessits proprietary database of commitments to venture capital funds as well as direct deal for unique insights into co-investment patterns and emerging trends.
GCV's unique network of more than 2,000 corporate venture capitalists also attend some or all of its multiple global events, with flagship conferences in Silicon Valley, New York City, Houston, London and Asia.  Each year, through global government partnerships, multiple delegations travel to other regions to observe the investment landscape including Brazil, Canada, Singapore, Japan, Russia, Finland, Germany, France, Nigeria and Chile, over the past decade.
The Global Corporate Venturing & Innovation Summit in Monterey, California, has 850+ attendees representing about $6 trillion in aggregate annual revenues and nearly $200bn in venture assets under management.
The GCV Symposium in London has more than 400 attendees representing $2.5 trillion, while more than 200 CVCs attend each of our New York City, Texas events in the USA and the Asia Congress.
Relationships are often formed in the first instance from GCV through its website and monthly magazine, which contains the best analysis, guest comments and news across all sectors and regions and is focused on answering two fundamental questions – who does corporate venturing and what (deals or fund commitments, etc) do they do?

New CVCs
We are please to offer a special package that has been designed for newer CVCs (less than 2 years old).
Find out more about this offer and the benefits included

Strategic Direction
Advisory Board
The Society is advised by a member volunteer board, which is responsible for providing feedback related to existing/proposed benefits and services for Society members, as well as providing guidance on new initiatives.
Advisers serve for a two-year period, which begins/ends in May of each year surrounding the GCV Symposium.
Being a member of the advisory board is an opportunity to give back to the CVC community and helps to set and maintain standards of behaviour and best practices.  Advisers and their parent companies have a high profile and good standing within the venture ecosystem.
The role of Chairman is now in the hands of Young Sohn, Corporate President and Chief Strategy Officer, Samsung Electronics. The inaugural Chairman was Claudia Fan Munce, previously Managing Director, IBM Venture Capital Group, and Vice President, IBM Corporate Development, now with New Enterprise Associates.

Testimonials
"Corporate Venturing done well absolutely requires engaging intimately with the corporate venturing ecosystem; this ecosystem will be the co-investors and partners you want and need. GCV Society membership is your entry ticket to that precious CVC ecosystem, to both network and learn from practitioners who help you avoid mistakes you cannot afford to make as a new CVC. This was the 'take-away', I learned when I attended my first GCV event in January 2019, and I am so glad I did before I launched TDK Ventures a few months later!"
Nicolas Sauvage, managing director, TDK Ventures
"Global Corporate Venturing has a clear voice in cohering and promoting industry best practices. This is an important role as corporate venture capital expands globally as a catalyst for innovation through external engagements. It has been a pleasure to work closely with Global Corporate Venturing to help shape thought leadership in our industry."
Paul Asel, managing partner, NGP Capital

Apply to Join
For more information or to apply to join the GCV Leadership Society please contact Janice Mawson.
Email: janicemawson@globalventuring.com
Tel: +1 (703) 380 2569