Please help build the operational and performance data set that you need for program reviews and planning.

The GCV Keystone annual survey has become an important tool that allows corporate venturing units to assess and benchmark their performance and operational models.
The survey enables the global CVC community to contribute anonymous individual program data in return for views of the industry summarized in our annual World of Corporate Venturing report.
More in-depth analysis of the data set is available via the Keystone benchmarking platform which enables custom filtering for peer and cross sector reference points.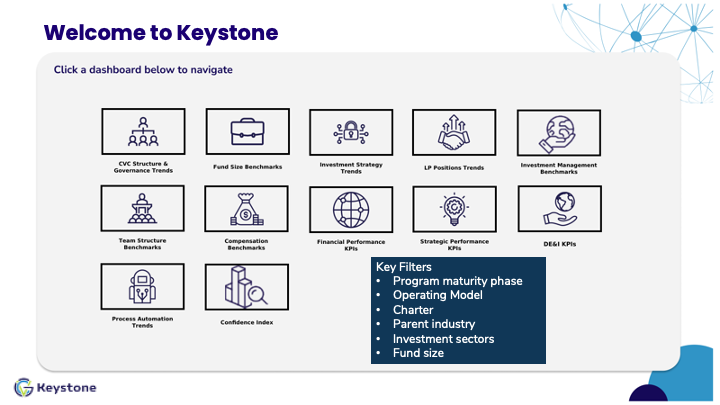 World of Corporate Venturing
View the summary of the 2023 survey results in the annual World of Corporate Venturing report:


Events
Webinar: Functional Foods - Investors are hungry for more
Events
GCV Executive Leadership Forum 2023
Oct 12, 2023
New York, NY (USA)
Events
Corporate Venture in Brasil 2023 – International Delegation to Brazil
Oct 23 -
Oct 25, 2023
São Paulo (Brazil)
Events
GCV Asia 2023 - International Delegation to Japan & South Korea
Nov 6 -
Nov 10, 2023
Tokyo (Japan) & Seoul (South Korea)
Events
GCV Connect: Germany 2023
Nov 29, 2023
Munich (Germany)
Events
GCVI Summit 2024
Mar 12 -
Mar 14, 2024
Monterey, CA (USA)
Events
GCV Symposium 2024
Jun 24 -
Jun 26, 2024
London (UK)