Chad Bown, managing director at BP Ventures, is one of the 100 leading corporate venturing professionals in our Powerlist this year.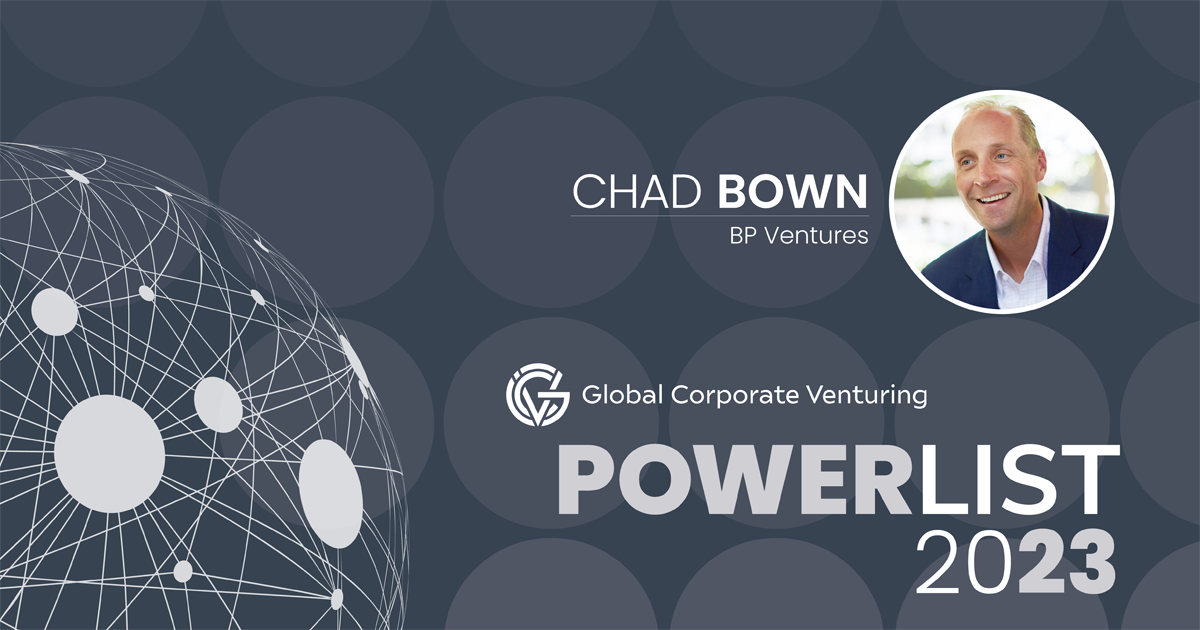 Chad Bown is a managing director at BP Ventures, the corporate venture arm of the UK oil and gas major. The unit has invested more than $1bn in more than 70 startups since its inception in 2006.
A former captain with the US Air Force, Bown worked at Shell and Jacobs Engineering before joining BP in 2011.
BP Ventures focuses on investments in private, high-growth businesses aiming to accelerate innovation across BP's transition growth engines: renewables and power trading, EV charging, convenience, bioenergy and hydrogen, as well as carbon capture and storage.
Bown describes the unit's portfolio management style as "engaged". Team members take either board or observer seats depending on the startups' needs.
He sees the team's role as providing a platform for startups to test and develop their product, as well as a way to introduce portfolio companies to its customers. "We are not just bringing money and capital, we are trying to help incubate the technology, pilot it and commercialise it. We want to make sure they have a multitude of industry customers, not just BP."
The recent financial market uncertainty has meant the unit's focus continues to be on helping startups on cash conservation. "We are looking at how we can extend the cash runway. We try to find ways to get product out to market sooner, so it is not just a cash-hungry business, that they are also making revenue," says Bown.
To keep the team advancing, ventures team members get their feet wet with all aspects of investing, says Bown. "A lot is on-the-job training. We want to move people around, which build on their strengths, getting them exposed to diverse sectors and different products."
He makes a point of hiring team members internally who may not know all aspects of venture capital. He also hires people externally who have worked in venture capital but have limited experience of CVC. "There are a lot of individuals working in financial VC who want to get into corporate VC. We also want people who are excited about the energy transition."
BP Ventures hired Gareth Burns to head the unit in January 2023 following his successful tenure at Equinor. Burns replaces Meghan Sharp who is now the global head of Decarbonization Partners, a financial VC of a joint venture between Blackrock and Temasek.
Bown lists several recent new and follow-on investments which he expects will bring value to BP, including 5B, an Australian distributed solar company; Magenta Mobility, an Indian e-mobility business; and Oxbotica, an autonomous vehicle software company.
Other investments include UK-based Silicon Microgravity, a sensor technology for flood monitoring and control; Saltworks Technologies, a developer and manufacturer of solutions for desalination and chemical recovery; and BiSN, a plugging solution based on deploying a liquified metal alloy into holes to plug leaks and control water or gas production; and Fulcrum Energy, a manufacturer of biojet fuel from waste.
Since it was launched, the unit has invested $500m in technology companies. It has partnered with 40 startups and worked with 200 co-investors. The portfolio has also had nine exits.
The investment unit also focuses on digital technologies. Examples are blockchain technology, artificial intelligence and cognitive computing. An example is its investment in Beyond Limits, an artificial intelligence and cognitive computing company, which has helped the company improve the speed and quality of decision making and manage operational risks.
Bown has a degree in business from Texas A&M University, as well as an MBA from Loyola Marymount University.
He currently sits on the boards of Xpanisiv, Eavor Technology, Beyond Limits and BiSN.
---