Debra Brackeen, Chief strategy and innovation officer of CSAA Insurance Group, is one of the 100 leading corporate venturing professionals in our Powerlist this year.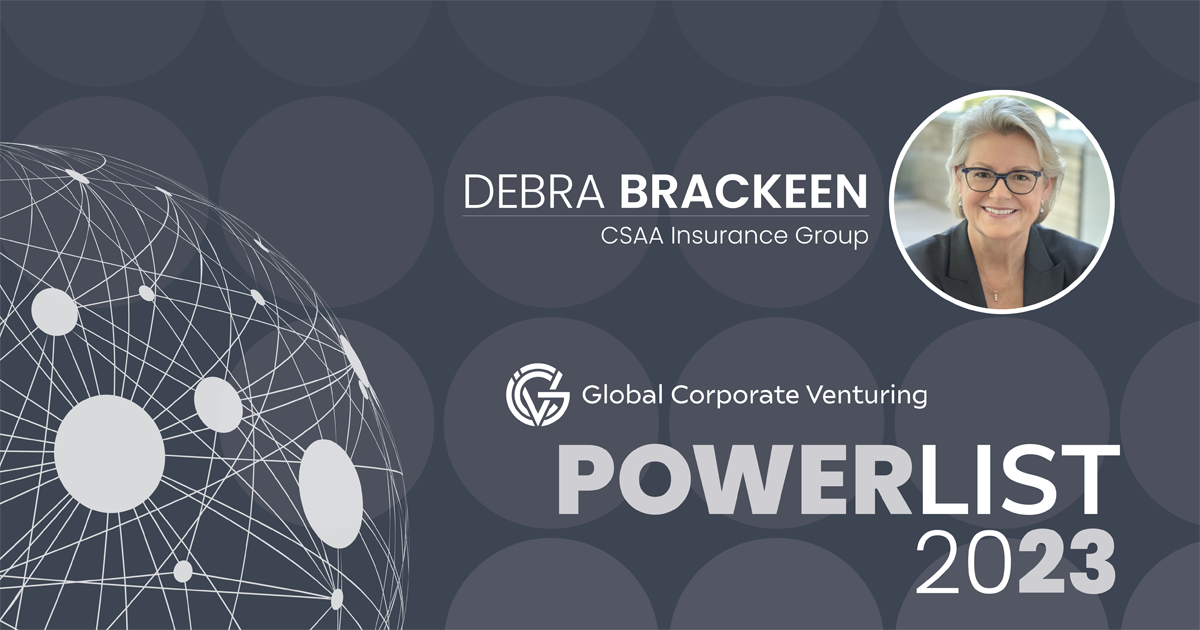 When Debra Brackeen took the helm as CSAA Insurance Group's chief strategy and innovation officer in 2016, she was handed a huge target – to create $1bn in new lines of revenue for the more than 100-year-old home and auto insurance company within a decade. It was a time when the auto market appeared to be facing imminent disruption from trends like ride hailing, car sharing ande ven autonomous driving.
CSAA, which was founded in 1914, onlya few years after the Model-T Ford hadstarted to create a mass automobile market, was asking itself what car insurance would look like in a world where fewer people would own or drive their own vehicle.
"The CEO and board said 'we need to place some bets' and that was why my role was created. My task was to work with the leadership team to identify new markets where we wanted to play in the future,"says Brackeen.
Brackeen knew that creating $1bn in new revenues lines would not be possible solely through investment in startups. It would require what she refers to as "the whole toolkit" of corporate innovation –accelerator programmes for very young companies, investment in industry-disrupting startups, evaluating emerging tech in the lab and even getting CSAA to build its own startups internally.
The first of these internally built ventures was Mobilitas Insurance, which provides custom-built solutions for the sharing economy and mobility sectors. This business is well on its way towards that $1bn goal.
The company's venture capital arm, Avanta Ventures, was formed in 2017to target disruptive mobility technology startups and has more than $300m under management after launching a second fund in September 2022. It invests between$1m and $10m per deal, mainly in seed to series B funding rounds. It has a portfolio of 17 startups, including Delos, a developer of new ways of calculating the risk of forest fires, which Avanta has backed since seed stage.
The unit has also backed RapidSOS, the operator of a service that links mobile devices to first responders in emergency situations, and Car IQ, a California-based startup that is developing digital payment solutions that can be linked to cars, so that drivers can pay for fuel, toll charges or parking directly through their vehicle.
Its scope has also expanded, to take in areas such as financial, cybersecurity, smart home and applied artificial intelligence technology.
"We are not investing solely for financial returns; our primary measure is strategic value. We invest in really good companies relevant to our long-term strategy, and we try to partner with them to create some
form of commercial value," says Brackeen.
She has a very long track-record in Silicon Valley tech, having worked at companies such as Apple, Sun Microsystems and eBay. She headed corporate venturing and strategic alliances at HP and prior to taking
the role at CSAA, she was global head of the innovation network at Citigroup. Coming into CSAA she was determined to build an innovation office that would oversee multiple activities, all closely coordinated
with each other.
"My experiences at HP and Citi certainly informed how I set up the division at CSAA to be able to increase the odds of having successful outcomes," she says.
One of the key skills is pushing for change at a pace that a company can digest. "The world is changing around us all the time. But the reality is that people, customers and employees do not want it to change too much, too fast," says Brackeen.
She is a believer in "ambidextrous innovation" where new ideas are nurtured alongside making sure that the established business is continuously innovating and running well.
"How do you optimise and grow your core while you are inventing something new or determining where you need to place your next set of bets? That is the game in my opinion," she says.
---