Michelle Gonzalez, corporate vice president and global head of M12, is one of the 100 leading corporate venturing professionals in our Powerlist this year.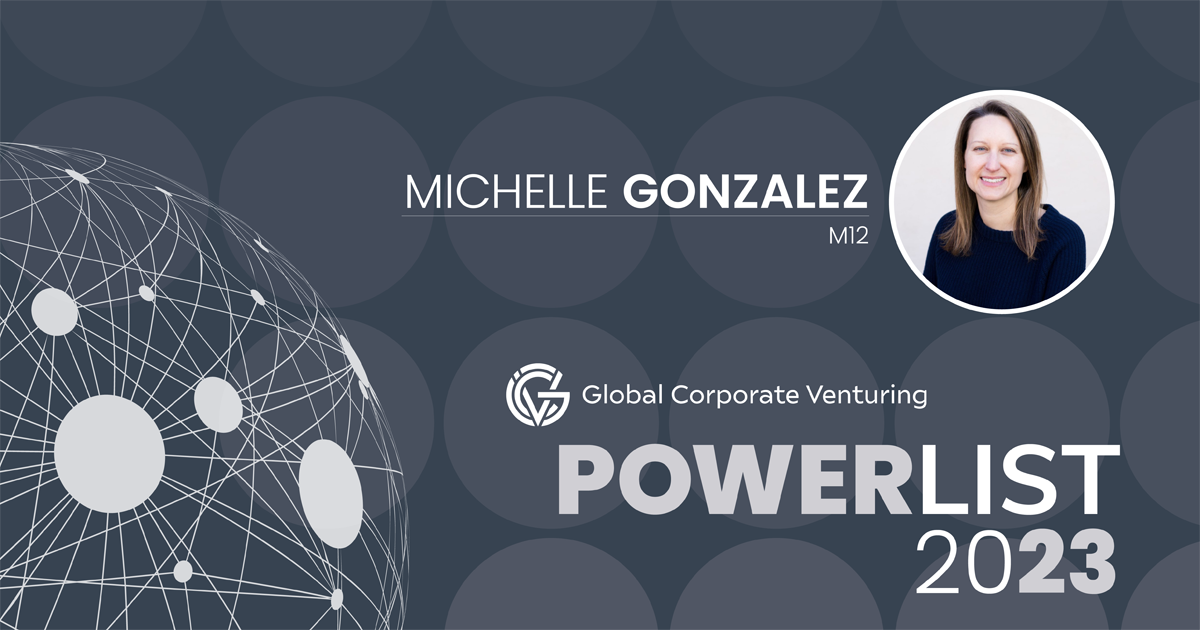 Michelle Gonzalez is corporate vice president and global head of M12, Microsoft's venture capital fund. In this role, she leads the fund's investor strategy, research, portfolio development, marketing and business management activities. In the six years since M12 was founded, it has invested in more than 100 companies, including 15 unicorns and five of its portfolio companies have exited through IPOs.
M12's unit is in a period of change. InJanuary 2023, Gonzalez announced unit was being reorganised so that it was more strategically aligned with parent company Microsoft. Several team members have reportedly left since the changes, but M12appears to be investing at a steady pace so far in 2023.
M12's investment strategy is to back early-stage companies that are leveraging emerging technologies to disrupt traditional industries. The fund focuses on companies in specific areas aligned to Microsoft's expertise, including AI, cloud infrastructure, cybersecurity, developer tools, vertical SaaS, web3 and gaming.
While strategic alignment to Microsoft plays a part in M12's investment criteria, its investment bar and process rigour mirrors a financial investor, says Gonzalez.
The fund invests independently of Microsoft's business and product groups. Recent investments include participation in a $4m follow-on round for Metrika, a blockchain and risk management platform; and a $65m round for Typeface, a generative AI application for enterprise content creation.
M12 aims to be a strategic partner to its portfolio companies, providing them with access to Microsoft's resources, network and technology to help accelerate their growth. As part of this charter, before every investment, its investors identify the unique value they can add to these startups. To meet this commitment, more than half of the 30-person M12 team is focused on helping portfolio companies realise their growth objectives.
This effort is also a big part of M12's approach to retaining staff. The fund offers a strong sense of purpose and mission and provides the team with challenging work and opportunities for growth and development.
While M12 does not disclose its fund size or financial metrics, it is a long-term investor and supports its portfolio companies through their lifecycle. As the deployment of capital has slowed over the past year due to global macroeconomic conditions, M12 continues to invest in series A and B-stage companies in its core interest areas. In addition, the fund has prioritised its strategic initiatives, including increasing its AI focus, learning from and sharing insights with key stakeholders at Microsoft, building a diverse team and portfolio, and ensuring its companies have access to the connections, customers and benefits to succeed in a downturn.
As M12 has refined its strategy over the past year, the fund takes pride in its ability to maintain its autonomy in its investment decisions. Many CVCs are often not the ultimate decision makers when it comes to where and how to invest, but by design,M12 is empowered here. It has also benefited from its proximity to Microsoft leaders. The fund has dedicated time with the senior leaders at Microsoft. Several times a year it provides updates to and puts its portfolio companies in front of the CEO and other senior executives to pitch new ideas and share insights.
During Gonzalez's time at the fund, it has increased engagement with Microsoft stakeholders and its portfolio companies.It also partnered with internet hosting service GitHub to launch the M12 GitHubFund in November 2022. The fund invests in open-source startups developing on GitHub's platform. The companies are at seed stage, which is where M12 says it can have the biggest impact on the startups' development.
Gonzalez has a juris doctor's degree in law from Yale Law School.
---