Vincent Baillin, principal at Opera Tech Ventures is one of our top 50 Rising Stars in corporate venturing in 2023.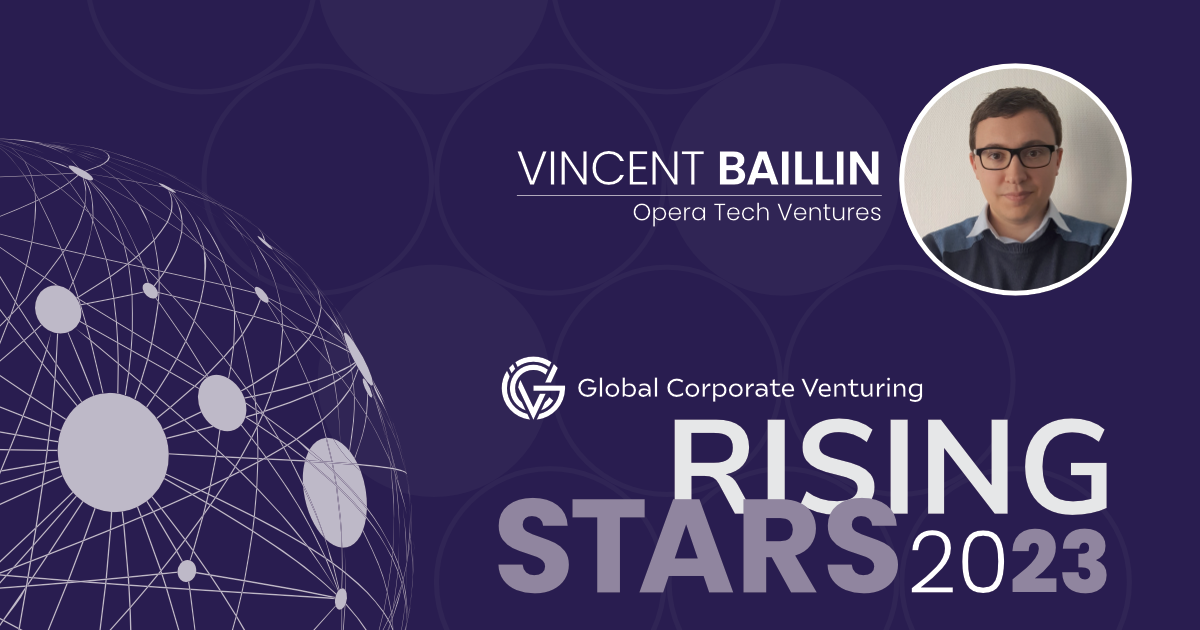 After beginning his career with internships at banking group BNP Paribas over ten years ago, Vincent Baillin is now a principal at the bank's independent VC arm, Opera Tech Ventures, which he joined in early 2019.
Before joining the venture arm, Baillin worked as an innovation analyst at BNP Paribas for just over a year, during which time he carried out market intelligence, produced research papers on a range of financial technology and supported the venture capital arm in areas such as benchmarking and valuations.
Prior to that, he was a tech M&A associate at eCap Partner, where he worked on transactions for companies like Supergazol, Pili Pop and CapitalData, as well as fundraising initiatives for the likes of MindLytix and Golden Bees. Baillin has a degree in business economics and a masters in management focused on corporate finance.
Opera Tech Ventures was founded in 2018 and backs startups across open banking, payments, lending, mobility and alternative data. It typically focuses on series A to D and deploying tickets of between €3-15m.
The unit's portfolio includes companies like neobank Chime Bank, which they initially backed in a 2018 series C round that raised $70m, cross-border digital banking platform Rewire and API-based payment system Token.
Its most recent investment, buy-now-pay-later provider Hokodo, came as part of a series B round led by Notion Capital in June 2022, raising $40m for the company.
Opera Tech Ventures' portfolio companies include vendor validation platform Sis ID and open banking company Tink – the first two investments the Paris-based CVC made in December 2020 and January 2021, respectively – as well as mobility-as-a-service company Instant System, embedded finance platform Alviere and energy data provider Kayrros, the latter two of which both saw Opera Tech Ventures entering the cap table over the course of 2022.
See the rest of our Top 50 Rising Stars here.
Fernando Moncada Rivera
Fernando Moncada Rivera is a reporter at Global Corporate Venturing and also host of the CVC Unplugged podcast.