Anooj Shah, senior director of investment and strategy, BlackBerry's Ivy Innovation Fund is one of our Top 50 Rising Stars in corporate venturing for 2023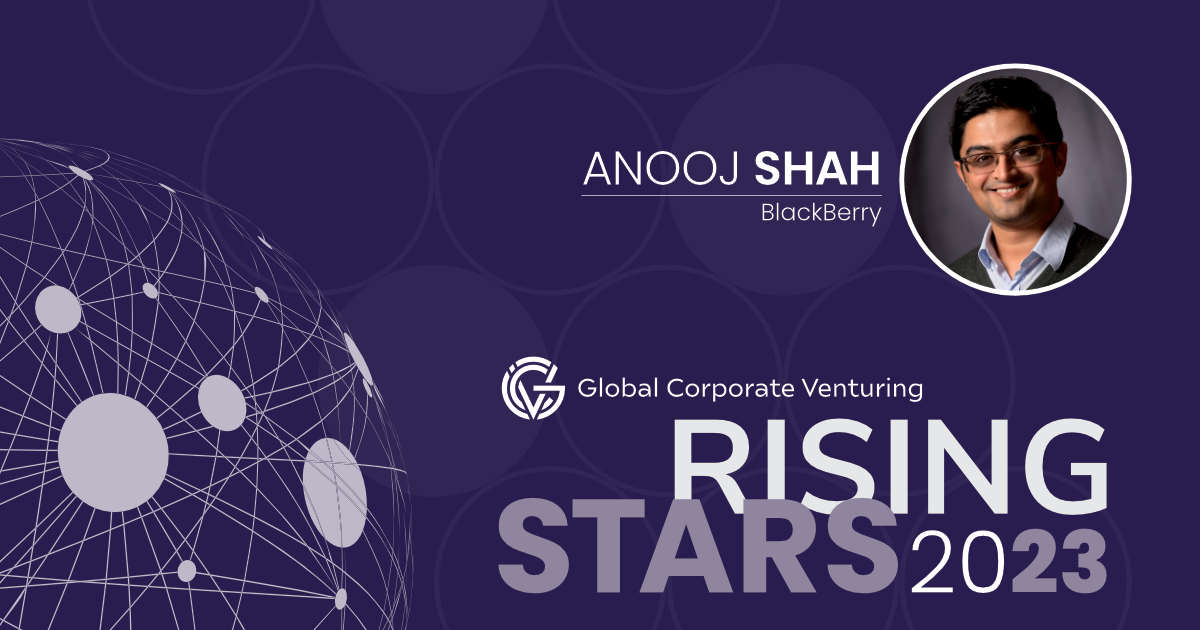 Anooj Shah, senior director of investment and strategy, was part of the founding team for BlackBerry's Ivy Innovation Fund in 2021 and leads its investments and operations.
The fund was created to support BlackBerry Ivy, the cloud-connected software platform that the communications company has co-developed with Amazon Web Services. Carmakers use BlackBerry Ivy to create in-car services.
The innovation fund is investing to help build out the ecosystem around BlackBerry Ivy, and there is a very tight integration between the investment that the CVC arm makes and the rest of the company.
"We have a very unique approach. We get tangible collaboration with BlackBerry and our investments in 18 months," says Shah. The fund's very first investments in 2021 — into battery management software provider Electra Vehicles and fintech provider Car IQ — were already being showcased by BlackBerry Ivy less than a year later at CES in 2022.
The fund has made three investments so far and given the extremely hands-on strategic approach, Shah says it will continue to do deals at a measured pace.
Shah is a technology specialist who started as a software developer, spent some time as an entrepreneur and then in corporate development — a combination of experiences that he says have been a good preparation for the CVC role.
He's also a great car enthusiast and Formula One fan, which has made the BlackBerry Ivy role particularly enjoyable.
"It is an exciting opportunity to combine my passion for all things automotive with my professional background. It is rewarding to be at the frontlines of the transformation that is undertaking the automotive industry today."
His advice to those starting out in the industry?
"Be curious," he says. It is an approach that has served him well in his own career so far.
---
See the rest of our Top 50 Rising Stars for 2023 here.