Madelyn Rutter, director of collaboration, TechNexus Venture Collaborative, is one of our 50 rising stars in corporate venturing in 2023.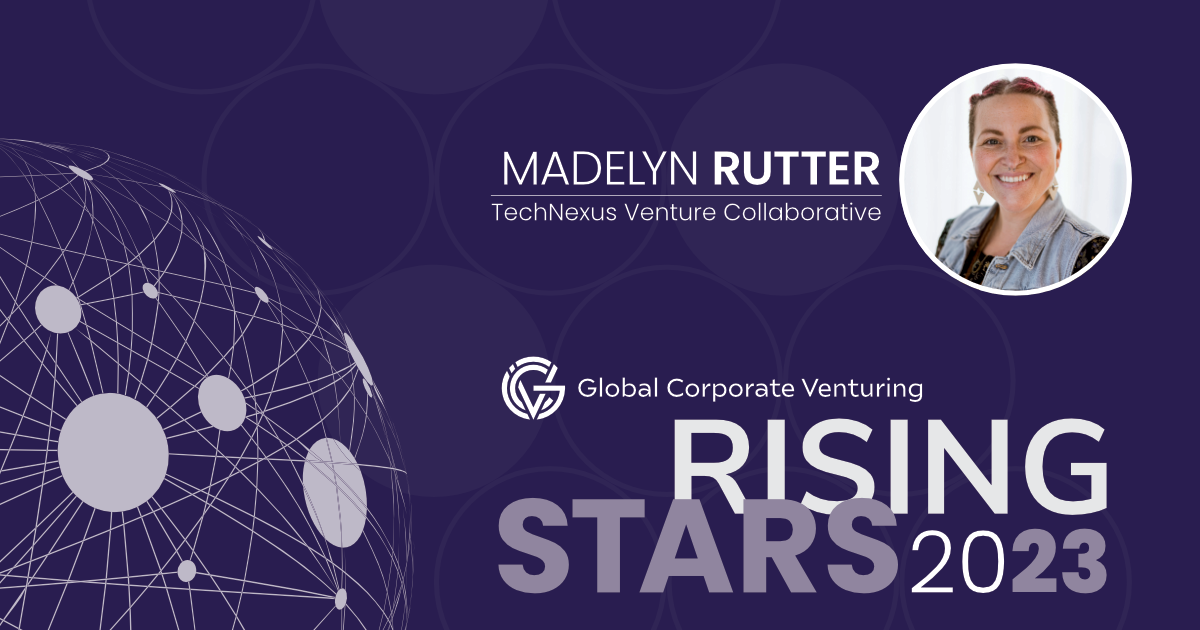 "I didn't kind of come up through the traditional path of finance," says Madelyn Rutter, director of collaboration at TechNexus Venture Collaborative. "I didn't even know I was working in venture capital for months after I started this role."
Rutter's background was in consumer research at Kantar, where she had become involved in the company's innovation practice, taking consumer insights and helping large Fortune 500 companies turn these into new business ideas.
But after a decade at Kantar, she says she was craving a new experience and keen to try something entrepreneurial and early-stage. TechNexus Venture Collaborative, which invests in startups and helps connect them to its large corporate partners, was an opportunity to try working with early-stage companies.
"At my core my passions are collaboration and bringing people together," she says. As director of collaborations, Rutter provides post-investment support to the companies TechNexus has taken a stake in (some 120 to date), helping connect them with the large companies in the network. Her years in consumer research, she says, have given her strong sense for technologies that can really find product-market fit.
"Spotting that a company is solving a burning problem is huge for me – really knowing if someone going to use this, if someone is going to pay for this." A recent theme for Rutter is the future of mobility — but from a different perspective, working with Thor Industries, the maker of recreational vehicles including Airstream caravans, and Brunswick Boat group, the world's largest maker of pleasure boats.
"It is fascinating to look at things like what autonomy looks like on water – when the boat is
more like an aircraft and someone's home than a car," says Rutter. One piece of advice she would give to anyone coming into corporate venturing is to stay curious. "Be open to ambiguity, I think that is huge. Be open to not knowing all the answers."
---
See the rest of our Top 50 Rising Stars for 2023 here.
Maija Palmer
Maija Palmer is editor of Global Venturing and puts together the weekly email newsletter (sign up here for free).