Irene Yang, investment principal, BASF Venture Capital North America is one of our Top 50 Rising Stars in corporate venturing for 2023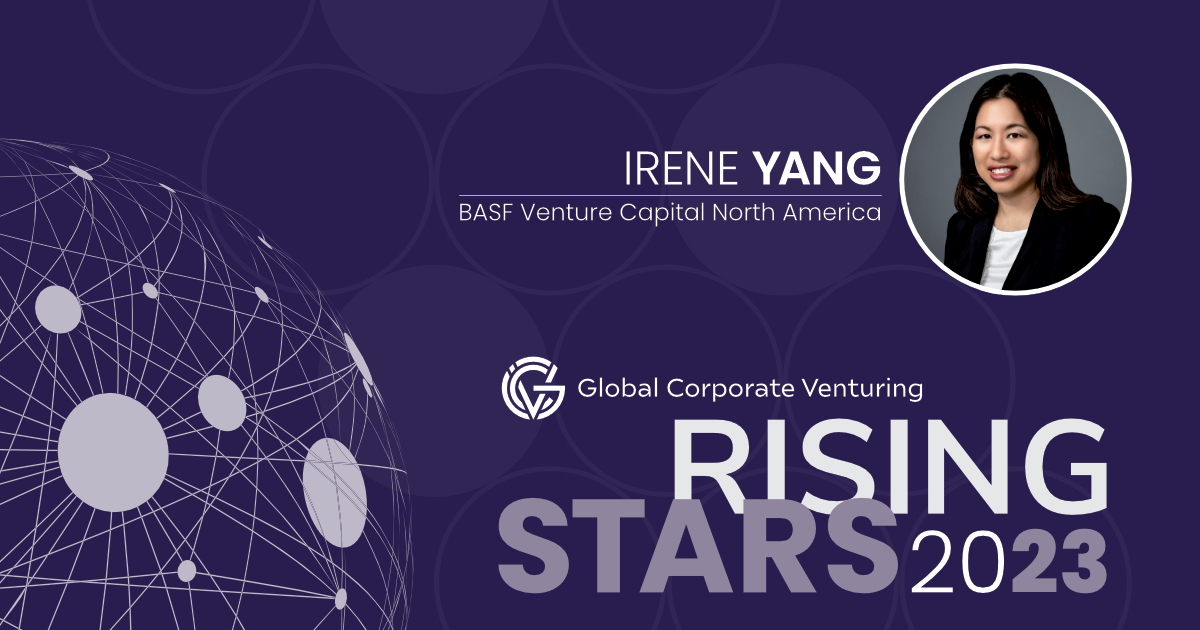 "I've always gravitated to global projects and open-minded people that seek disruptive change," says Irene Yang, investment principal, North America with BASF's corporate venturing unit.
"My earlier roles in the tech sector and business development leadership roles in BASF challenged me to launch and scout for disruptive technology and the importance of strategic partnerships including with startups. So, I was very excited to join our North American venture team and delve into the full lifecycle of start-up investments on behalf of BASF."
Yang has been part of the BASF family for over 10 years, holding positions in Asia, US and Canada ranging from management consultant to director of new business development and innovation. "My various roles allowed me to build up a great network, internally and externally. This starting point has been of tremendous value evaluating and collaborating with start-ups in my current role as principal at BASF Venture Capital."
Having in-depth expertise in new business development, global strategic marketing and financial analysis, Yang also draws on her previous time as director of product management at AMD and with McKinsey. "However, I still pride myself in being a generalist," says Yang, "always looking to enter new markets and design innovative offerings, with profitable business models in mind. Speed to market is also critical."
BASF Venture Capital has invested worldwide in startups since 2001, with the aim to catalyse change for BASF and the chemical industry. "One of the most challenging parts of my role is balancing breadth and depth. We need to independently be convinced a market space and growth are massive, with venture-sized returns potential in a reasonable timeframe. But also need to go deep into unit economics and team quality to ensure this start-up will be the winner."
Yang is highly valued by her team for having strong business acumen, high motivation and strategic thinking, "If I was to advise someone starting in the industry, I would say get out there and network," she says. "Talking to other investors and startups is the best use of your time and every tidbit of information will help you triangulate, prove or disprove your thesis in a particular investment area."
---
See the rest of our Top 50 Rising Stars for 2023 here.