Omair Ahmed, principal, Echo Health Ventures, is one of our rising stars in corporate venturing in 2023.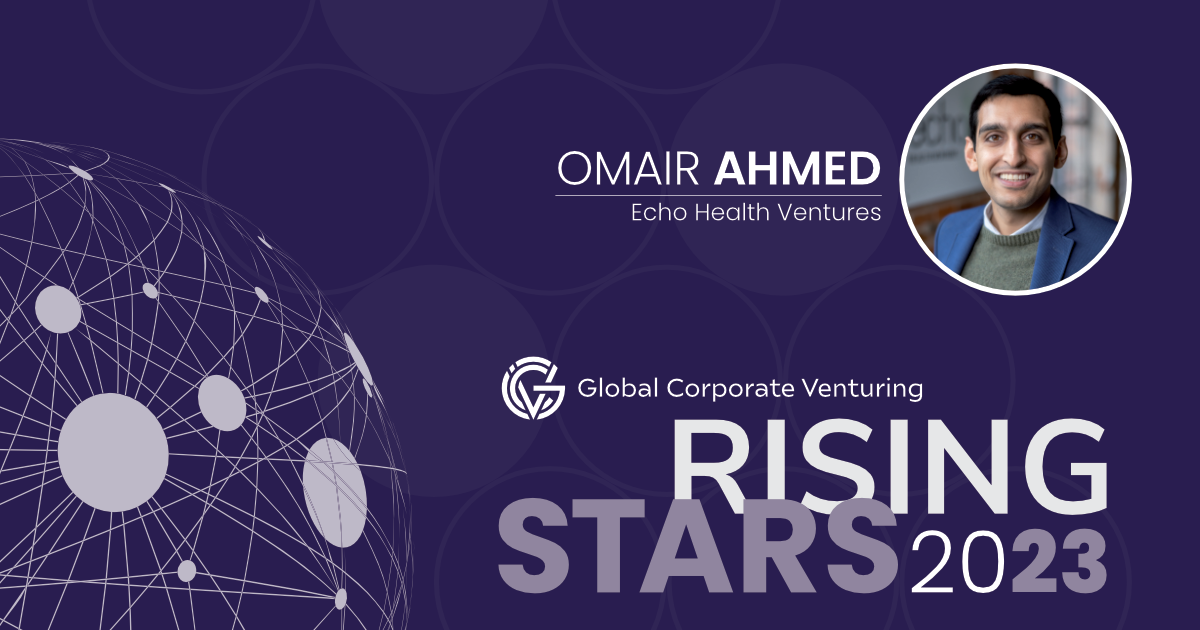 Omair Ahmed is a principal of strategic investment at Echo Health Ventures, a strategic venture capital firm backed by US healthcare companies Cambia Health Solutions and Mosaic Health Solutions, the corporate venture arm of Blue Cross Blue Shield of North Carolina. The group focuses on innovative healthcare startups.
Ahmed joined the firm in 2019 with a desire to make an impact by supporting investments rooted in innovation that make a measurable impact on people's lives.
"At Echo, we have two purposes, which makes us unique as a corporate venture capital firm," he says. "We're providing financial capital for innovative startup companies and driving strategic impact for health plans in a way that benefits both and, ultimately, the patient – the consumers of healthcare."
Ahmed works with companies to develop solutions to healthcare issues with the insights of health plan partners in the Echo Innovation Alliance. As a board observer to multiple Echo portfolio companies, he also provides industry insights and brings the customer perspective to the innovator companies.
When looking at potential investments, Ahmed says data is key. "It's easy to have a great and innovative mission, but if you don't generate data that proves you're solving a problem, you lose credibility. The data is critical to success at the end of the day."
When asked what advice he'd give others interested in a career in corporate venturing, he says, "Be prepared to listen a lot. If you have the chance to talk to an expert, do it – take notes and absorb everything."
Before joining Echo, Ahmed was a consultant for Accenture Strategy, advising healthcare clients on go-to-market, new product development and merger strategies. He also worked in healthcare-focused venture capital at Merck's Global Health Innovation Fund and 7Wire Ventures.
---
See the full list of Rising Stars 2023 here.