Joseph Tenbusch, investment manager, Magna Technology Investments, is one of our rising stars in corporate venturing in 2023.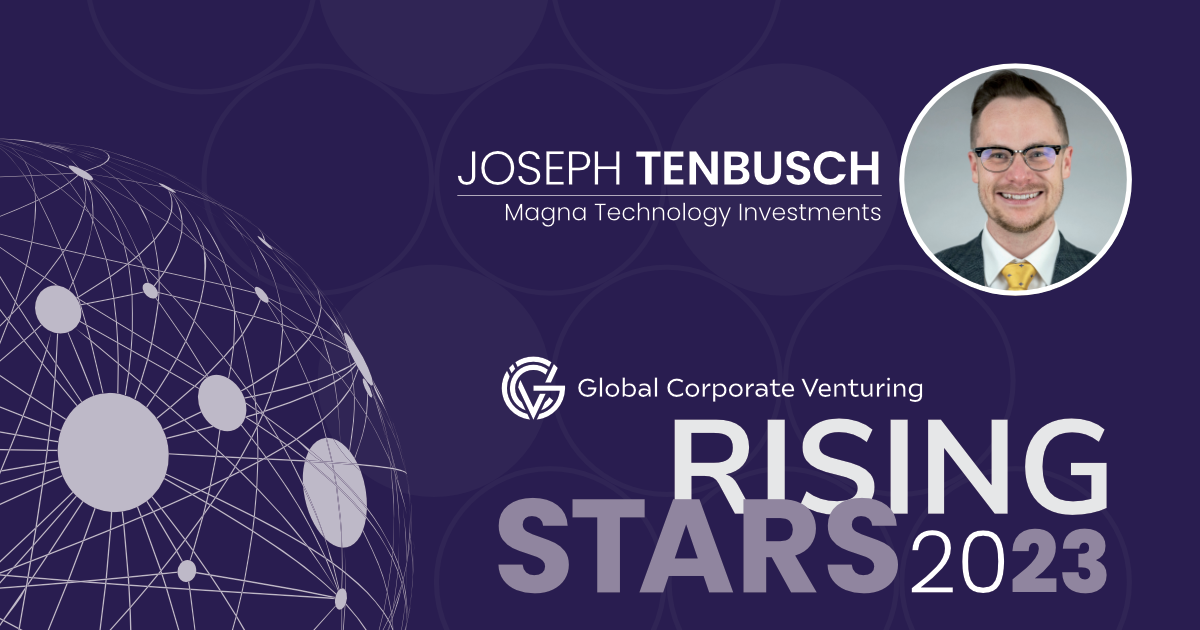 "Startups are interested in funding, but they're even more interested in our engineering and manufacturing expertise," says Joe Tenbusch, an investment manager at Magna Technology Investments.
Tenbusch adds that he did not expect this side of corporate venturing when he joined the firm and the CVC world in May 2022. Magna International is a large manufacturing organisation and its startup investment strategy involves offering tangible strategic value to its portfolio companies in addition to funding.
"Joe joined the corporate venture world less than one year ago," says Josh Berg, managing director at Magna Technology Investments. "He has blown me away with how quickly he has developed into a star in the corporate investment space."
As of January 2023, Tenbusch has secured approval to invest in two venture funds – Vertex Southeast Asia and India and an undisclosed Silicon Valley-based fund. He also supports Magna's investment in Israel-based battery startup Addionics.
In addition to mobility, electrification, battery, autonomous technologies and industry 4.0, Tenbusch mentions India as a focus area in 2023. The country has a young and educated workforce, especially in big cities like Bangalore, and is soon to surpass China to be the most populated country globally.
"We see it as an opportunity to expand it to things that you wouldn't normally see in North America or Europe," Tenbusch explains.
This is Tenbusch's first role in CVC, having come from an engineering background. He has spent his entire career in the automotive industry since 2010.
Tenbusch gradually shifted his focus to electrification, helping suppliers transition from internal combustion engines to battery electric vehicles.
Just before he joined Magna, Tenbusch spent two and a half years at consulting firm Plante Moran, where he worked with automotive suppliers, midstream battery component manufacturers and the US Department of Energy.
---
See the full list of Rising Stars 2023 here.