Mikiko Clanton, senior associate, MS&AD Ventures is one of our Top 50 Rising Stars in corporate venturing for 2023.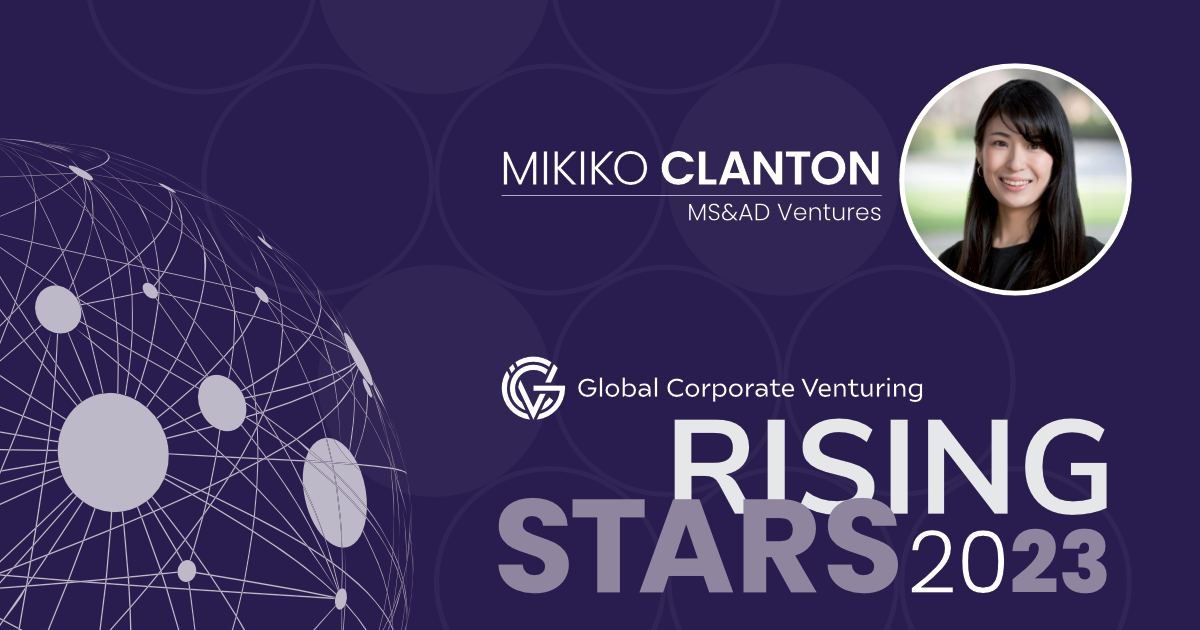 Good investors are not afraid to roll up their sleeves, get their hands dirty and get the job done, and Mikiko Clanton, senior associate at Japan's MS&AD Insurance Group's corporate unit, MS&AD Ventures, is no different. 
"I enjoy my current role greatly as I have the ability to meet and support amazing founders," says Clanton, "Getting to know founders who are driven to solve social issues is very inspiring and being able to deep dive into new sectors and topics and learn from the best people in the industry is an undeniable privilege."
Clanton has held her position for nearly two years, where she is credited as being the perfect all-rounder on the team. Her colleagues acknowledge her thoughtful and detail-orientated approach. "She has a good understanding of working in different cultures and is sensitive to the key differences. This is very important to cross border business," says Tiffine Wang, partner at MS&AD Ventures. "The extra attention to care is really important, especially when there are many fast-moving projects."
At MS&AD, Clanton specialises in sustainability, climate, digital health, and insurtech investments.
Before joining MS&AD Ventures, Clanton worked for three years at Yamaha Motor's corporate venturing firm, specialising in food and agricultural investments. She also has insight into entrepreneurship from her time as an analyst and business developer with Bosch in Japan, where she helped build a startup project in smart agriculture. 
MS&AD Ventures MS&AD Ventures is an early-stage, $300m corporate venture capital vehicle for Japan-headquartered insurance group MS&AD (Mitsui Sumitomo Aioi Nissay Dowa) Holdings. MS&AD Ventures has a global mandate focused on investing in early-stage companies in emerging technologies across verticals including insurtech, fintech, artificial intelligence, sustainability, digital health, mobility, future of work, and cybersecurity sectors in the US, Europe, Middle East and Asia.
---
See the rest of our Top 50 Rising Stars for 2023 here.