Jason Aramburu, investment director, Saudi Aramco Energy Ventures is one of our Top 50 Rising Stars in corporate venturing for 2023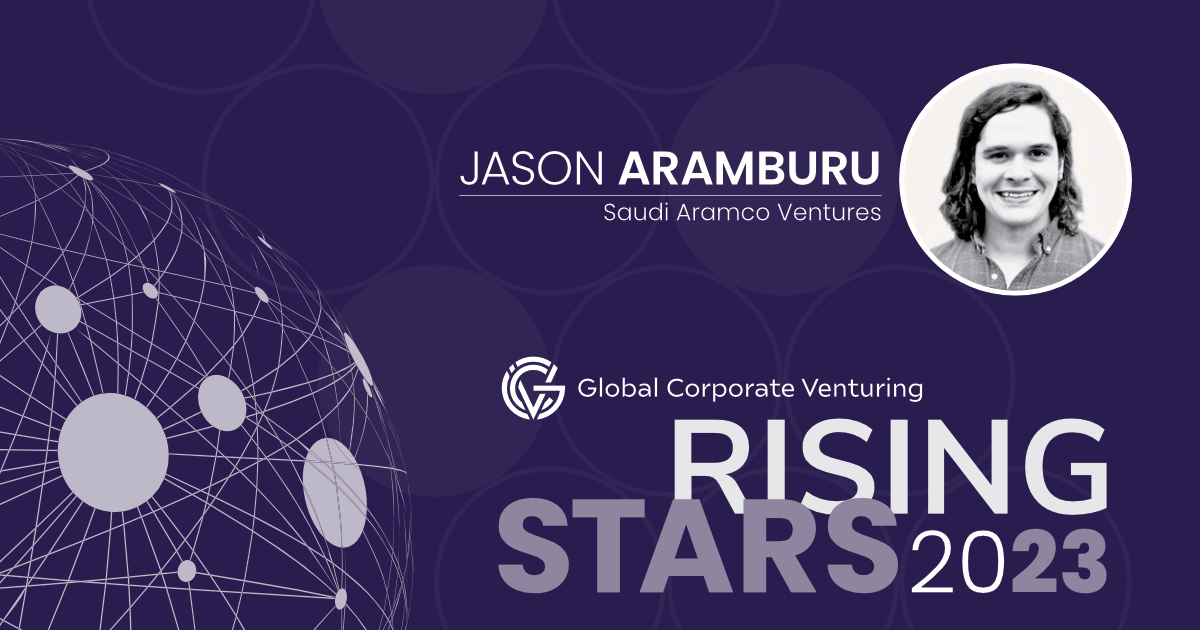 As one of Forbes Magazine's 30 under 30 social entrepreneurs, Jason Aramburu, investment director at Saudi Aramco's corporate venture arm, Saudi Aramco Energy Ventures, has already made a name for himself in the social innovation sector.
With more than four years of corporate venturing experience, Aramburu was promoted from investment principal to investment director in 2022. He is credited for his in-depth knowledge of artificial intelligence, agriculture and logistics.
Aramburu has led and closed two major deals for the firm in the past 19 months: Energy Vault, a long-duration energy storage company, and Rain Neuromorphics, an artificial intelligence startup. Energy Vault went public in 2022 at unicorn valuation.
Aramburu was the director of Baidu Ventures, the corporate venture arm of internet group Baidu, where he invested in early-stage artificial intelligence startups. He also founded two startups: re:char, a developer of biochar agriculture systems designed to mitigate climate change and alleviate rural poverty; and Edyn, a smart irrigation system that monitors and tracks environmental conditions.
A graduate of Princeton University in the US, he spent his early career researching soil science and nutrient cycling at the Smithsonian Tropical Research Institute, and biomass gasification and biochar systems at Princeton University Carbon Mitigation Initiative.
Founded in 2012, Aramco Ventures operates various programmes and funds, including a $1.5bn sustainability fund, with the aim of investing globally in technology startups and high growth companies. The firm has around 43 companies in its portfolio including the US-based grid-edge software company Utilidata, which secured $26.7m in funding with support from Microsoft's Climate Innovation Fund.
Aramburu is an alumni of Y Combinator, a startup fund and programme that has invested in nearly 3,000 companies including Airbnb, DoorDash, Stripe, Instacart, Dropbox and Coinbase. He is also an investor in NEAR Protocol, a blockchain startup that closed a $500m funding round in 2022.
---
See the rest of our Top 50 Rising Stars for 2023 here.