Fei Shen, managing director, Boehringer Ingelheim Venture Fund USA, is one of our 50 emerging leaders in corporate venturing in 2023.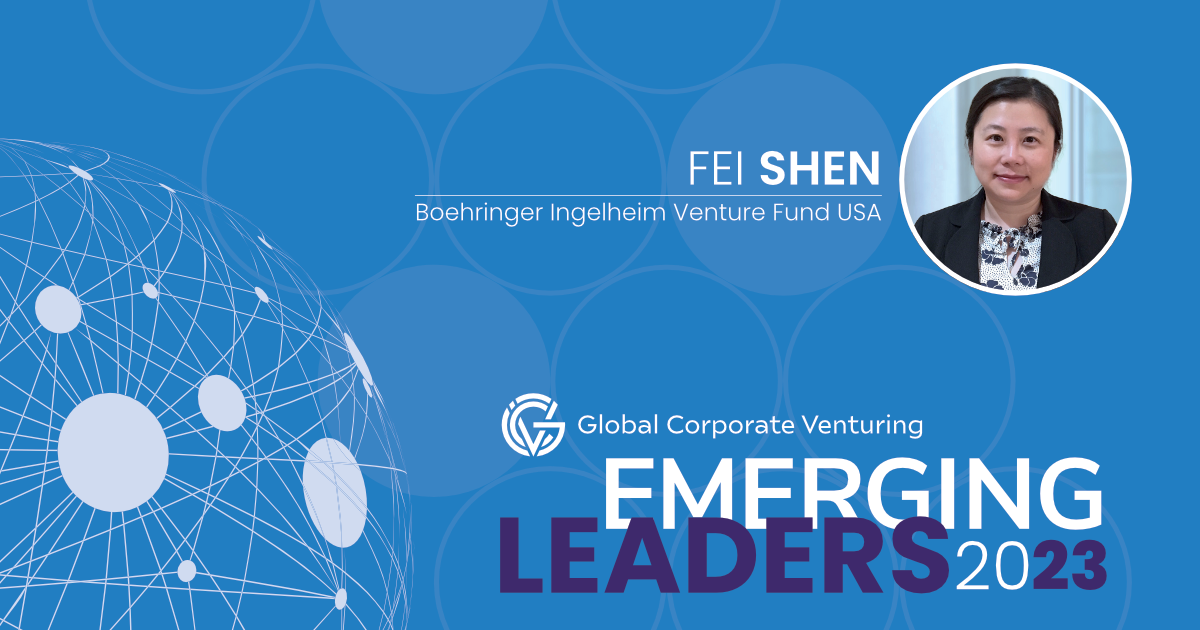 Fei Shen had run pharmaceutical firm Boehringer Ingelheim's research on in vivo pharmacology, immunology and respiratory diseases for four years when the chance to join its Boehringer Ingelheim Venture Fund as an investment director arose in early 2020. Within 18 months she was leading its US operations as managing director.
"I also had the opportunity to go to an institutional venture fund," Shen explains. "And the reason I picked a corporate venture fund is I feel that, while there's nothing wrong with doing a venture fund just to make money, it's not what I want to do."
The move to venture investing involved a lot of learning, a process Shen describes as 'drinking from a fire hose', but when the time came to move up, she had syndicated deals and had already formed companies within Boehringer Ingelheim.
"It was important to me that I continued to be a scientist and an investor and not just oversee the fund," Shen says. "So, for me it was a great opportunity to go to a different horizon while still maintaining the core: allocating resource to the most promising science and technology that can make a difference for patients' lives."
Shen's ambition when going into research was to create medications that made a difference to patients' lives, and her present role could potentially take her to a range of areas. Boehringer Ingelheim has spun out companies before, and Shen would like to one day take a lead operational role at a startup and shepherd a drug from discovery into the clinic.
"I did in vivo pharmacology for a long time and that experience helped form who I am," she says. "And I think the venture part really consolidated who I am in a way.
"From day one, I went into pharma and biotech because I truly believe in making medicine that makes a difference. One day, when I close my eyes, I want to know I made an impact on this industry. That's very important to me."
---
See the rest of our Top 50 Emerging Leaders for 2023 here.