Nandita Shangari, managing director, Novartis Venture Fund, is one of our emerging leaders in corporate venturing in 2023.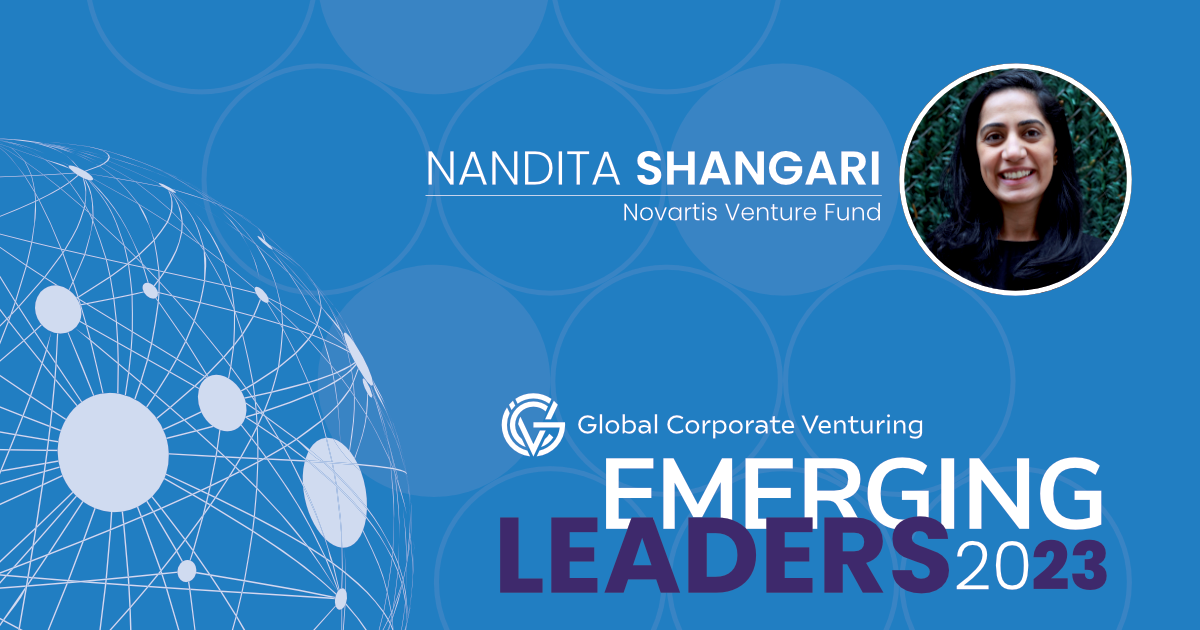 Nandita Shangari is a longtime Novartis employee who started 15 years ago as a lab lead on various drug development programmes. She got a taste of working with disruptive innovation when she joined the team working on the Kymriah, a CAR-T cell therapy for leukaemia, the first treatment containing a gene therapy element to receive FDA approval in the US, in 2017.
"Being part of a cross functional team building this cell therapy modality was amazing," she says. "I got exposed to clinical manufacturing, to commercial, regulatory, all of that."
After the Kymriah project, Shangari was invited by Anja König, head of Novartis Venture Fund, to join the corporate venturing team. It was a change of pace and Shangari especially enjoyed the fact that "you reap what you sow" in venture.
"In business development, you do the deal and walk away. In venture, you sit on the board. You spend a lot of time working on things with companies and figuring out what their plans need to look like. It's a very complete experience," she says.
Shangari sits on three company boards as an active member and on one as an observer. "We're extremely committed once we're in. I have calls with my CEOs every two weeks, we are actively involved in compensation committees, audit committees. When they are fundraising, we will talk to all the potential investors to give our thesis and tell them why we are excited about the company," she says.
When Shangari evaluates startups, she's looking for teams with a thoughtful approach and a clear idea of the market for their therapy. A red flag is having "a million indications that their compound can go into, like it's this miracle drug that can solve Alzheimer's and cancer," she says.
She firmly believes that her previous operational experience gives her the edge as an investor.
"A lot of people come into CVC without doing any operational work before. If you have operational experience, you are a much better investor," she says. "You can sympathise better with founders. It helps you see around corners."
---
See the full list of Emerging Leaders 2023 here.