Björn Heinz, investment director, Yara Growth Ventures, is one of our emerging leaders in corporate venturing in 2023.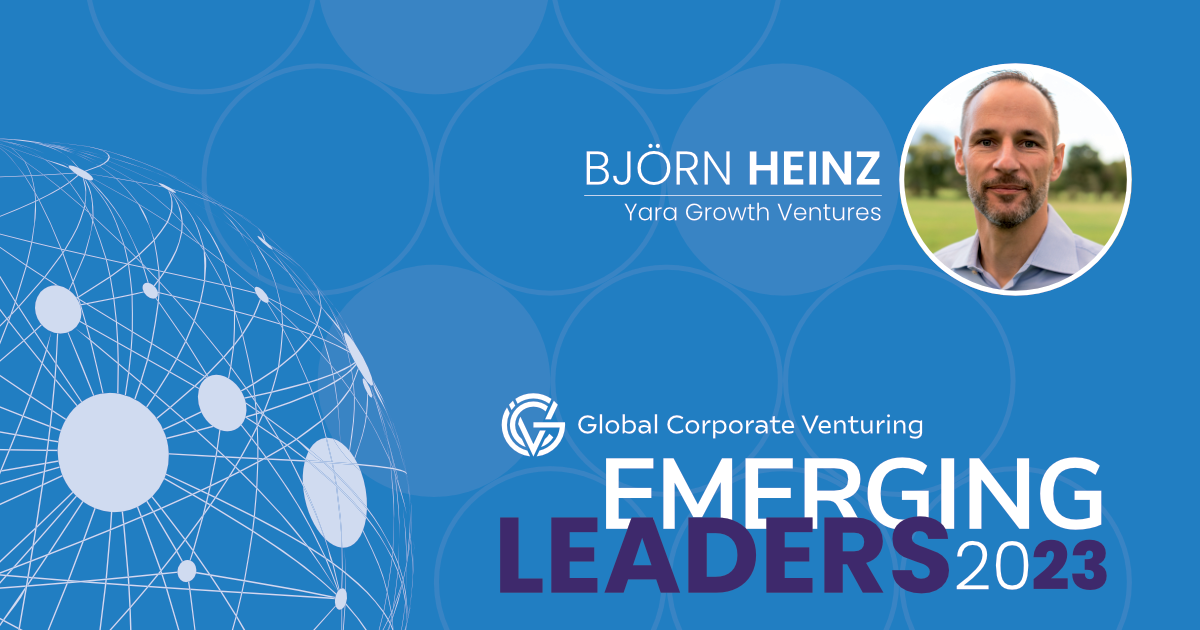 Yara Growth Ventures, the corporate venture arm of Norwegian agricultural firm Yara International, was launched in early 2021. Björn Heinz, investment director, joined the nascent team in October 2021, which has since then grown to seven members located in six countries.
Along with the team, investment activity scaled up quickly. "The first two years were an exciting and fast-paced ramp-up," Heinz says. "Our early deals underpin the ambition to develop a global portfolio of future leaders in agtech and green hydrogen," he adds referring to investments made on five continents already.
Heinz is a trained chemist with a PhD in physics from the Ludwig Maximilian University of Munich. "I started my career in R&D at BASF and was always interested in commercialising deep science innovation – especially from fields addressing the relevant problems of our time like energy or the food system," he says.
"I enjoyed collaboration projects with startup companies. It was important learning how big corporates can solve challenges jointly with nimble and entrepreneurially driven startups — that triggered my interest in the world of venture capital."
Consequently, Heinz joined BASF Venture Capital in 2013 where he spent five years in Silicon Valley, investing in advanced materials, green chemistry and sustainable agriculture companies. Afterwards, he was instrumental in launching Chemovator, BASF's business incubator and company builder. He spent more than three years with the initiative, helping build a portfolio of a dozen ventures and realising the first spinoffs before taking his current role at Yara Growth Ventures.
Yara Growth Ventures invests across different stages of startups' development. Its portfolio companies include Kenya-based agricultural marketplace Apollo Agriculture and Turkey-headquartered agricultural lending platform Tarfin.
In 2022 Heinz sourced and executed Yara's participation in the $17m series A round of Sabanto, a US venture bringing autonomy to farming. "We are still building out our portfolio," he adds. "So stay tuned for more deals to come."
---
See the full list of Emerging Leaders 2023 here.