Golnaz Borghei, corporate venture capital lead, PwC Deutschland, is one of our emerging leaders in corporate venturing in 2023.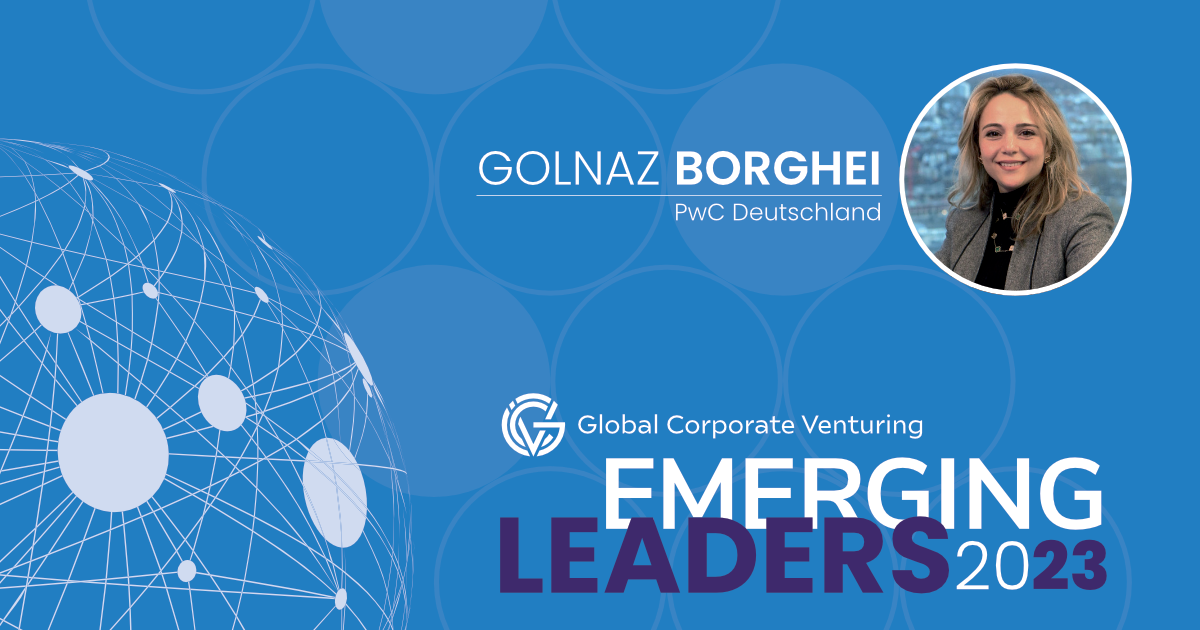 Golnaz Borghei was one of the founding members of the corporate investment unit launched by PwC Deutschland in 2020. Together with PwC partner Florian Noell, she has got the unit off to a rapid start with 20 investments so far, including both direct stakes in startups and investments in VC funds.
The core team has three to five people, with 25 team members working across all the open innovation activities including investment, partnership and portfolio management. The team is getting increasingly into venture building with two projects underway.
Borghei was involved in creating a network in the startup community for PwC Deutschland while enabling investments. The industrial internet of things (IoT); finance transformation; tech for managing environmental, social and governance; and climate tech are areas PwC is interested in.
Borghei started her career in academia with a PhD and a post-doctorate in biotechnology and neuroscience from Cambridge University. She was once more comfortable in a lab but became disillusioned by the constant need to fight for funding.
"In the research world we were trying to bring science to money, while there were too few to bring money to science!" she says. She became a venture capitalist first in the biotech sector to direct funding to tech and science companies.
Borghei says she faced a steep learning curve when joining PwC — her background as a migrant, woman, scientist and deep-tech investor are different to the typical consultant profile. But she says she is proud that she has already greatly contributed to building a diverse investment team.
Borghei says corporate investors should be prepared to get out of their comfort zone. "I sat at many tables, hearing "what is she doing here". Soon I was at the head of those tables," she says. "Don't be shy to say what you know and ask what you don't know. Corporate investment is not a routine job," she adds. And you have to able to handle crisis and change.
---
See the full list of Emerging Leaders 2023 here.