Will Thorne, head of Scor Ventures, is one of our emerging leaders in corporate venturing in 2023.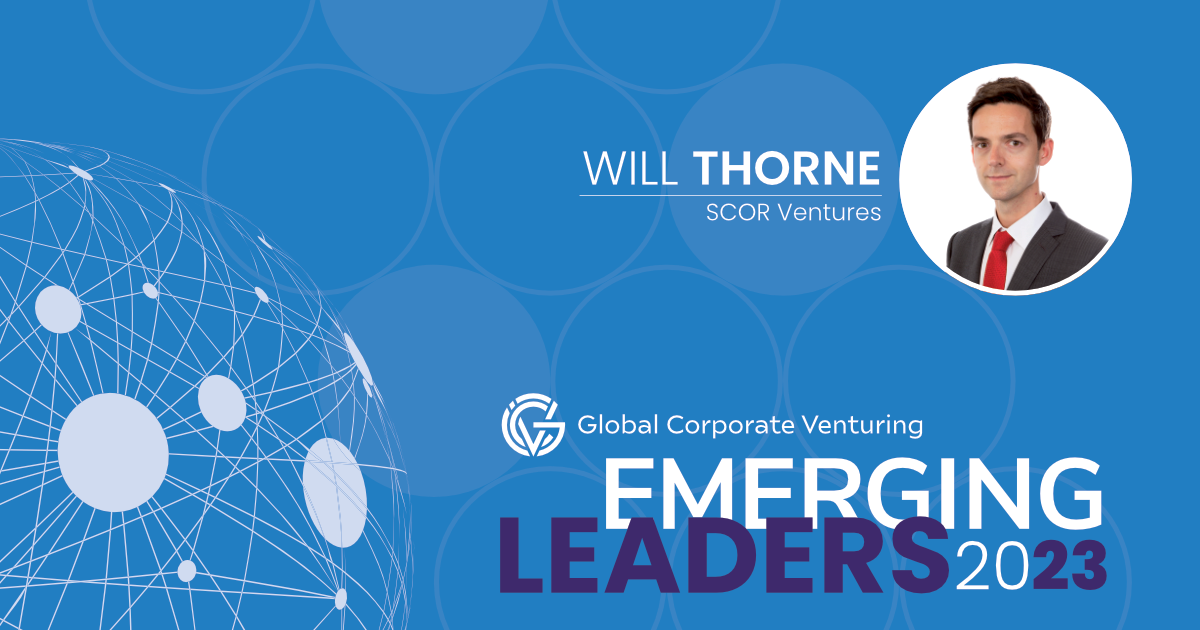 Getting everyone on board to set up a venturing arm at reinsurer SCOR wasn't a walk in the park, but SCOR Ventures unit chief Will Thorne got it done with persistence and being "very annoying about it". Several years later, SCOR Ventures is well into deploying its second fund.
The first two or three years of SCOR Ventures were mostly about building the unit's profile and gaining credibility, but the challenges have changed over the years. "As time has gone on, in the second fund the most challenging aspect has been managing the venture cycle, obviously from the heady heights of 2021 into the more realistic environment now."
The cyclical nature of the insurance business insulated the CVC from getting pulled into the inertia of 2021.
Since launch, one of Thorne's proudest achievements has been the genuinely diverse nature of the team he has hired. "There are very few VCs who have 50-50 gender diversity, and also bringing cultural diversity. That's something which we're really proud of and it's really core to who we are and how we operate."
The other big achievement is the strategic alignment between its parent and its portfolio companies, with between 50% and 60% of investees establishing formal relationships with SCOR and many of them doing business with SCOR's clients.
He advises newcomers to the CVC scene to develop relationships with angel investors early on to complement relationships with the wider VC network, as they tend to have strong operational experience and are an asset when assessing a sector or company.
"I would hope that five years from now we will have successfully launched our next fund cycle and that we have seen an ability to scale up our activities in terms of the impact that we're having and the impact that our portfolio companies are having on their customers."