Cheaper and more powerful lidar and technologies that can augment it are getting investor attention.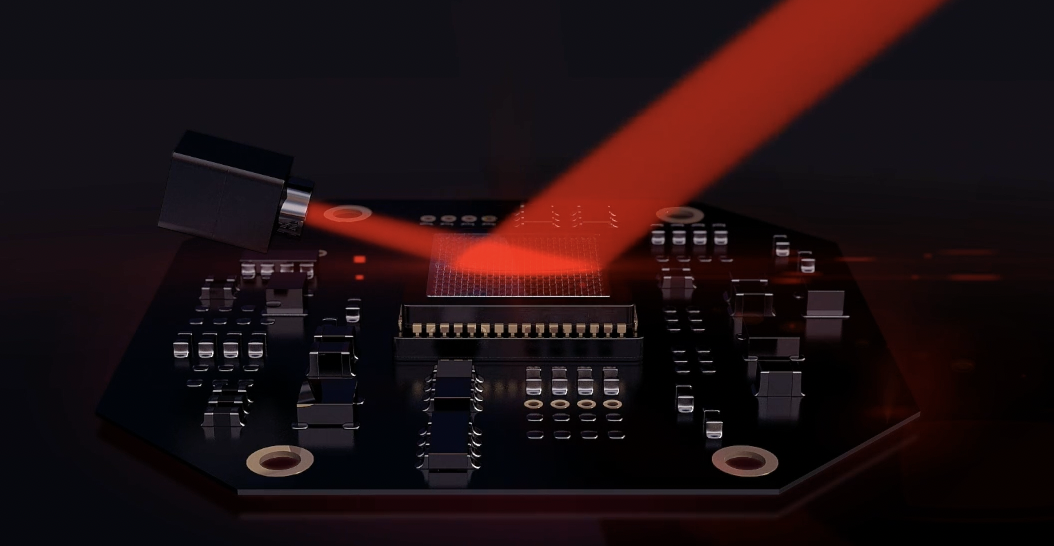 In USAA's San Antonio office in the southern US state of Texas, one of the earliest airbags from the late 1970s is on display. The insurer was an early advocate and lobbyist for installing the now ubiquitous safety feature in cars.
Fast forward 50 years and USAA is investing in the very latest car safety technology for autonomous vehicles, a key element of their commercialisation. In January USAA's venture team took part in a $13m funding round for Lumotive, a developer of 3D sensor chips. The capital raise, led by Samsung Ventures, will finance the development of optical semiconductor devices that enable the next generation of lidar sensors.
Ensuring safety is a barrier that makers of autonomous vehicles must overcome before self-driving cars can be made widely available. Part of the reason that autonomous vehicles have been slower to be developed than many hoped is because lidar technology has been expensive and its capabilities still limited. But a new generation of lidar and other sensors is emerging, which could overcome these challenges.
Lidar, which stands for light detection and ranging, is a remote sensing method that uses pulses of laser light to measure distances. It enables autonomous cars to detect objects around them, so that they can avoid collision. Typical lidar is a mechanical device that creates a 360-degree view of what is going on around the vehicle. New technologies are taking this application a step further to increase detection performance and make it cheaper to produce.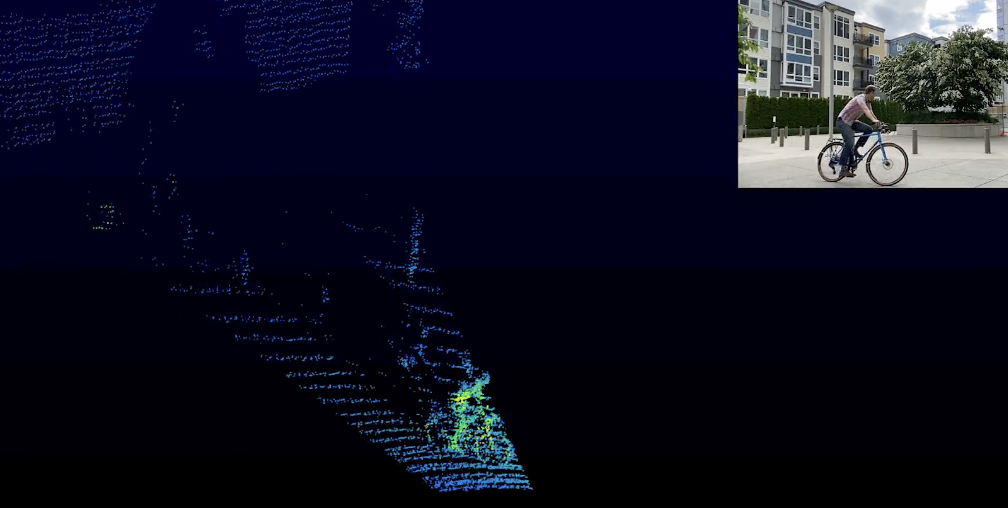 US-based Lumotive is developing a silicon-based semiconductor that uses software to steer a beam to detect a vehicle's surroundings. The chips address perception and safety requirements across industries, not just in automotive but also in industrial and consumer sectors, says CEO Sam Heidari.
Lumotive's technology can play a role in making lidar applications cheaper because it can be easily scaled, says Michael Smith, assistant vice president of corporate development at USAA. This is especially important for commercialisation in the automotive sector where safety systems have increased the cost of cars by 50% in the past decade.
"If Lumotive can help increase the prevalence of the safety systems whilst also reducing cost, it will have a nice market opportunity," says Smith.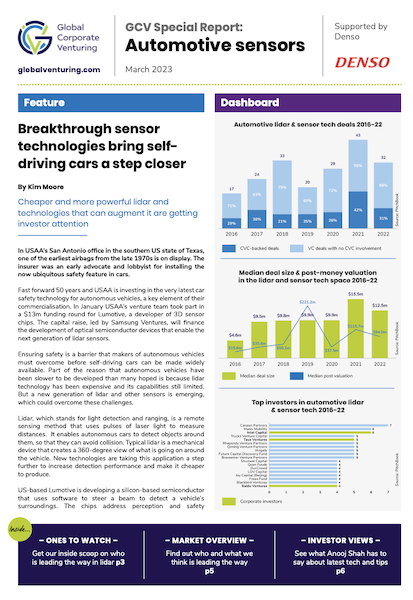 This article is part of our Automotive sensors report. To see the full report, including 11 other startups to watch, click here.
Lumotive's sensors can be integrated into the existing car manufacturing supply chain, helping to reduce costs further. "Lumotive can provide a new and better technology to the existing lidar manufacturers.
They go in tier one manufacturers and OEMs [original equipment manufacturers]. That was an attraction that they could improve the existing value chain," says Smith.
Other startups have invented sensors that use materials which are extra sensitive to detecting surrounding objects. Phlux Technology, a spinout from the University of Sheffield, in the UK, uses antimony, a metallic element, to make infrared sensors that improve the performance of lidar systems.
The startup's product is 10 times more sensitive and has 50 times more range compared with equivalent sensors, according to a release. In December last year it raised £4m ($4.93m) in seed funding, led by UK investment firm Octopus Ventures. The round included Northern Gritstone, an investor of startups in the north of England, Foresight Williams Technology Funds and Innovation Fund.
A unique feature of the technology is that it can operate at high energy in poor visibility while not damaging human eyesight.
"We are getting to this point in the adoption of lidar in autonomous vehicles where, to have good visibility in bad weather and darkness, you need to have a certain amount of power that is emitted and reflected off these lidar devices. There is a compromise between our safety and the wavelength of light that can be used for lidar devices," says Amy Nommeots-Nomm, deep tech investor at Octopus Ventures.
"One thesis we have of where lidar will go is the energy, or wavelength of light, that will be used for mainstream lidar will transition away from visible wavelengths of light to infrared," she says.
Phlux Technology's sensors can emit more than 1,000 times more photons than silicon-based emitters, enabling its antimony sensors to see further and with greater pixel density.
"Industry will never achieve full autonomy with lidar if it relies on silicon-based sensors, so our approach will reshape the sensor market for robotics and self-driving machines," says Ben White, CEO and co-founder of Phlux Technology, in a release.
The startup's sensors can be mass produced and retrofitted into existing lidar systems, which is a big attraction for investors. The sensors can also be applied to other sectors such as satellite communications, fibre telecommunications and gas sensing.
"We back technologies that can serve a lot of markets. It gives them space to move and grow as they move towards commercialisation," says Nommeots-Nomm.
The deep tech investor also predicts innovations in background computing that process the data that sensors collect. "We are seeing growth in optimised algorithms for these applications, which are progressing in tandem with this cheaper, more accurate lidar," she says.
Unsurprisingly, carmakers are eyeing up new lidar technology. GM Ventures, the corporate venture arm of General Motors, recently invested in UK startup Focal Point, a developer of next generation global positioning system (GPS) technology. The company is trying to solve the so-called canyon problem with GPS, in which tall buildings in urban settings disrupt satellite signals from reaching ground level.
Focal Point has developed computer chip software that stops reflections from satellites bouncing off buildings and more accurately pinpoints vehicles using GPS. This makes navigation and positioning more accurate in dense urban environments. It is partnering with General Motors on applying its technology to the carmaker's driver assistance systems and autonomous vehicle technologies.
"Lidar, radar, GPS-type technologies are going to be a focus for us," says Stefon Crawford, principal at GM Ventures.
While fully autonomous vehicles may still be years away, lidar 2.0 will be a critical part of that journey.