The institution is starting afresh with its investment activities, having brought the management of its spinouts back in-house after Touchstone.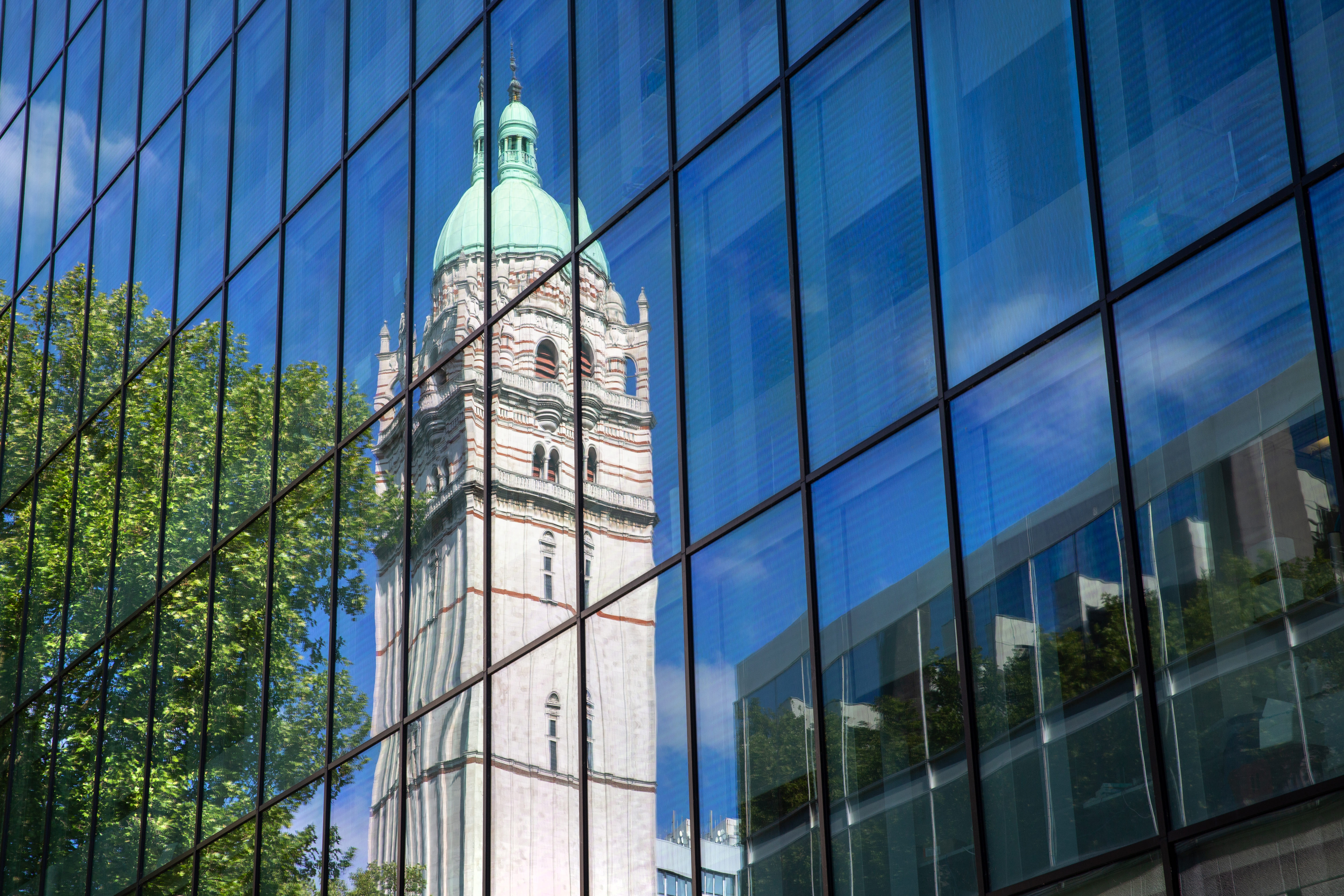 Imperial College London's history of tech transfer and investments is a well-known, if chequered, one. The university set up an internal office in 1986 but that was soon turned into a wholly-owned subsidiary that subsequently became an independent organisation and, in 2006, listed on Aim. Imperial Innovations (later rebranded to Touchstone Innovations) ploughed some £300m ($417m at current exchange rates) into early-stage companies before it became subject to a hostile takeover by commercialisation firm IP Group in 2017.
This left Imperial College without a team dedicated to spinouts. Rather than outsource these capabilities again, a decision was made to bring it all back in-house. The structure of the college's operation can be intimidating to untangle, but it is actually fairly straightforward.
Brijesh Roy, seed investment manager at Imperial College, explained: "We have the university's enterprise division – headed by Simon Hepworth – which looks over all commercial aspects.
"Our enterprise labs is where we have entrepreneurial training that was originally focused on students but now has pre-accelerators that are not dissimilar to others across the country, from programmes targeting students with an idea to academics looking to spin out their research who need wet labs.
"We also have a growing innovation hub in White City. There is a lot of development and scale space – it is the commercial, entrepreneurial backbone with a lot of real estate, labs and innovation areas.
"Then there is the traditional tech transfer office, which is structured in two ways. There are the people who look after intellectual property, partnerships and commercialisation. They handle the patent filing and work with academics who want to create spinouts.
"If we want to create spinouts, that is the other part of the tech transfer office, which is where I sit: the startups team. That is headed by Govind Pindoria, who looks after the spinout portfolio. Until a couple of years ago, that was still managed by IP Group. The 10 to 15 companies we spin out in a year – my colleague Neil Simrick does most of that work – is our growing portfolio. Simrick oversees the Founder's Choice programme, tries to shepherd companies out and helps the academics."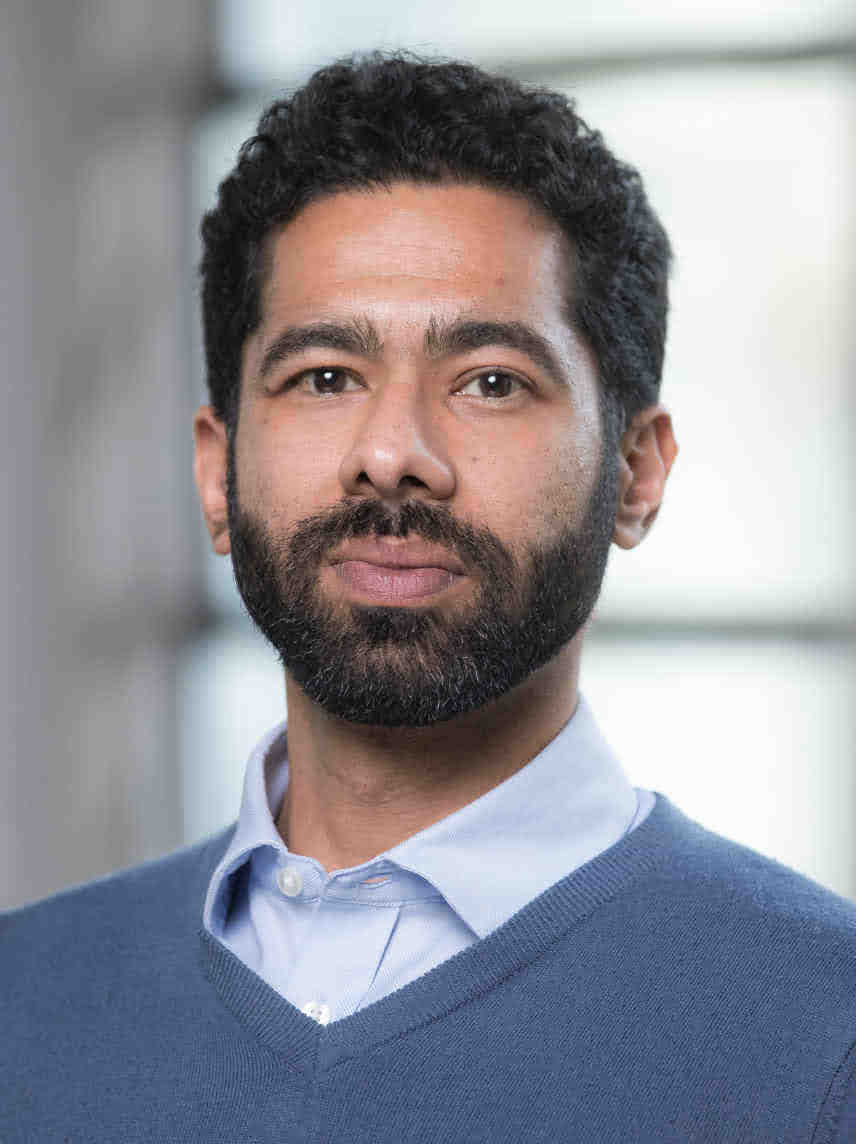 The Founder's Choice programme allows founders more control over their spinouts in the early days of the company. Instead of the simple 50-50 equity split between founders and their employer, Imperial takes as little at 5% founding equity with anti-dilution protection until series A. The anti-dilution effectively dilutes Imperial College's voting rights as a shareholder in favour of the founders, a structure that investors appear to prefer.
Roy was brought in to work out how the university should be investing in its spinouts, leading to the creation of the Imperial College Innovation EIS Fund I. The money is the legal responsibility of Parkwalk Advisors, the fund management subsidiary of IP Group, but the structure enables Imperial College to make recommendations on which companies should receive investment.
Starting from scratch meant the team had "a great opportunity" to build what they thought would be most useful, Roy recalled. One important aspect of the fund is that it "does not have any have any structural rights," he explained, "there is only a confidentiality agreement that means we can see all the information to be able to make recommendations."
It was all going smoothly until the day after Imperial announced it was going to start raising the fund with Parkwalk, when "Boris Johnson took to the airwaves and told everyone to go home," Roy remembered.
To everyone's credit, they still managed to raise £2m within three months and then spent the summer months figuring out the next steps of finding, vetting and investing in companies solely through video chat. By September, they had their first investment advisory committee and by December, the first portfolio company: Charco Neurotech, which has developed a small device to help improve the movement of Parkinson's patients.
The committee is split between Imperial College staff – hailing from enterprise commercialisation, central administration, departments and also including senior academics who offer their research expertise – and external experts, such as Alice Bentinck, co-founder of Entrepreneur First, and Brent Hoberman, who founded Founders Factory.
Since that first deal was struck with Charco, "the process has gone like clockwork," Roy declared, "such as we are aiming to, at the end of July, have our final investment committee. There is a company being considered that hopefully would mean we get the entire fund committed within six months – eight companies with cheques of about £250,000 as part of £1m rounds."
Lucy Jung, co-founder and chief executive of Charco Neurotech, contributed: "Throughout our involvement with Imperial, whether it be Enterprise Lab, MedTech SuperConnector, Imperial Venture Mentoring Service or the Innovators' Programme, Charco has been able to find the support that we need at every stage of our journey.
"When we met with Roy, he supported us throughout the investment process, aiding us in building a strong narrative and preparing for the investment committee. It was an intense few weeks, but a great opportunity for us to learn. We thoroughly enjoyed the whole process. It means a lot that we were able to receive the support from the initial concept, all the way to pre-seed investment, from Imperial"
Anyone with a link to Imperial College has been eligible for funding – be it staff, students or alumni – and the fund has been sector agnostic. It meant the university could secure stakes in companies it originally may have missed out on, the latter being a reality that became a source of bafflement when the committee was looking at Charco and wondered where Imperial's founding shareholding was.
The reason for a lack of Imperial's founding shareholding was simple: it grew out of her master's project. "She has come up with something that academia had not," Roy observed. Indeed, ever since Prof Jean-Martin Charcot – widely considered the father of neurology – realised in the 19th century that Parkinson's patients arriving by carriage had better symptoms than those arriving on foot, not much innovation has occurred. "Even today," Roy noted, "the state-of-the-art research is putting people in chairs that vibrate the whole body."
Charco brings smiles back for people with Parkinson's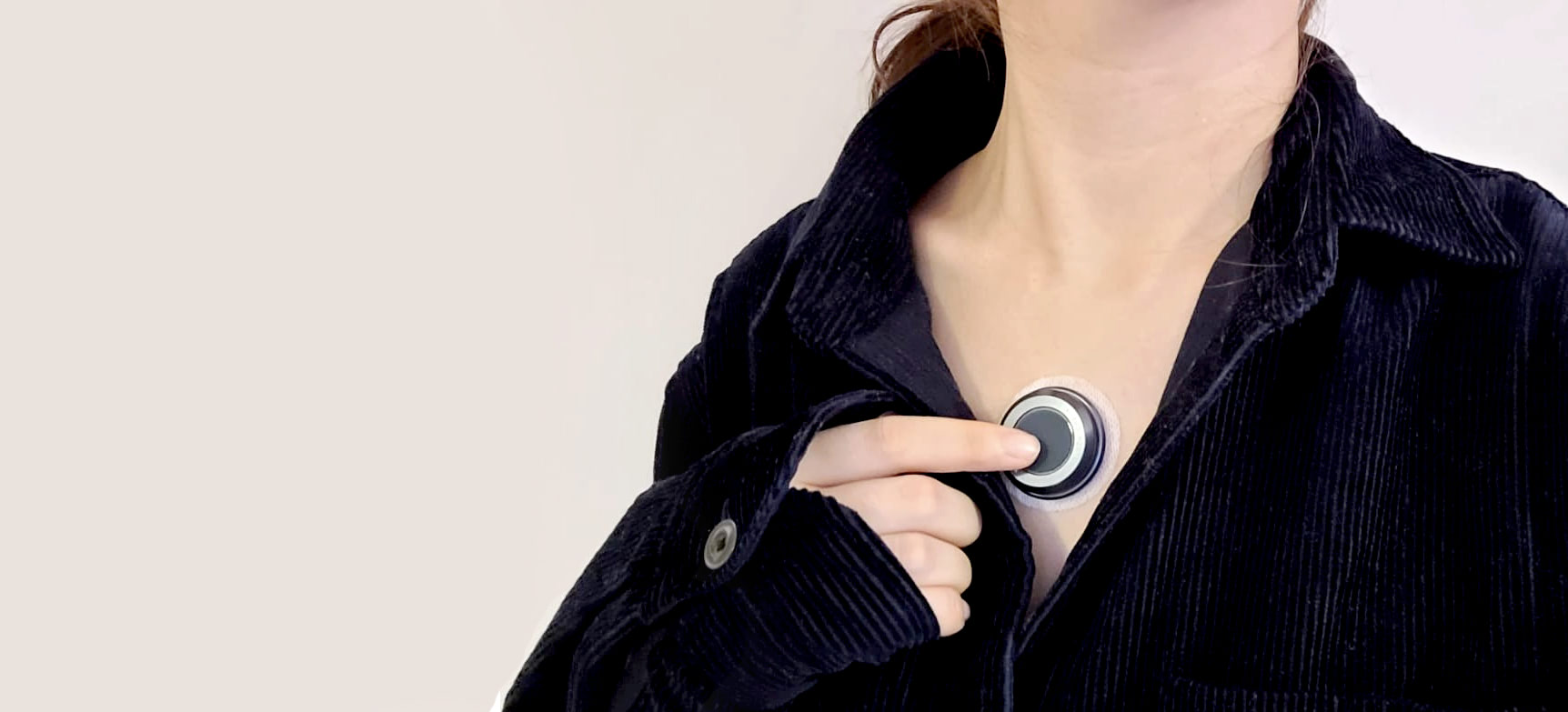 Jung described the technology: "We are developing hardware and software to improve the movement of Parkinson's patients via focused vibrotactile stimulation, combined with the cueing phenomena. The device also delivers reminders to ensure that people do not miss their medication.
"The software tracks the symptoms so that clinicians have a better understanding of how people are progressing and can best optimise care."
The technology improves the condition throughout all stages of the disease and it has applications in other neurological conditions as well, Jung pointed out. Charco plans to explore these areas in future.
Jung's interest in Parkinson's began in 2013, when she and a group of fellow students collaborated on a project designing tech for people with long-term conditions. One story in particular stayed with Jung, she revealed: "I remember meeting this gentleman who had Parkinson's and he was saying: 'I look angry, but I am actually happy right now. Parkinson's caused my face to look like this and now everyone always thinks I am angry.'
"That hit me," she said, "Parkinson's means everyone thinks he is angry which affects his social life."
The encounter led to Charco's motto, "bring smiles back for people with Parkinson's," Jung said.
At this point, you could be forgiven for thinking Jung graduated from her master's degree in 2013 and, having become interested in Parkinson's, went on to found Charco. But that is not what happened at all.
"I was working well on that project," Jung recalled, "but I was diagnosed with a brain tumour. I was 25 and it was a shock. The tumour was benign, and they tried all the different medications to control growth, because it would have affected my vision if it did not stop growing."
Jung underwent brain surgery, thankfully recovered and went back to Imperial to finish her degree, newly driven by her experiences. "If there is any potential, even if it is just a 1% or 2% improvement, when you are the patient that is such a difference," she emphasised. "When I was the patient, I was so desperate for any kind of hope and that was a big lesson."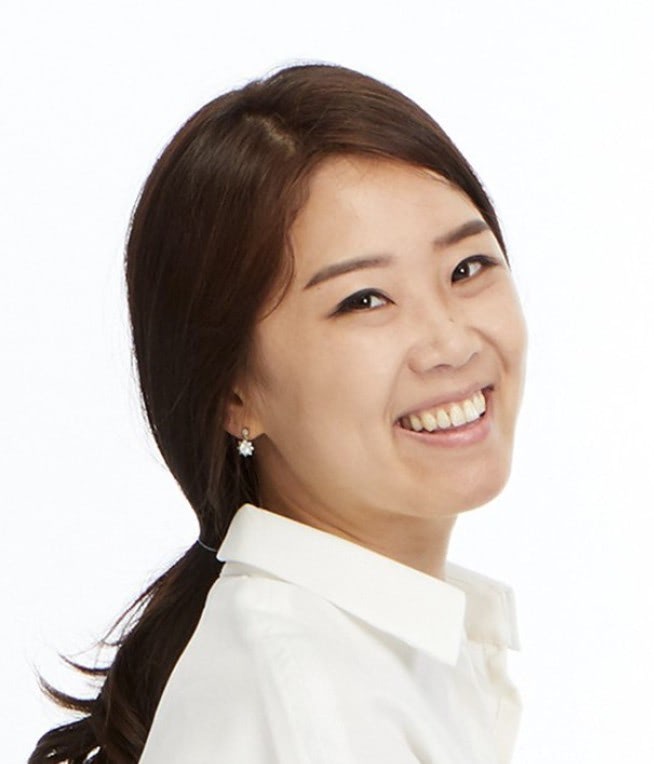 It guided the development of Charco's device, the Cue1, as Jung and her co-founder Dr Floyd Pierres sought the advice and experiences of patients and clinicians. When they surveyed patients if they would want the device if they built it, 97.5% of respondents said yes.
"That was encouraging," Jung stated. "Then the next challenge hit us."
Pindoria became her first mentor and, within weeks of Charco's incorporation in mid-2019, a company director. During the first meeting Jung had with Pindoria, she wondered whether she was ready to lead the business. "He countered by asking what I thought was important to become a CEO. I answered that I believe a good CEO should have a strong vision, persistence and responsibility," Jung revealed.
"I still remember him saying: that is exactly the three things needed to become a great CEO. And I thought, okay, if it is those three, then we can do this. We need to do this.
"From there, we learnt everything. We joined MedTech SuperConnector, Innovation RCA and Cambridge Judge Business School. We received a lot of university support. We are very lucky to have a lot of great advisers, mentors and investors who believe in the vision of improving quality of life for people with Parkinson's.
The immediate focus for Charco now is the product launch, and the company is raising another round also with a view to expanding its team. "We were beta testing the device and those people said they wanted to keep it," Jung said, "so we found a way to make that happen.
"We have more than 4,100 people on our waiting list at the moment."
GripAble makes rehabilitation therapy accessible
Another medical device company that emerged out of Imperial College is GripAble, which is developing a platform to make rehabilitation easier, more accessible and cheaper to more people around the world.
Paul Rinne, co-founder and chief executive, is a neuroscientist within the Department of Bioengineering and Department of Medicine at Imperial College, while co-founder and chief technology officer Mike Mace was, at the time, a research associate looking at rehabilitation technology.
The problem that GripAble solves is a surprisingly simple, but very stubborn one. "I was working, for many years, with patients with neuro disabilities and looking for biomarkers of recovery and for things that we could stimulate to improve recovery," Rinne elaborated.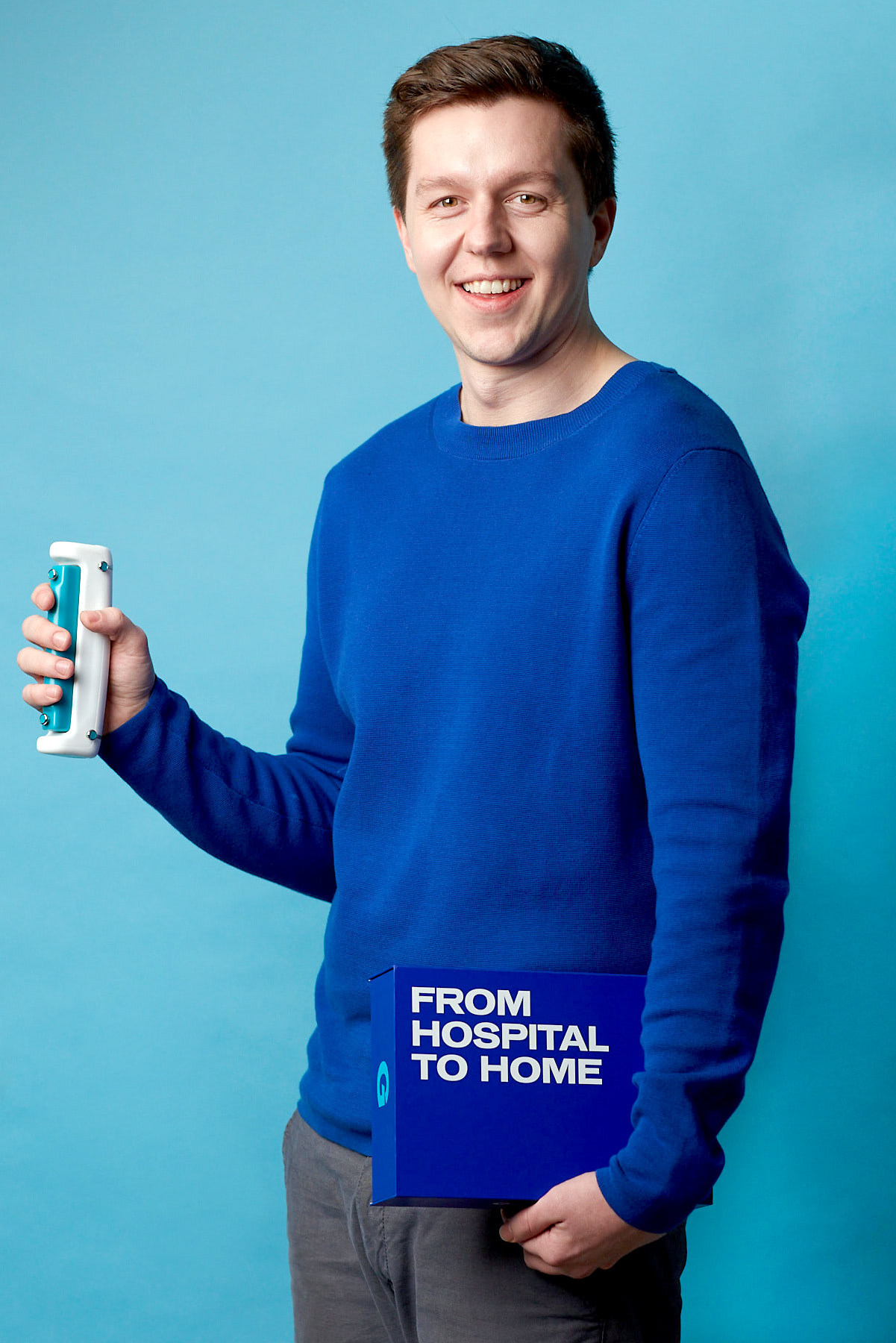 "We had a lot of fancy tech at Imperial – robots, motion capture systems, imaging systems – but when I started to work with our therapy teams at Imperial NHS, I got a reality check. It was a baptism of fire right into the realities of the one-on-one nature of therapy and also into the lack of any innovation in the space supporting therapists.
"You could approach the therapists and say: 'we have this new fancy robot; do you want to use it?' And, of course, they reply: 'when do you think I have the time to use this equipment? How do you turn it on? Are you going to leave an engineer with me to maintain it? And what does the patient do when their 20 minutes is up?'"
Rehabilitation therapy is, like most healthcare, limited primarily by time: therapists have to sit down with patients, make notes, set goals. When it comes to the actual therapy, Rinne discovered that therapists were relying on things like putties, cones, wooden blocks – whatever they could get their hands on.
"That is the technology that is used today," Rinne lamented. "That is when I turned to the engineers at Imperial and told them we needed to stop over-engineering. What can we do that delivers better service but that, most importantly, is accessible to the therapist and the patient?
"We started looking into mobile technology, building accessible sensors and then through a mobile platform therapists could create programmes and collect data on the patient's progress. The handle was the first sensor we developed, and we targeted that at patients wanting to recover their hand and arm function, to be able to eat, drink and dress themselves."
Rinne met Mace "down the corridor," he joked. "When I was figuring out how to create a product, I looked internally at Imperial for engineers developing technologies in that space. Together with my old PhD supervisor Paul Bentley, we approached Prof Etienne Burdet, the chair of the human robotics group in the Department of Bioengineering.
"He took some convincing that robotics was not the only way forward and this was the scalable future. In those meetings, he had a postdoc – Mace – and we were paired together as the two junior members –him from the engineering side and me from the clinical side."
Rinne and Mace "have not looked back since" and the pair went on to take part in business competitions and OneStart, a programme run by pharmaceutical firm GlaxoSmithKline's corporate venture capital arm SR One, and then an accelerator in Dubai. "We moved to Dubai for six months and that is really where the foundation of the company came through outside of the technology aspect and the clinical aspect," Rinne said.
Rinne is a born entrepreneur, even though he used not to think of himself that way. "If you had sat me down a number of years ago, I probably would not have used the word entrepreneur. I would now say that," he divulged.
"I did not go into the PhD in neuroscience to found a company but looking back at what I was doing whilst undertaking that research, it was all very geared, in my head, towards how we would develop this technology and sell it.
"There were things I did do on the side that my supervisor found out about afterwards: I set up a consultancy company for app development and even worked on a finance app at one point. It was all about how to find a need, solve the problem and work out a business angle. Back then, I did not appreciate that as entrepreneurship."
At the heart of GripAble's technology are the sensors, which gather data on key points relevant to therapists – such as an individual's strength and their range of motion – which, through the software platform, can then be used to infer other information, such as a patient's pain level and mood.
"Ultimately the sensors ­– whether they are used for neuro rehab, musculoskeletal or paediatric care – are our area of expertise," Rinne explained. "They could be used in other areas of healthcare. Strength is becoming a significant biomarker of general wellness, frailty or recovery from respiratory disease. It is also used as a marker of oncology and in drug studies. We have the opportunity with GripAble not just to look at rehab but also at general health conditions, such as healthy aging."
The major hurdle that GripAble has been trying to overcome is the deployment of its device. It has achieved an even split between private healthcare providers and the NHS but getting it into NHS clinics "is exceptionally challenging," Rinne remarked. "Never mind covid being on top of everything, it is challenging in terms of getting understanding of value that the product delivers, transitioning from certain ways of work and how exceptionally fragmented the payment side is.
"Ultimately this is why, to date, no one has actually scaled a technology in the rehabilitation space through the NHS. I think we have done an incredible job; we are breaking down those doors by doing the hard graft, going bottom up to the top clinics and building the evidence base to be able to approach the NHS top down and convince them to put it in every single hospital."
Imperial's investment in the company's £1.6m pre-series A round earlier this year has been "obviously fantastic," Rinne stated. "It is a great marker of confidence in the company. Of course, the affiliation with the university is invaluable – whether it is the clinical validation side or the engineering support. With the Imperial College Innovation Fund backing us, we know we also have the business support and the financial support."
Rinne pondered: "It is a young fund at Imperial, it was not yet set up when we were founded in 2017, but I am hoping that this new focus of theirs accelerates the development of companies such as ours coming out of the ecosystem."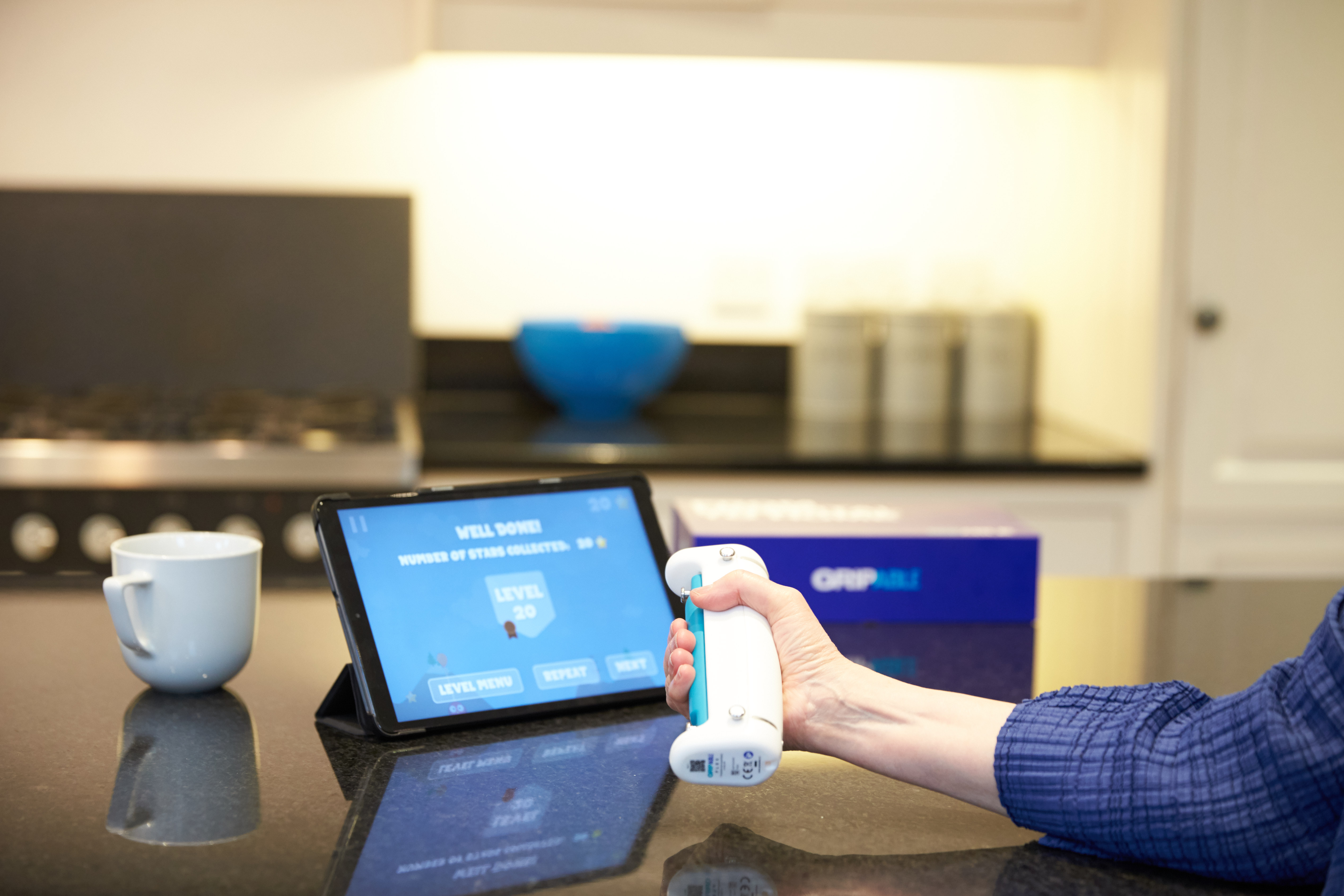 The spinout earlier raised "a modest amount" in its first funding round three years ago led by Oxford Technology, which "were fantastically supportive in that phase and continue to be". Triple Point came in subsequently "to help deliver scale and support us on the corporate governance side, to make sure we are moving forward in a way that allows for growth," Rinne said. The company has also attracted money from a group of angel investors.
GripAble is now in the process of raising its series A round and has set its sights on three major goals: one, the ability to scale through distribution partners and make sure the platform is getting into every clinic, outpatient centre or care home in the UK and other territories.
This would then support the second goal: scaling the data-driven software and build an artificial intelligence platform that would allow GripAble to make recommendations to help accelerate a patient's recovery and ensure adherence. "This is going to take many years of data collection, but it is the opportunity beyond just the sensor," Rinne envisioned.
"The final part is to transition into the US market and replicate what we have achieved in the UK," he announced. "We have a small office in Austin and just hired our first US employee. We are working with the Association of British HealthTech Industries and their US accelerator."
Already, the company has deployed its device across 16 countries internationally, with 1,000 units across the UK. "We now have over 5,000 patients who have used the system, we have recorded over 65,000 activity sessions and we are approaching 15 million movements recorded. This is data and the potential to deliver information and insight that this market just has not had," Rinne declared.
Petit Pli tackles sustainability holistically
A completely different market that is just as ripe for disruption is the fashion industry. Petit Pli aims to tackle this challenge in a holistic way. The company is a material technology developer that has patented "a fabric that expands bidirectionally," chief executive Ryan Yasin explained.
"We initially applied that fabric to a specific solution, which is children's wear to reduce over-consumption rhythms and to have positive gains along the entire value chain."
Yasin, like Jung, gained a joint master's degree from Imperial College London and Royal College of Art in Global Innovation Design – "a course that appears to be product design on steroids as far as I can see," Roy mused.
But unlike Jung, Yasin's focus for his dissertation was not on the company he ended up building. "I have a background in aeronautical engineering and in my thesis, I focused on deployable structures for nanosatellites, which involved a lot of research into origami and how to fold structures into small gaps and then have them deploy out in space," Yasin said.
His fascination revolved around materiality, he explained, and a love for manipulating the mechanical properties of fabrics through structures embedded within them.
Yasin spent a semester in his first year at Keio University, working with Harajuku fashionistas to try and solve specific problems for them. "I did not like the outcome of that being a portfolio piece and something that remained as a theoretical albeit interesting project," Yasin bemoaned. "I felt dissatisfied, actually, because the inspiration for that project was to solve a problem about which these fashionistas had really opened up about to me. I had learned so much about the struggles that they went through in terms of something which was not obvious and did not meet the eye.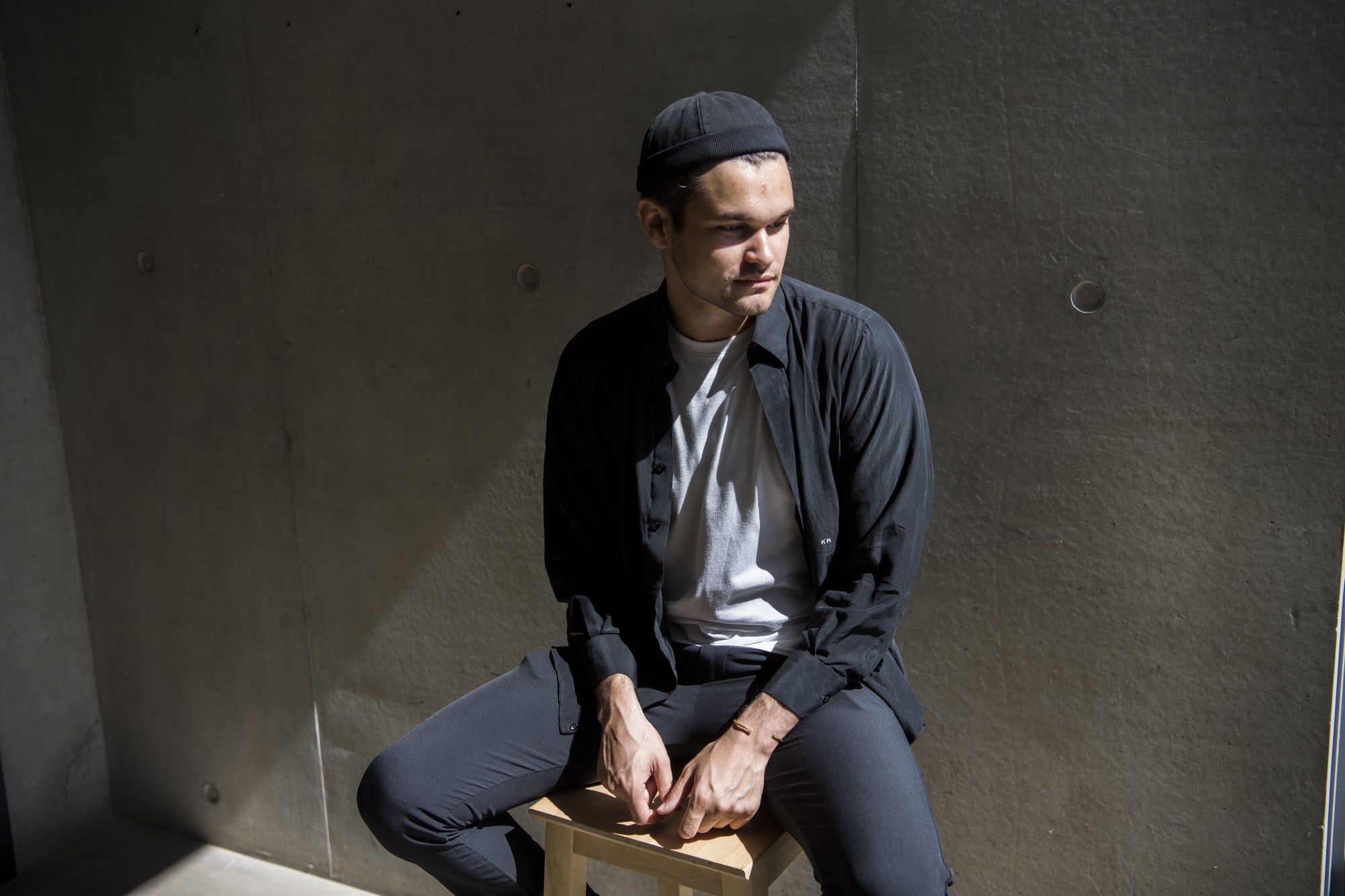 "The speculative outcome did not add value to their lives. I really did not like that. So, when I came back to London, I knew that I wanted to design something that could have a real and positive impact for someone and society as a whole.
He set about creating a business that could self-sustain and looked for a commercially viable problem. The light bulb moment came when he bought a piece of clothing for his nephew living in Denmark: by the time it arrived, he had already outgrown it.
Petit Pli's solution is a stroke of genius: the garments grow with the children and thus one item lasts for years.
"It is important to understand why this solution exists," Ryan declared, "and that is to approach sustainability with a holistic viewpoint. We are not focusing on one person in the value chain and trying to solve the problem for them, because what often happens is that you design a solution perfect for one person but it has a negative knock-on effect either up or downstream on the value chain."
He elaborated: "Petit Pli takes waste material from plastic bottles, which is turned into fibres and manufactured into a single-size, growing garment. So, rather than making several separate sizes, the factory only has to make one – which means their process is more efficient and they can save on logistics and energy.
"The retailer has a lot less stock to manage and needs less storage space, because they do not have to deal with minimum orders for several sizes, which also saves them on labour costs and energy."
It does not stop there, he added. A big problem in the fashion industry currently is returns, with an industry average ranging from 40% to as high as 60% because consumers shop online, order several sizes of garments and return the ones that do not fit. Petit Pli's return rate is 2%.
Sustainability does not end once an item is in a consumer's wardrobe, of course, and Petit Pli has already thought ahead to the eventual end-of-life of its products, Yasin revealed. "Our core range is all made from 100% monofibre construction, which means that it is much easier to recycle. Next, we are also looking at how we can take these garments back and repurpose them.
"Our packaging is made out of cardboard and it is a box designed to fit in 90% of UK letterboxes so that you do not miss a delivery and have to make an unnecessary trip to the local post office or schedule a redelivery. You can fold the box into a jetpack for the child to wear and upcycle as a toy.
"On top of that, our factory in Portugal derives 100% of its energy from renewable sources," he stressed.
But Petit Pli goes much further still in its quest to be sustainable, Yasin said. "We are also looking to subscription models so the consumer can spread the cost of a garment over its lifespan, which makes it sustainable from an accessibility viewpoint. Often, what we see today is many sustainable products are expensive and it is not feasible for many people to adopt, however, a garment that grows will save cost over its lifespan – so this business model makes sense."
This last aspect is one that Yasin finds laudable in fast fashion today: it has made clothing accessible. It just did not do it in a way that was good for workers or the planet.
While the company started out with a range of children's clothes, the pandemic led to a second product: facemasks. "We identified challenges with existing facemasks on the market, such as poor fit and poor aesthetics, which meant people did not want to wear them and the stigma created risks for society," Yasin said.
Earlier this month, the company also launched its range of women's wear. It is a single size for multiple shaped bodies, but in particular maternity wear that fits before, during and after pregnancy, Yasin explained. Petit Pli spent a long time researching the problem, he explained, and came to the conclusion that "maternity wear design is always an afterthought."
"It often looks like pyjamas," he said. "It is a transitionary period for women, and the fact that they then also have to change their entire wardrobe is another point of anxiety and stress that is actually unnecessary. We think we have a strong solution there."
On top of Petit Pli's direct-to-consumer operation, the company is also exploring business-to-business opportunities such as uniforms for the construction industry. The two branches of the business are interlinked in Yasin's mind and he hopes to use feedback from consumers essentially as research to develop business products.
Petit Pli's team is multidisciplinary – its staff has backgrounds in mechanical, design and aeronautical engineering, fashion design, graphic design and marketing – in order to be as dextrous and agile as possible, Yasin stated. While those backgrounds all make sense, there is another that jumps out: chief operating officer Arabella Turek is a neuroscientist and sociologist.
These two areas of expertise "has placed her in a sweet spot for understanding human behaviour and helping the company with its goal of nudging consumption behaviour of society as a whole," Yasin said. "If we can do that, we achieve our main goal, which is to encourage people to consume less while capturing the value they would have invested in multiple poor-quality items."
The importance of building a multidisciplinary team was instilled in Yasin by his experience at Royal College of Art, where he was part of a cohort of 12 people from all over the world with varying backgrounds all approaching the same problems slightly differently.
Petit Pli, like many UK startups, secured its first cash injection in the form of a grant awarded by Innovate UK, an investment that Yasin called very important but that depended too much on timing and the ability to allocate resources before money was available.
"There is enough funding, both from a government perspective and from commercial entities," he explained. "It is often luck of the draw whether your solution and innovation fits within the scope of a grant proposal or competition, and that scope is always changing so one year there might be enough cash deployed and the next year there might not be.
"What could be improved upon is that there is typically a lot of paperwork involved. For bootstrapped companies that is often a huge cost because that time dedicated to paperwork is not time the company can afford while it still has to commercialise, prove traction and build supply chains."
He added: "At the same time, you cannot complain. It is fantastic that these mechanisms exist, and we are very fortunate to have them to be able to start these high-risk proposals."
Petit Pli's institutional shareholders are Royal College of Art, Sky Ocean Ventures (a corporate venturing arm of broadcasting group Sky focused on reducing the need for plastic) and Sustainable Ventures, the latter having been the first equity investor that allowed Yasin, then still a sole founder, to run beta trials, gather customer feedback and build a waiting list. Sustainable Ventures is also an investor in Albotherm, also featured in this issue.
This reliance on individual consumers early on in his journey led him to the decision to raise the next round as a combination of institutional capital – allocated to a push into the business-to-business segment – and crowdfunding.
"Someone once told me that it is important to hire people who are your customers," Yasin recalled. "By the same logic, it is important to have shareholders who are also your customers."
Long-term, "Petit Pli wants to clothe the future of humanity," Yasin stated. "We are just starting with the next generation. We consider garments to be wearable technology that just has not caught up with the rest of technology yet and we want to be the driving change behind that."
One vision for the future Yasin pondered was clothing that is breathable when it is hot but becomes waterproof when it rains. Another vision is to have t-shirts that can display whatever art the consumer wants to at any given moment.
"There is a lot of work that still needs to be done and if we are at the forefront of that then we can create solutions that elevate human potential," he pondered. "If we can elevate human potential in a responsible way that is not harming anyone now or in future, that is our overarching goal."
And while the fashion industry is rife with copycats and fakes, this is one aspect that Yasin is not worried about when it comes to Petit Pli. "Many people perceive us as a brand, but we are not just a brand," he explained, "we are also building a community, we have trademarks, intellectual property and patents, and we have collaborations with large global companies in the pipeline.
"Taking that approach in addition to trade secrets allows us to build something that is protectable. We are not really a children's wear brand. We are a material technology company who have intellectual property and have identified one application and commercialised it in a direct-to-consumer manner."
It is an interesting approach in a sector where other startups are either building a sustainable consumer brand or a material technology that they can sell to businesses, undoubtedly making Petit Pli a company that warrants keeping a close eye on.
Riding the wave
With Imperial's first fund set to be fully committed by the end of this month, there is obviously the question as to whether Roy and his team want to do it again. The answer is yes, although, he joked, he needed a vacation first.
"The target for the first fund was to get it deployed by December, so we have gone faster than planned," he mused. "You push on doors and they open, and maybe you can push on more doors when you are operating remotely in half hour Teams slots. Parkwalk are keen, but obviously I cannot speak for them."
He concluded: "It has worked. The reception from the startups has been great. I must have met 125 to 150 founders over the last year. It has been amazing; I have not been lonely. I met all sorts of people and practically married eight of them."
For more on Imperial's work, subscribe to our Talking Tech Transfer podcast and listen to the full interview with Brijesh Roy out on July 30.