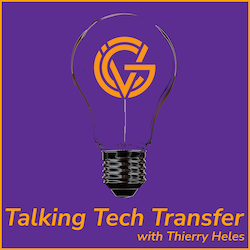 Talking Tech Transfer is a weekly interview series featuring global thought leaders in technology transfer. The show is hosted by editor Thierry Heles and released for free here and through all third-party podcast platforms.
Subscribe
All episodes
Episodes with a transcript are marked with

and we are working hard on adding transcripts to the full catalogue.
Events
Webinar: Automotive venturing - what's next?
Events
GCV Symposium 2023
Jun 20 -
Jun 22, 2023
London (UK)
Events
GCV Executive Leadership Forum 2023
Oct 4, 2023
New York, NY (USA)
Events
Corporate Venture in Brasil 2023 – International Delegation to Brazil
Oct 23 -
Oct 25, 2023
São Paulo (Brazil)
Events
GCV Asia 2023 - International Delegation to Japan
Nov 13 -
Nov 15, 2023
Tokyo (Japan)