Investment is building again in the sector after a lull, but big companies are hedging their bets on which type of aircraft will work best.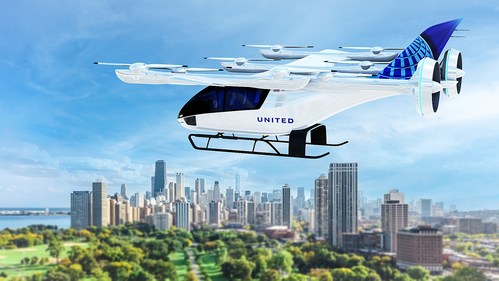 United Airlines has doubled down on its bets in electric vertical take-off and landing (eVTOL) aircraft by making a $15m investment in Eve Air Mobility in addition to the stake it already holds in Archer Aviation, the California-based eVTOL startup.
It is the latest sign that big corporations have faith in the urban aviation model — despite the fact that the technology and regulatory certifications for aircraft still need to be nailed down. As Michael Leskinen, president of United Airlines Ventures, explicitly puts it: "Our agreement with Eve highlights our confidence in the urban air mobility market."
Look a little more closely at this deal, though, and it tells you a few more things about the emerging urban aviation market. First of all, it's still not clear which eVTOL technology is going to work best. It is interesting that United is placing a bet both on Archer's tilt and turn rotors and Eve's lift and cruise style of aircraft.
In addition to investing in the company, United Airlines has put in a conditional agreement to purchase 200 aircraft from Eve. It has agreements with Archer to buy some 200 air taxis.
But, even more crucially, the United Airlines deal shows that corporate backing is going to matter when it comes to eVTOL success. One of the big appeals of the deal with Eve was the relationship with Embraer, the Brazilian multinational aerospace developer, Andrew Chang, managing director at United Airlines Ventures, tells GCV.
"They're backed by a long-time strategic with Embraer. That means they've got the parts warehouse, that experience to service aircraft. For companies without that relationship, that are starting from scratch, there's a question of who's going to maintain and service, where the parts are coming from. It is a lot to handle," says Chang.
Chang added that United Airlines was open to looking at other investments in the UAM ecosystem, such as vertiports and airspace management, although there was nothing imminent to announce.
A number of big corporates have backed urban aviation startups. DB Scheker, Daimler, NTT Docomo and a number of other corporate investors have backed Germany-based Volocopter, while Toyota and Jet Blue Ventures, among others, have backed Joby Aviation.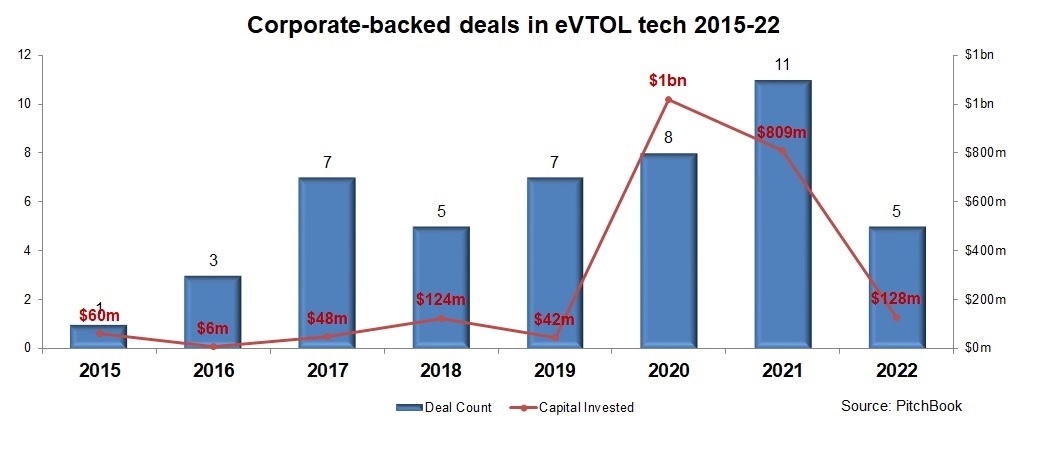 In 2020 corporate investors participated in deals worth more than $1.02bn, with a further $808.74m in deal value in 2021. Since then funding has dropped off considerably, with just $127.52m in deal value so far this year.
United Airlines's investment in Eve shows, however, that this sector maybe coming back to life, especially if airlines begin to feel more confident as air travel recovers following the lifting of Covid restrictions. In June 2022, US eVTOL startup Overair secured $145m in a round from South Korea's Hanwha Systems and Hanwha Aerospace. Hanwah will provide motors and battery packs for Overair's prototypes following the deal.