The one-year-old $250m fund recently launched an accelerator to focus on early-stage companies that increase the efficiency of water in construction.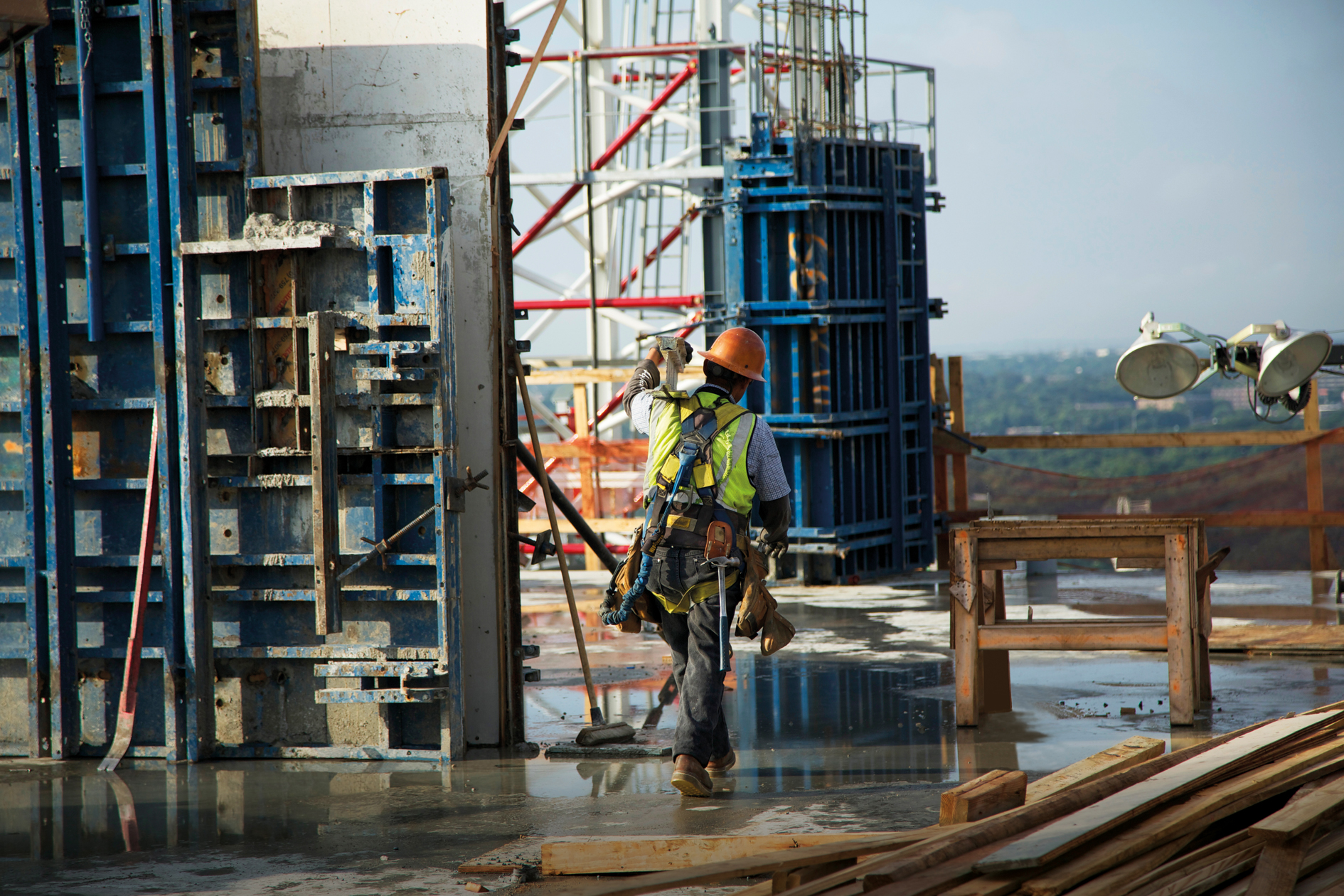 Water is at the forefront of climatetech, and sustainability cannot be achieved without an efficient use of water resources, says Eduardo Gómez Mendoza, head of CRH Ventures, the CVC of Ireland-headquartered building products company CRH.
The venture unit, launched in 2022, created an accelerator programme in May this year to focus on water technology initially. For the first cohort, it will select between six and eight companies, which may be eligible for an investment of up to $5m after conducting successful pilot projects with CRH's businesses. The ideal candidates will be North American and European water technology companies creating products to monitor stormwater, wastewater and drinking water.
The accelerator is a way to address water scarcity, water quality and aging infrastructure, says Gómez Mendoza. "Through these accelerator programs we are increasing our reach and ability to pilot and partner with best-in-class companies," he says.  
Oldcastle Infrastructure, a CRH subsidiary in Atlanta, Georgia, provides building materials for water infrastructure projects in North America. Its StormCapture stormwater management system allows construction companies to prevent storm drain overloading and improve water quality. The tool is also equipped with stormwater harvesting technology for future reuse.
RELATED STORY: 9 startups that could change the way we look at water
In July, Oldcastle acquired Hydro International, a UK company that makes stormwater products, wastewater treatment systems, wastewater services and data technology in North America and Europe. Hydro, which has a presence in 19 countries, helps municipal, commercial and industrial customers improve water processing, treatment and management.
The unit's goal is to launch more cohorts in other areas of construction tech and sustainability,
A traditional industry ripe for innovation
Much like other traditional sectors, the construction industry is in need of innovation. A construction site in 2023 does not look very different from one in 1923 – workers may all have smartphones now but they put those devices away when bricklaying by hand on scaffolding towers.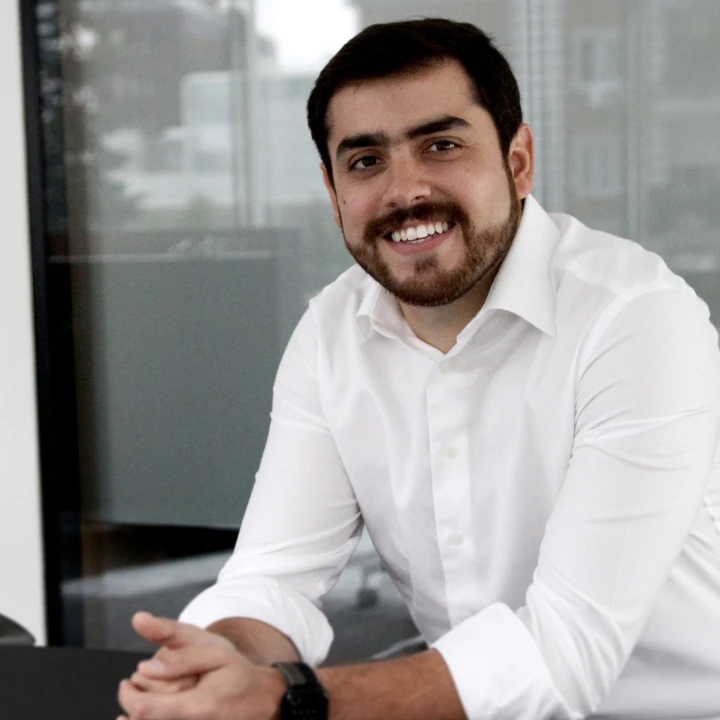 A construction company typically has fewer than 10 people to manage a project, requiring them to deal with more than 100 suppliers and subcontractors. Not to mention construction materials account for about 9% of energy-related carbon dioxide emissions, according to the United Nations.
Improving labour productivity, digitalisation, new construction methods and reducing CO2 are some of the other pressing issues facing the industry, says Gómez Mendoza.
The $250m corporate venture arm, which is fully funded by its parent firm, targets early-stage construction and climate technology startups that have the potential to yield both strategic and financial returns.
Construction tech startups raised $50bn in venture funding between 2020 and 2022, representing an 85% increase from the previous three years, according to a report by consulting firm McKinsey & Company. The number of deals in the industry also increased 30% to 1,229 during the same period.
Robotics systems and software modelling are some of the technologies that are used to tackle labour shortages and speed up construction projects.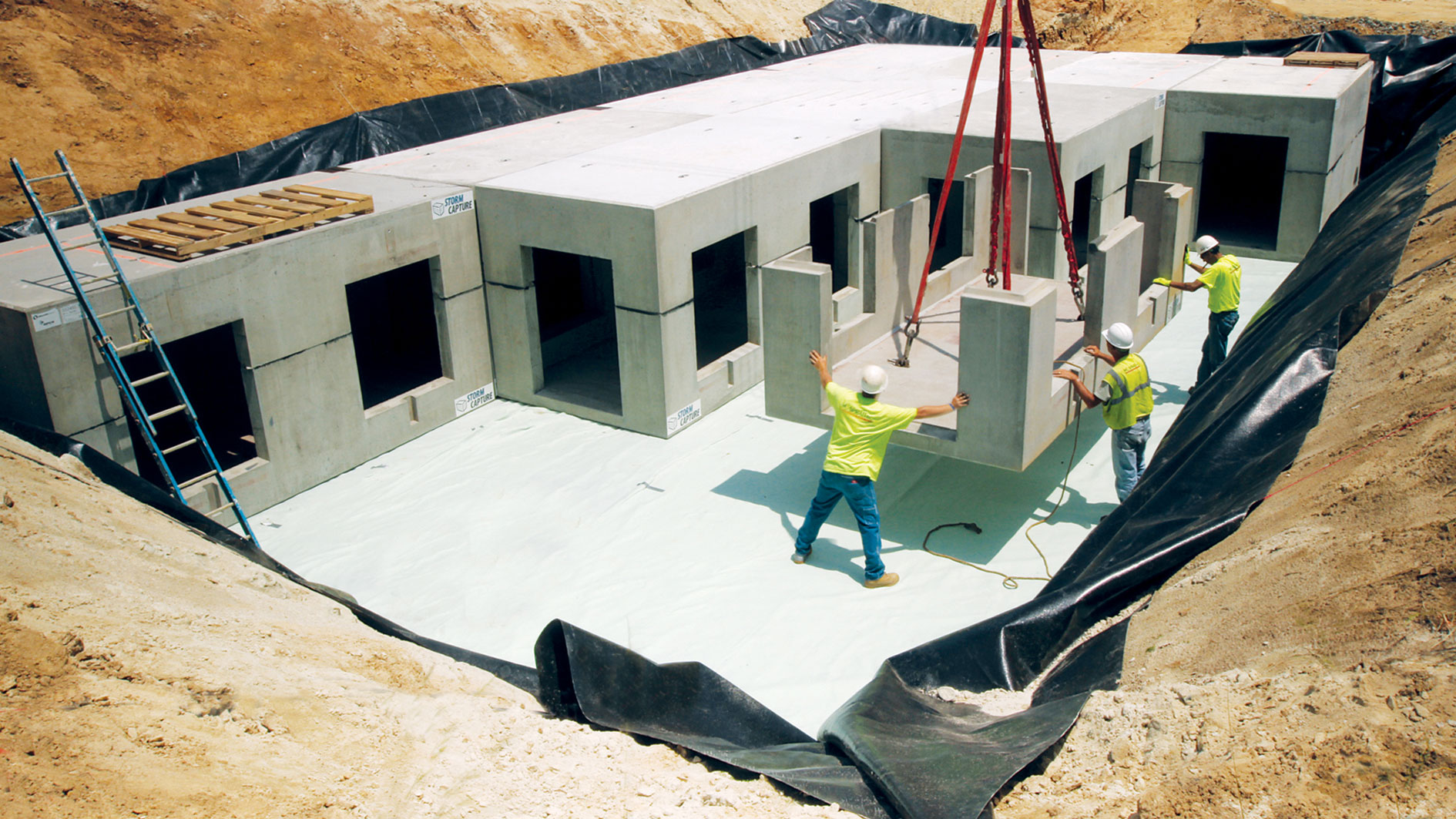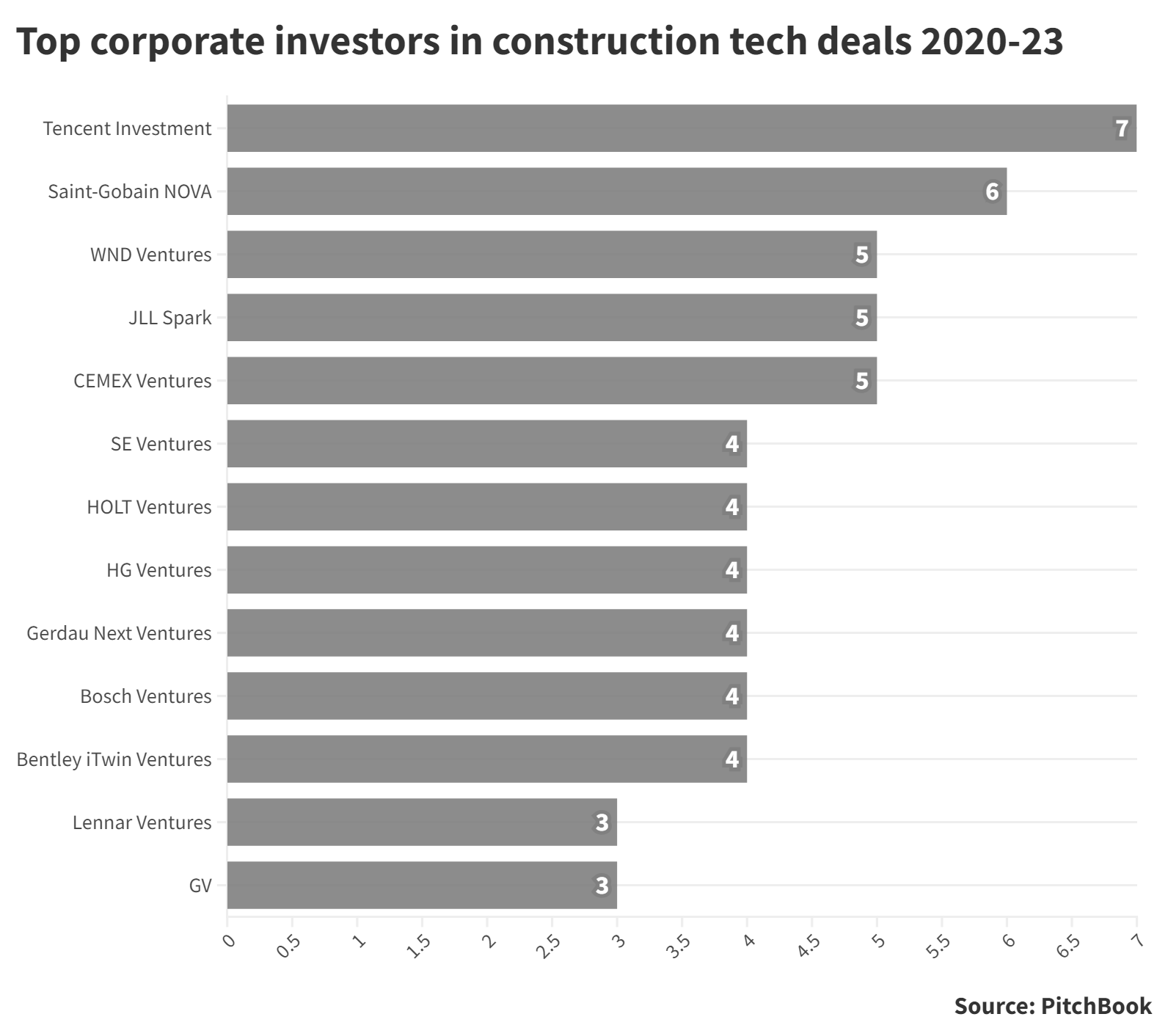 Many construction firms have set up their own CVC units in the past few years, including WND Ventures, Cemex Ventures and Gerdau Next Ventures, which invest on behalf of DRP Construction, Cemex and Gerdau.
In July this year, construction major Suffolk's venture capital affiliate, Suffolk Technologies, raised a $110m fund, which includes external capital. Other corporate investors active in the industry come from varied sectors like Tencent, Saint-Gobain, JLL Spark, Schneider Electric and Holt.
The unit seeks commercial agreements
Based in Madrid, Spain, Gómez Mendoza had spent more than five years at Mexican construction group Cemex in corporate development and M&A before joining CRH Ventures. His six-person team includes vice president Ramy Fam, who was featured on the GCV Emerging Leaders 2023 roster.
His team seeks technologies and products to help reduce CO2 emissions, commercialise sustainable materials and automate processes in the construction industry. Portfolio companies can access CRH's network of some 200 operating companies across 29 countries.
CRH Ventures has made three investments in the first year, including a follow-on deal. Apart from funding, it also explores potential commercial agreements and pilot programmes between the startups and CRH's businesses.
Portfolio success stories so far
CRH Ventures evaluates its investments based on a range of criteria including team quality, technology validation, go-to-market strategies and paths to profitability.
One of CRH Ventures' portfolio companies is Carbon Upcycling Technologies (CUT), a Canadian group whose technology helps transform industrial byproducts into ecofriendly cement and concrete additives.
CRH Ventures took part in CUT's seed and series A rounds in January and July this year and is helping the company launch its first commercial facilities at CRH's Mississauga Cement Plant in Canada.
Another example is AICrete, a company in California that uses data and artificial intelligence to reduce the carbon footprint and cost of concrete production. CRH Ventures invested in its seed round and facilitated technology pilots within CRH's businesses.
CRH Ventures has since expanded its partnership through participation in AICrete's Founder's Club, whose goal is to optimise its technology offerings to produce more concrete mixes and reduce the cost and CO2 emissions in concrete production.
Top corporate-backed construction tech deals 2020-2023
| Companies | HQ Location | Description | Round | Deal size $m | Investors |
| --- | --- | --- | --- | --- | --- |
| Zenerate | Los Angeles, CA | Developer of building design technology designed to optimize spatial and structural developments. | | 4,000 | Daekyo Investment, DSN Investment, SL Investment |
| ICON | Austin, TX | Developer of construction technologies designed to build 3D-printed homes for communities in developing countries. | Series B | 392 | 8VC, Ambassador Supply, Bjarke Ingels Group, Bond Capital, Bond Corporation, Citi Impact Fund, Crosstimbers Capital Group, Ensemble VC, Evolution VC Partners, Fifth Wall, G-51 Capital, Gaingels, Hammerstone Capital, Lennar Ventures, Moderne Ventures, Montauk Ventures, Norwest Venture Partners, Oakhouse Partners, OurCrowd, Platinum Mile Ventures, Preceptor Capital, Proof, Red Hook Capital, Sand Hill Angels, Taurus Ventures, Tiger Global Management, Upside Growth Partners |
| dbt Labs | Philadelphia, PA | Developer of analytics engineering tools designed to help analysts create and disseminate organizational knowledge. | Series D | 222 | Altimeter Capital Management, Amplify Partners, Andreessen Horowitz, Coatue Management, Databricks Ventures, GIC, GV, Iconiq Growth, Salesforce Ventures, Sequoia Capital, Snowflake Ventures, Tiger Global Management |
| Tul | Bogota Dc, Colombia | Developer of an e-commerce application designed to connect construction material manufacturers with small businesses. | Series B | 181 | 10H Capital Management, 8VC, AlleyCorp, Avenir Growth Capital, Bedrock Capital, Bossanova Investimentos, Coatue Management, Dragoneer Investment Group, Foundamental, Gerdau Next Ventures, Lightrock, Melek Capital, Nordstar Partners, SoftBank Group, Spectra Investments, Tiger Global Management |
| DataMesh | Beijing, China | Developer of an enterprise metaverse platform based on Digital Twin and extended reality technology designed for manufacturing enterprises. | Series B2 | 173 | Global Brain, Singtel Innov8, Susquehanna Asia Investments |
| RenoRun | Montreal, Canada | Operator of a construction material delivery firm intended to revolutionize the way contractors and builders order and receive materials. | Series B | 144 | BDC Capital, Desjardins Capital, Export Development Canada, Fifth Wall, Inovia Capital, Investissement Québec, Nicola Wealth Private Capital, Obvious Ventures, Real Ventures, ScaleUP Ventures, SE Ventures, Sozo Ventures, SVB Financial Group, Tiger Global Management, TriplePoint Capital, TriplePoint Private Venture Credit BDC, TriplePoint Venture Growth BDC |
| OpenSpace | San Francisco, CA | Developer of a machine vision product designed to solve problems in construction and related industries. | Series D | 111 | Alkeon Capital Management, Alpaca VC, BlackRock, DivcoWest, Fischer Homes, GreenPoint Partners, Harmonic Growth Partners, JLL Spark, Lux Capital, Menlo Ventures, Mirae Asset Global Investments, Navitas Capital, Nine Four Ventures, PSP Capital Partners, Sino Group, Taronga Ventures, TriplePoint Venture Growth BDC, Valley Ventures, ZoiBel |
| Constrafor | New York, NY | Developer of a construction procurement platform designed to streamline interactions in the construction industries. | | 106 | Alarko Ventures, Clocktower Technology Ventures, Commerce Ventures, CoVenture, ESAS Ventures, FinTech Collective, FJ Labs, Function Collective, Karim Atiyeh, LAB Ventures, Motive Partners, Oscar Salazar, Tirath Kamdar, Village Global |
| Sixents Technology | Beijing, China | Provider of precision measurement services. | Series B | 98 | Beijing Dinghe Pagoda Investment, CDH Investments, Cedarlake Capital, Citic Wealth, Huarong Yufu Capital, Oriza Holdings, Synergis Capital, Tencent Investment, Tsinghua Holdings Capital, Tus-Holdings, Xin Ding Capital |
| Versatile | Boca Raton, FL | Developer of an onsite data collection platform intended to provide detailed analysis of project status for construction sites. | Series B | 80 | Bosch Ventures, Conductive Ventures, Craig Courtemanche, Entrée Capital, Insight Partners, Leigh Jasper, Ralph Gootee, Rob Phillpot, Root Ventures, Saniel Ventures, Tiger Global Management |
Source: PitchBook