Finland's venture funding doubled in size between 2021 and 2022 but corporate investors continue to play only a small role in fundraising rounds.
With a population of just above 5.5 million people and consistently ranked as one of the happiest nations in the world, Finland has a budding innovation ecosystem with great potential. But is it still being somewhat overlooked by corporates?

Finland is well known in the VC world for its gaming industry, but it's actually punching well above its weight in a number of deals in all things IT, in addition to life sciences, consumer and services technologies.
In 2022 venture funding totaled €402m, up 50% year-over-year from the €268m in 2021, data from the Finnish Venture Capital Association show.
Median deal size and valuations, though growing, have been low in absolute dollar terms, as most of its venture scene is still dominated by early stage and seed stage businesses.
Despite the growth in Finland's venture scene, corporate investors are few. CVCs have participated in roughly one out of every ten recorded deals. Most of the corporates participating in some of the biggest deals are foreign multinational players.
Beyond gaming
Finland's startup ecosystem is known for games and gaming technology developers like Supercell (developer of mobile device game Clash of Clans) and Rovio (AngryBirds), and this space did see growth in number of rounds between 2012 and 2018. Between 2019 and 2022, however, rounds raised by Finnish gaming companies plateaued.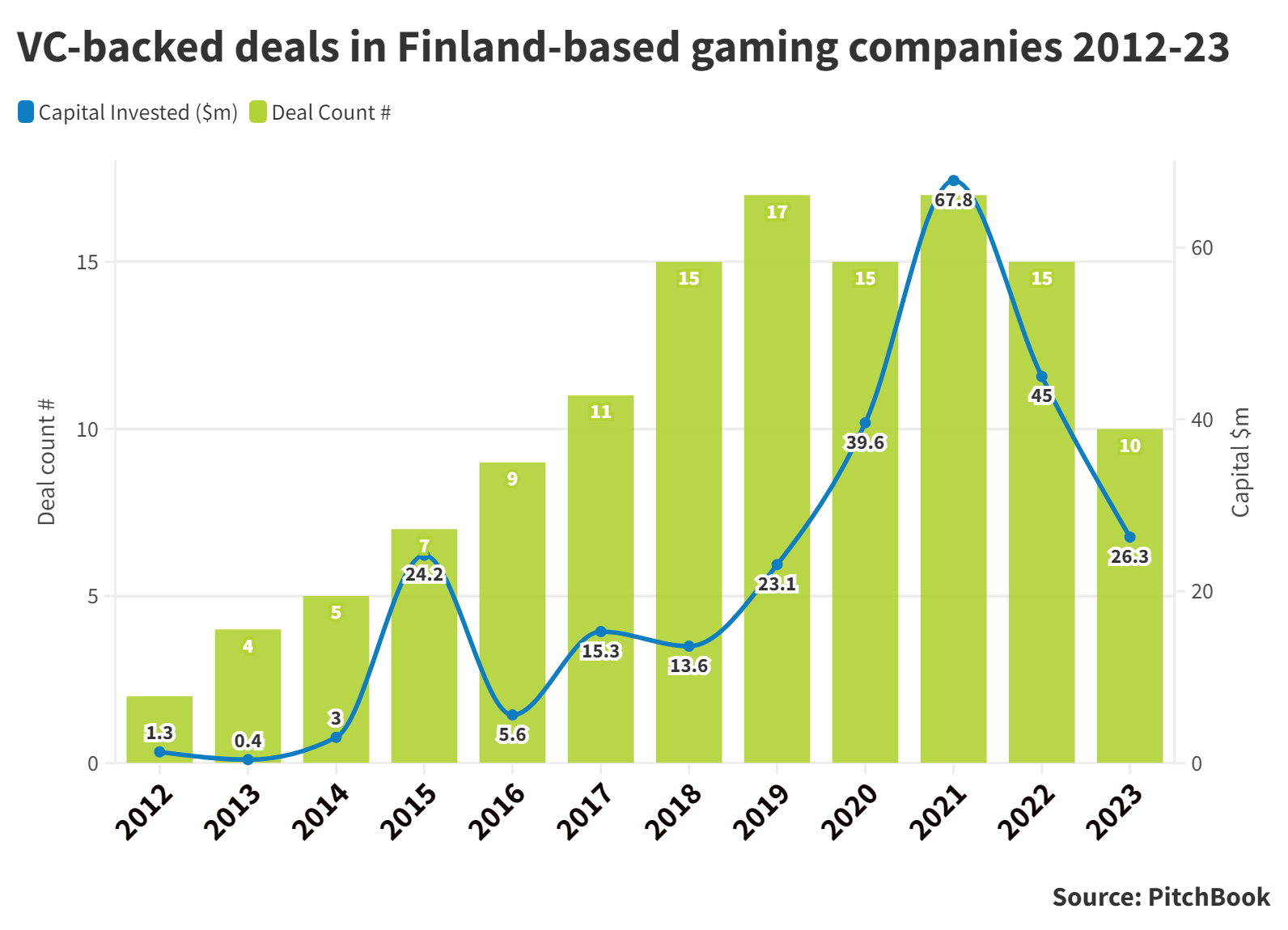 In fact, it's information technology that looms large in the country's innovation ecosystem. Historically, nearly half (47%) of all VC-backed deals have been in the broader IT space. Other prominent sectors are life sciences (13%), services (13%) and consumer (10%).
It is not hard to find Finnish unicorns in these sectors either. Last year, food ordering and delivery platform Wolt was acquired by DoorDash in a $2.4bn all-shares deal. Oura, a developer of a wellness wearable ring designed to track and improve the quality of sleep, has raised more than $405m in VC funding to date, according to PitchBook.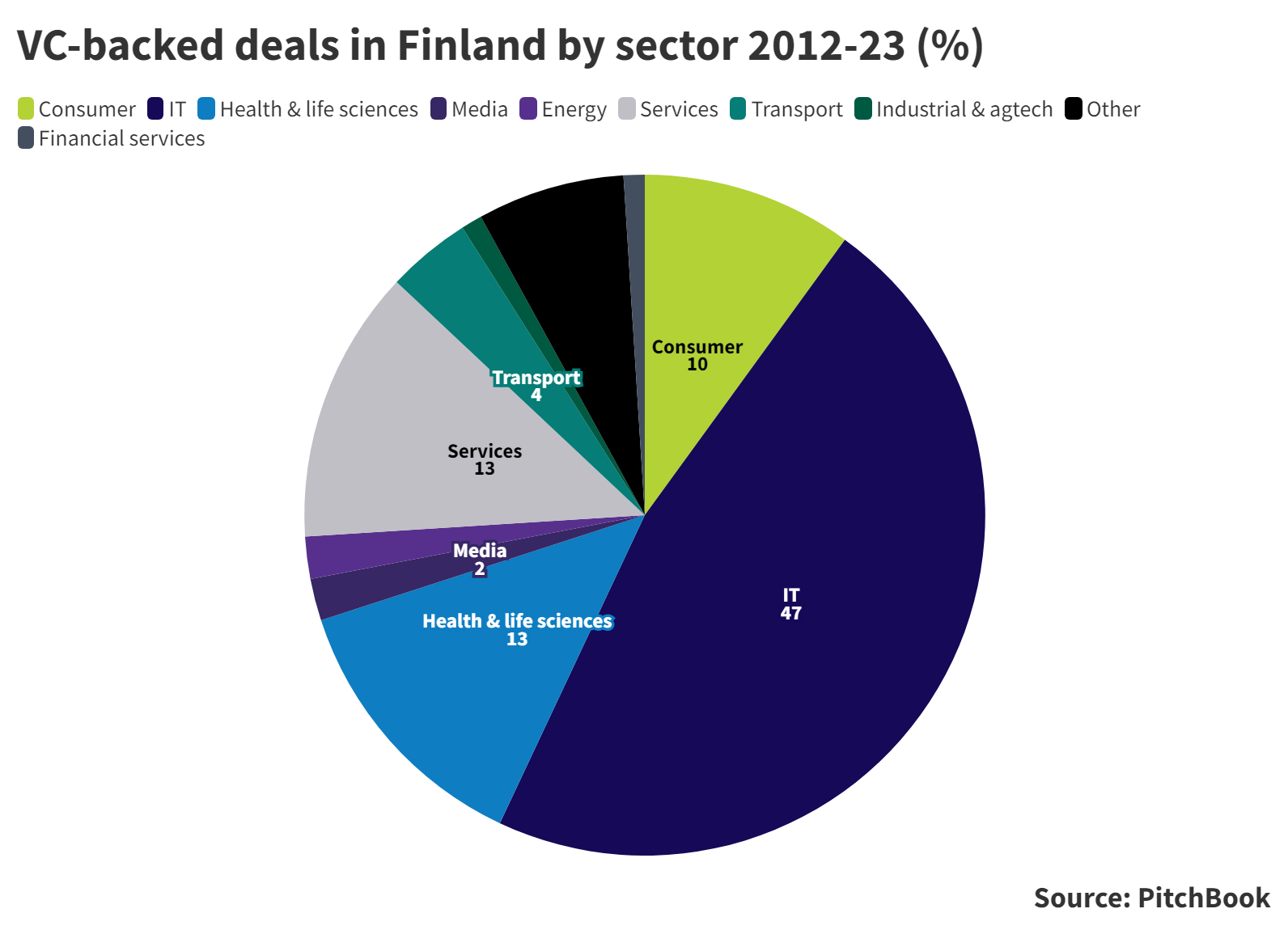 Finland boasts a vibrant innovation ecosystem, which is shown by the number of VC-backed deals in Finnish companies. It has grown quickly over the past decade, from 32 deals in 2013 to 210 in 2021. But it did drop to 173 rounds in 2022.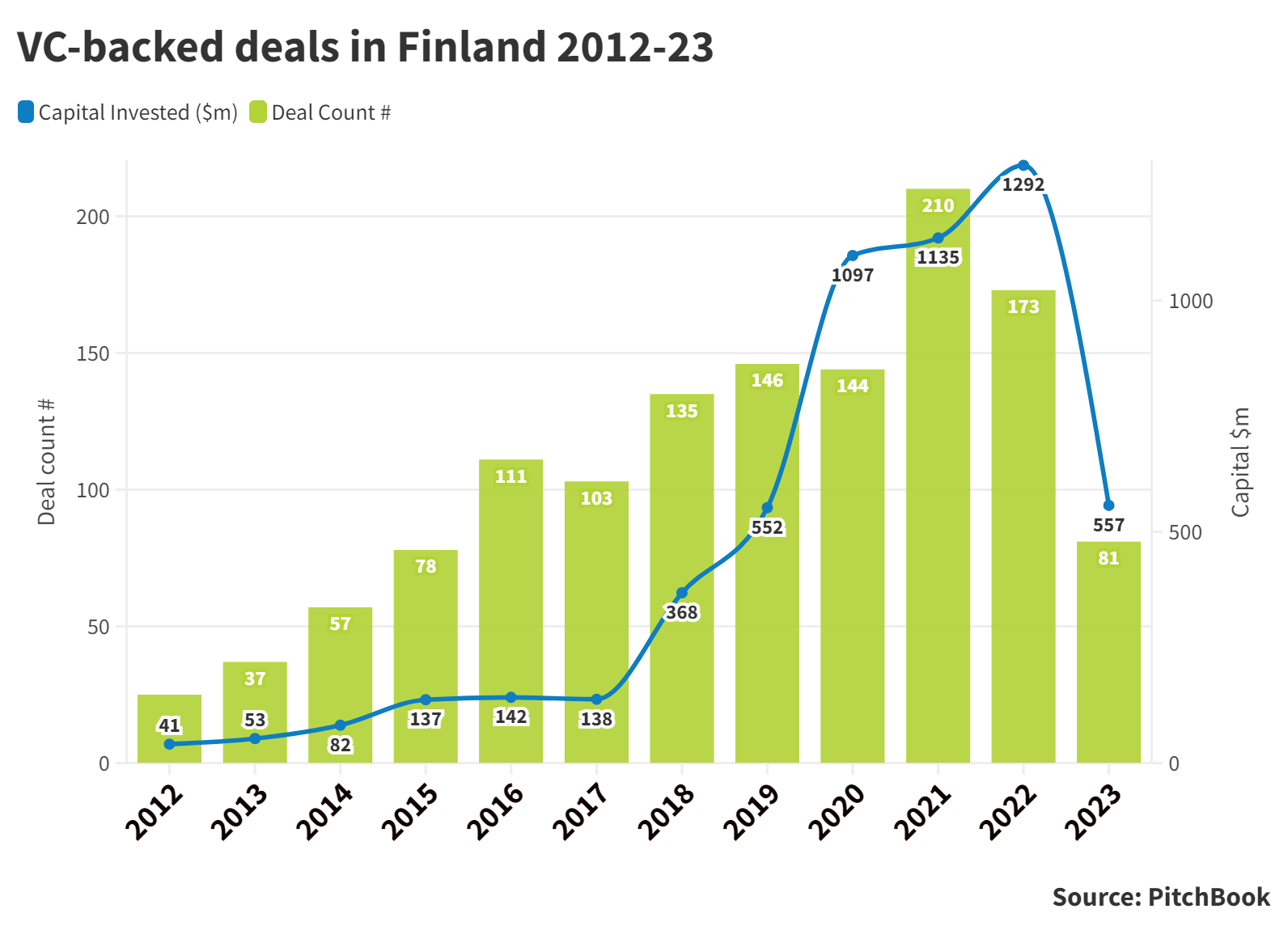 Notably, the estimated total dollar value of VC rounds continued to grow through 2022, reaching $1.29bn, suggesting the global correction in VC valuations may have been a little slower to reach the Finnish venture scene.
Valuations and deal size
In fact, the median deal size and median post-money valuations for Finnish startups have been modest but on an upward trajectory since 2020, according to PitchBook.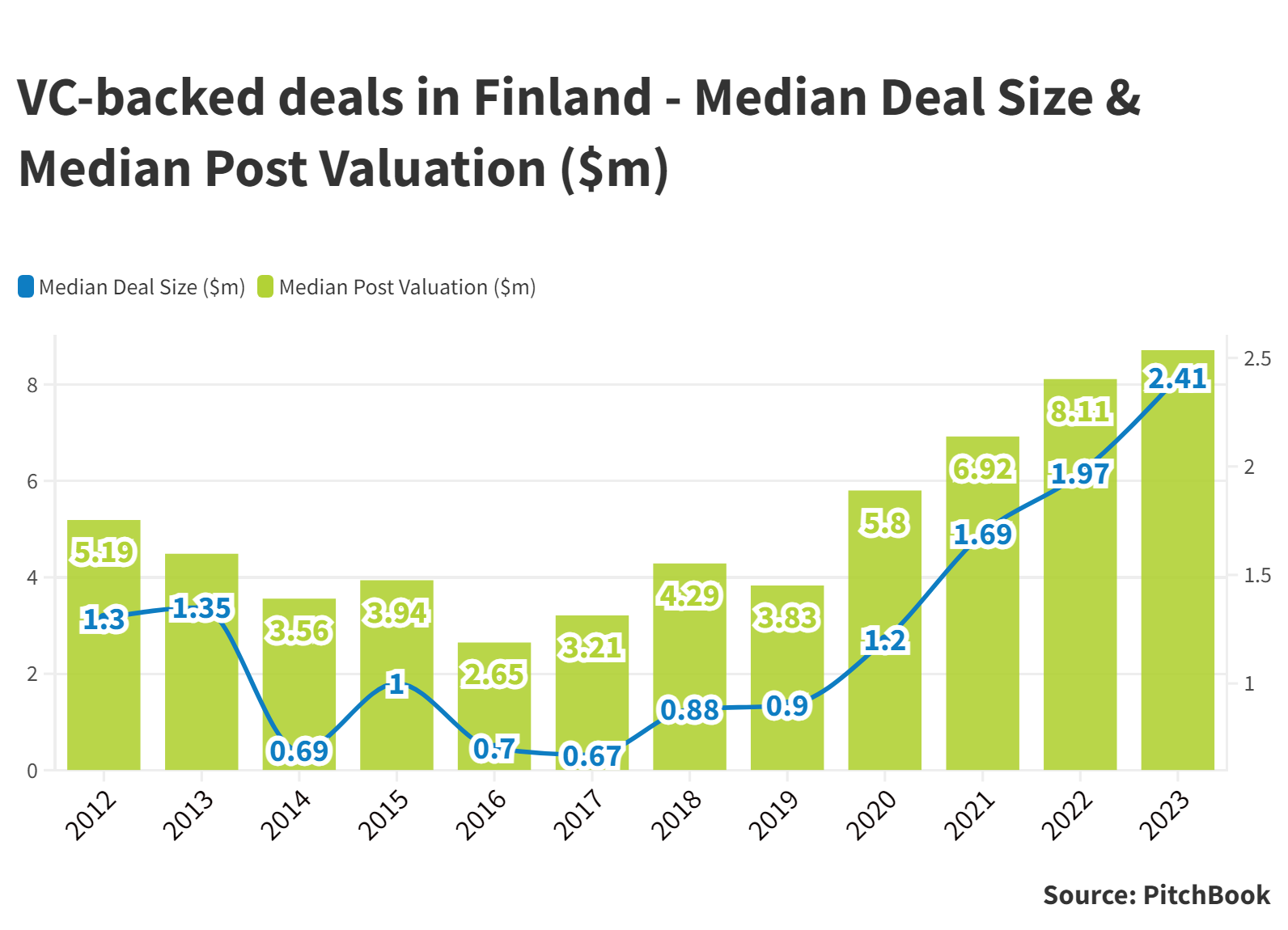 The relatively low median deal size and valuation figures make sense in light of the fact that, over the past decade, more than half of the raised VC rounds by Finnish companies have been early stage, seed and pre-seed.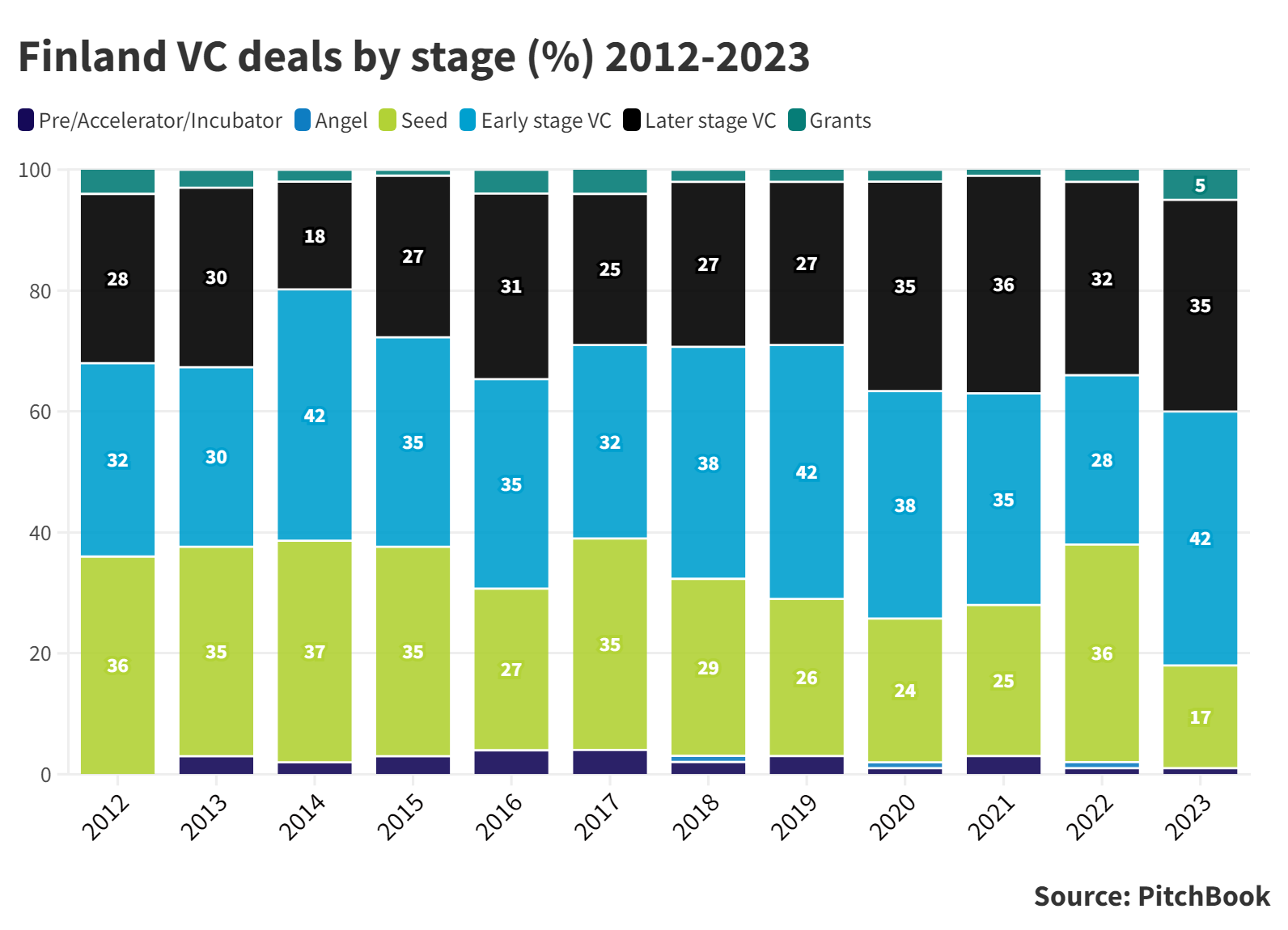 This coincides with findings of the Finnish Venture Capital Association (FVCA) that the average size of VC investments in Finnish companies has increased over time in both early and later stage deals, with the average size of seed investments having risen 67% to €1m in 2022, up from €0.6m in 2021. This finding is also consistent with our data that show corporate investors, overall, have shifted their focus toward earlier and seed-stage investments, as valuation corrections began to take place last year.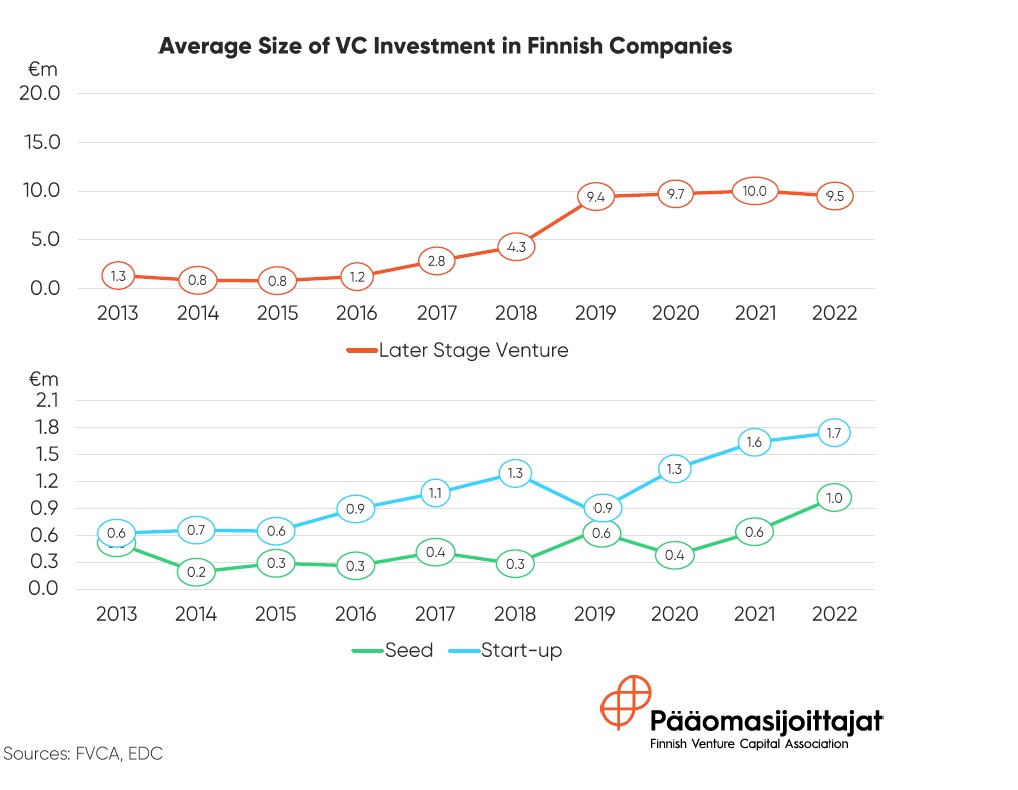 The role of CVCs
Despite the attractive valuations and vibrant ecosystem in place, the presence of corporate VC investors in deals seems to have been modest. Even in the peak year of 2021, corporate backers were part of investment syndicates in only 25 rounds out of the total of 210, according to PitchBook's data.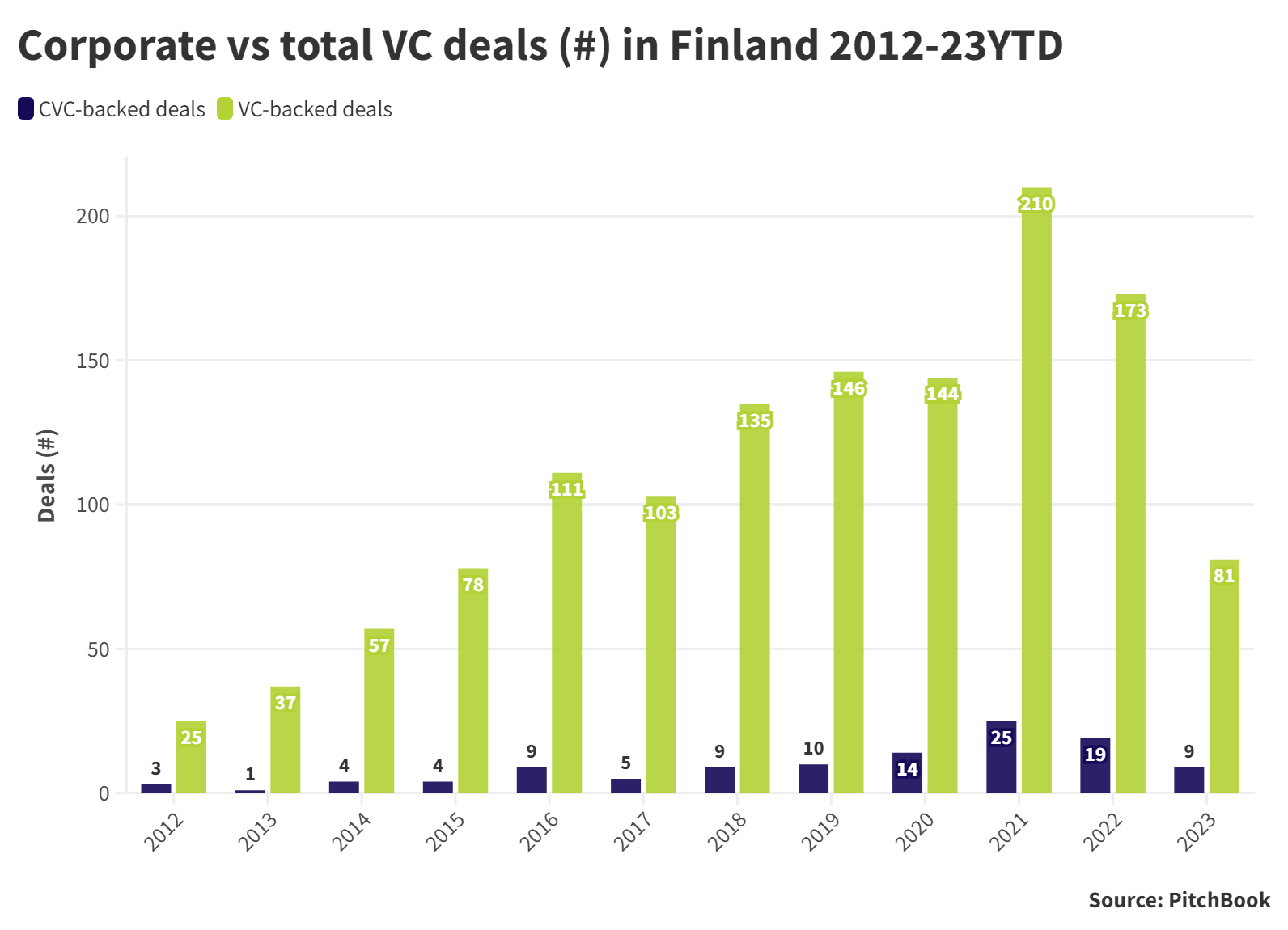 On a percentage basis, the proportion of corporate-backed rounds has fluctuated between 7 and 12% over the past decade. Corporates participate in roughly one out of every 10 deals in Finnish startups.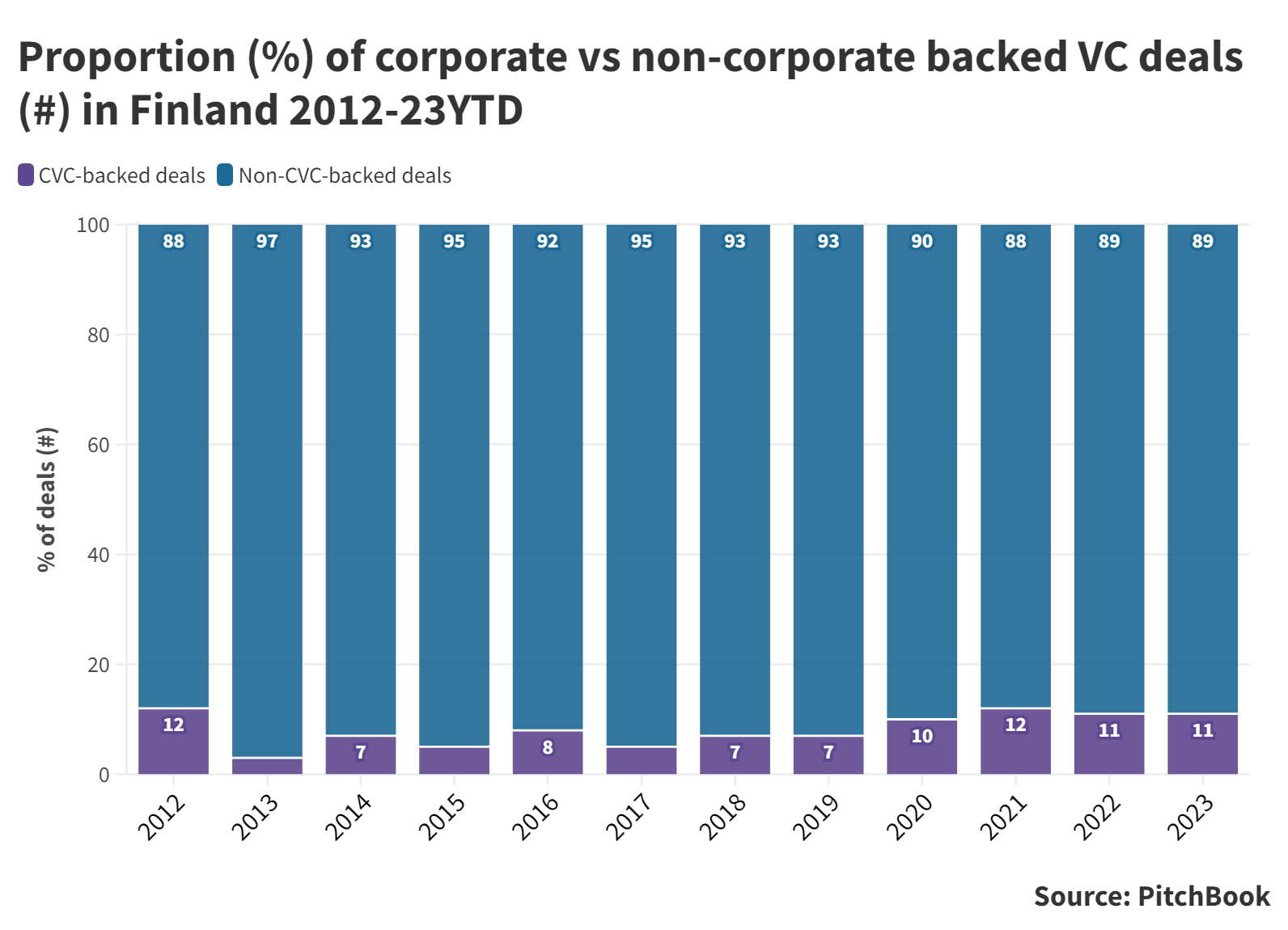 What is noteworthy about corporates, however, is that – even though fewer of them invest in Finland, most of those have been foreign such as 3M Ventures, Bonnier Ventures, Telia Ventures and Repsol Corporate Venturing. This is partly due to the fact that there are few corporate VC investors based in Finland (only seven, according to PitchBook).
The leader was, however, local corporate VTT Ventures with 20 deals in local startups in the past decade. It is the corporate venture capital arm of VTT Technical Research Centre, based in Espoo, Finland. The firm invests in imaging and optics, the internet of things and electronics, life science, materials and manufacturing, sensing and diagnostics, software and ICT sectors.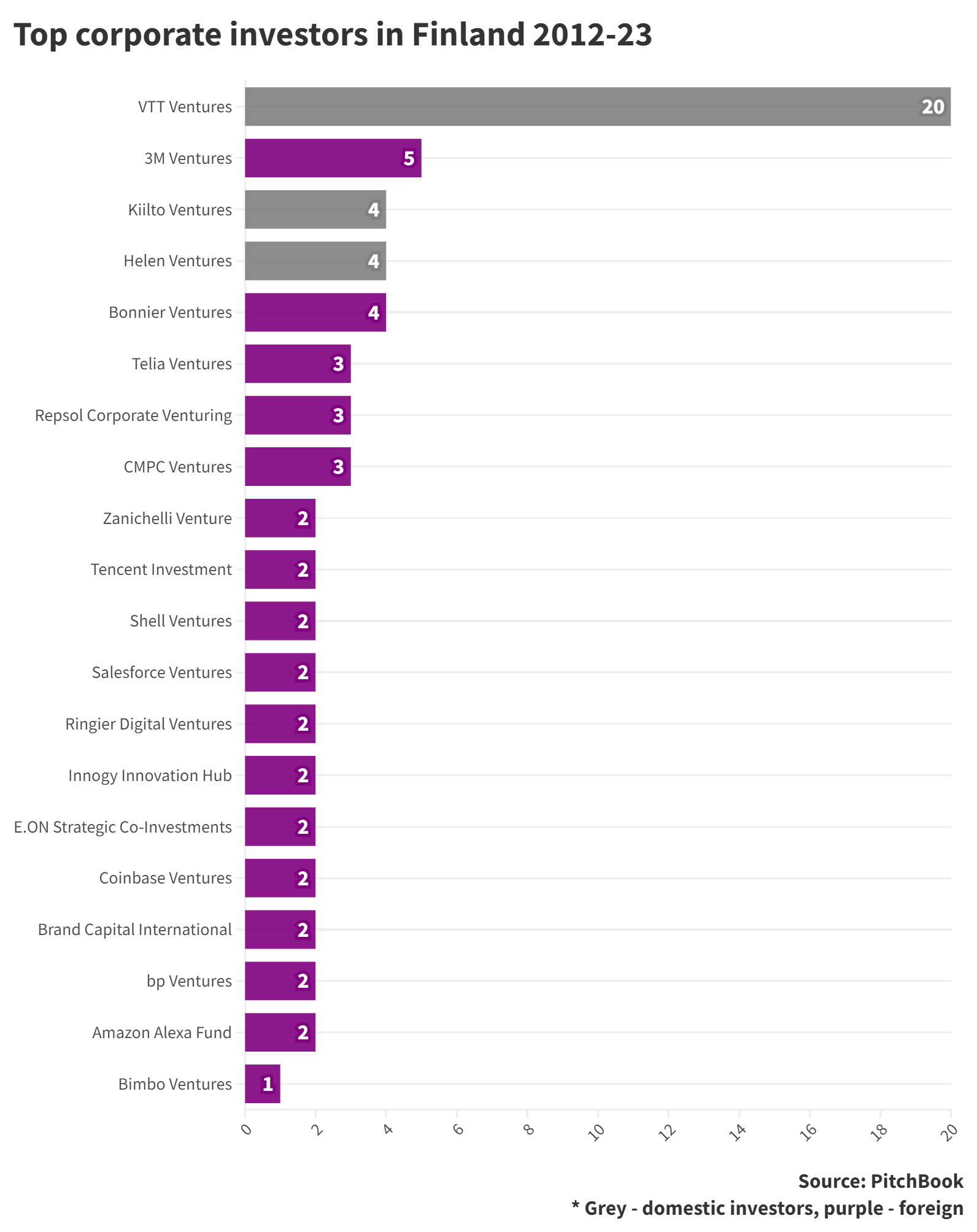 The bulk of funding in Finnish VCs is raised either through public sector sources (30%) or institutional investors like insurance companies, funds of funds and pension funds (33%). Corporate investors accounted for an estimated 1% of the total funds raised in 2022.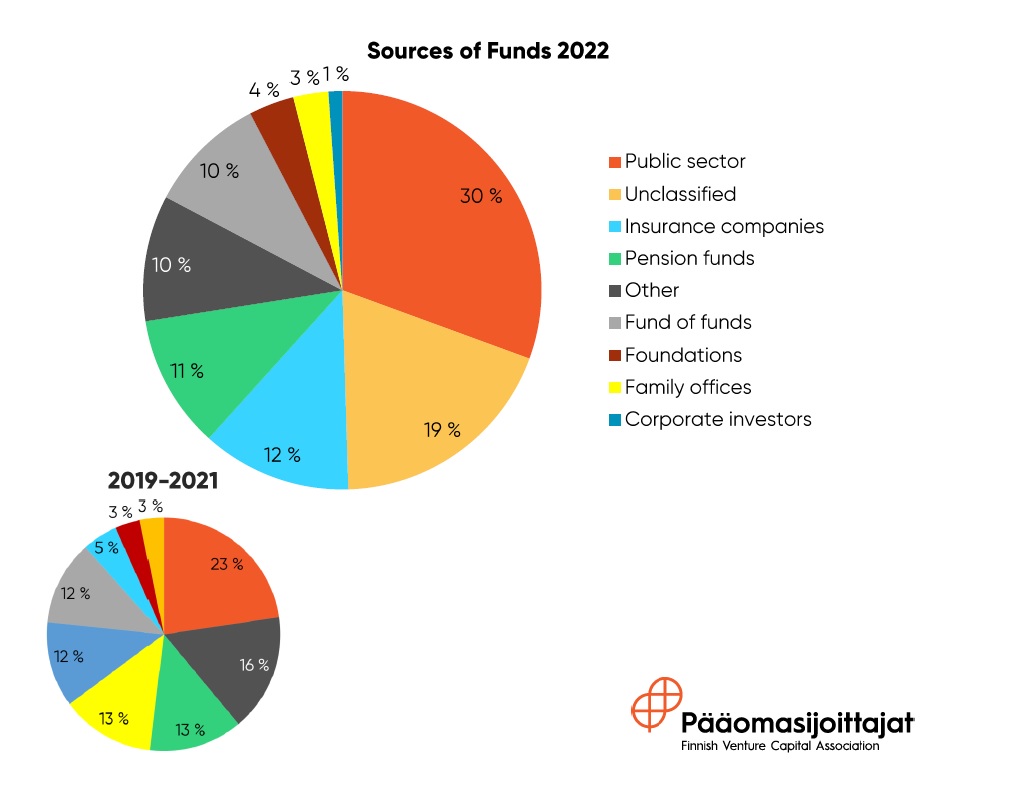 Recent top deals
As valuations fall globally due to rising interest rates, creeping inflation and fears of a looming recession, fewer names have attained unicorn or near-unicorn status. Participation of corporate VC in some of these large deals is also notable.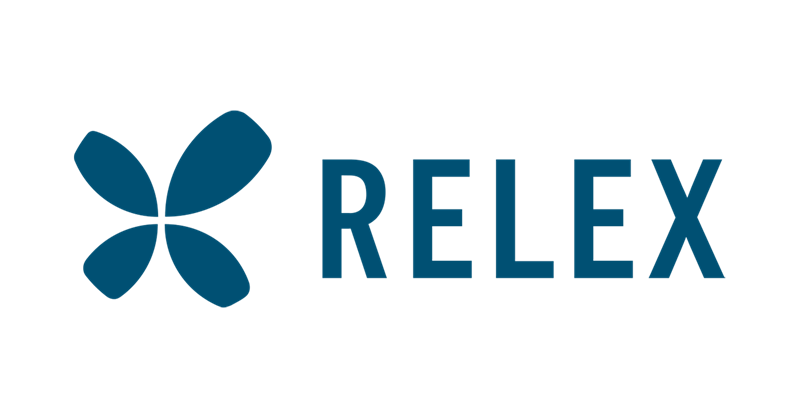 One of those is Relex, a developer of retail software designed to help retailers and consumer brands optimise sales. The company raised €500m of venture funding in a deal led by Blackstone in 2022, reportedly putting its pre-money valuation at €4.5bn. Other undisclosed investors also participated. The company's software makes retail operations data-driven, autonomous and adaptive, and uses retail expertise and technology to improve competitiveness through accurate forecasting and replenishment.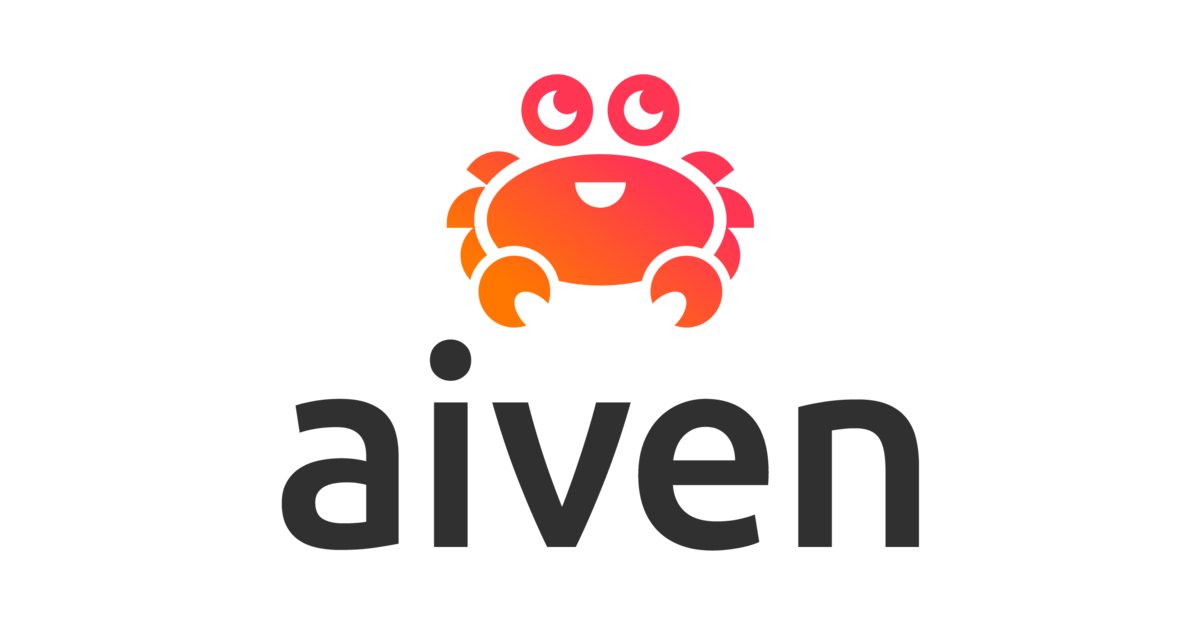 Another good example is cloud database software developer Aiven, which raised $210m in 2022 via a combination of debt and series D venture funding, in a deal led by Eurazeo and featuring Salesforce Ventures. The transaction reportedly put its pre-money valuation at $3.04bn. The company's software leverages the power of logs, metrics, and dataflow or replication integrations for hosting and managing an open-source database and messaging systems, enabling small and large-scale organisations to solve complex database issues.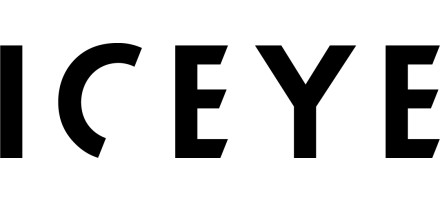 Some Finnish tech goes beyond the limits of this planet. Satellite tech developer ICEYE raised $136m in a series D round, led by Seraphim Space, in 2022, allegedly putting its valuation at $591m. The round also featured BAE Systems. ICEYE develops a radar satellite imaging technology, employing commercial SAR satellite constellation that uses microwave radar technology to help in imaging in all conditions.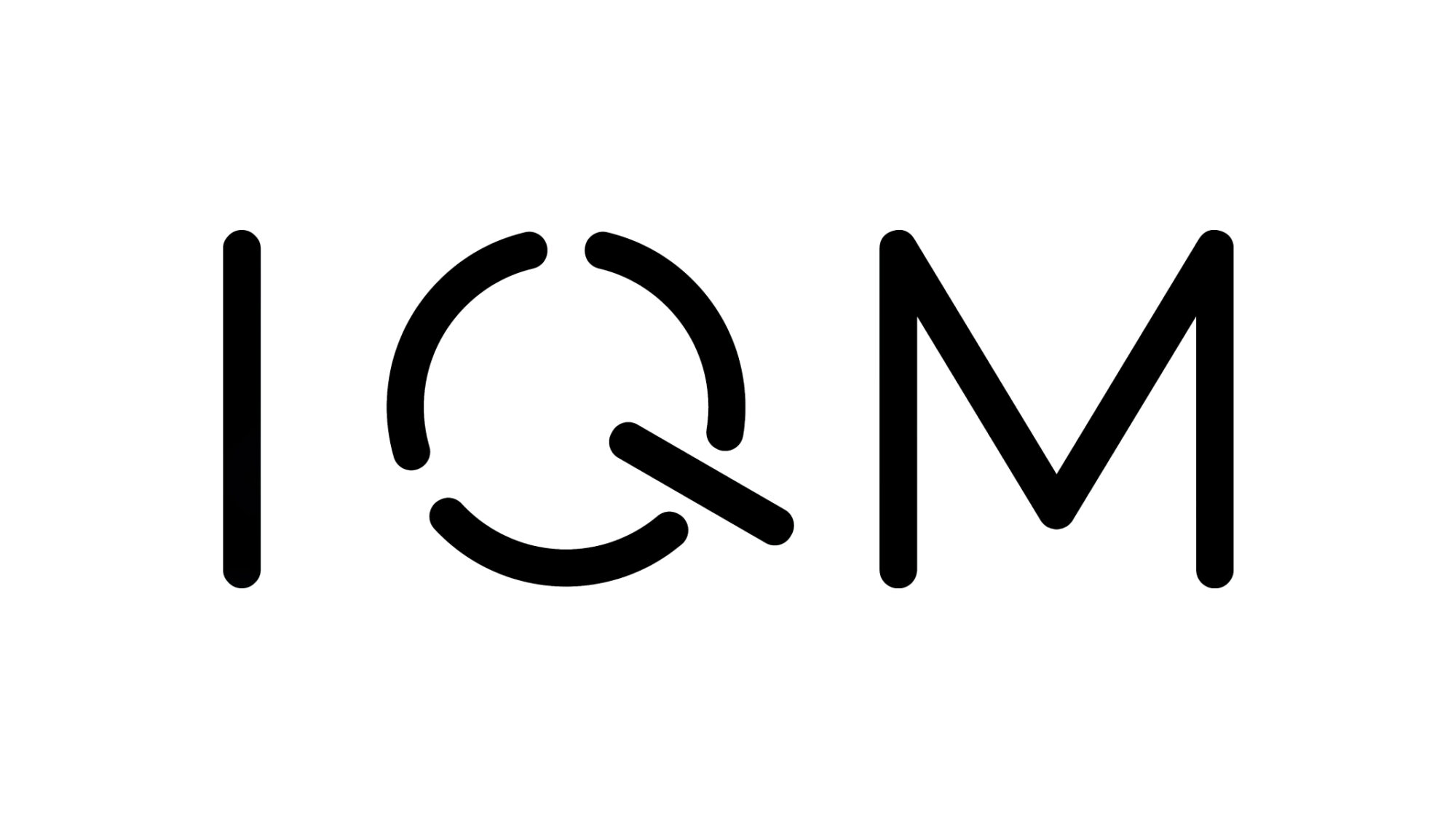 Being historically strong in IT, Finnish innovators have naturally been drawn to quantum computing as well. Quantum tech developer IQM raised €128m in a series A2 round, led by the World Fund and featuring Tencent Investment. The company specialises in high-speed quantum computers with application-specific processors using superconducting qubits. It provides quantum computers for research laboratories and supercomputing centres to help tackle the climate crisis.