The functional food sector is a multi-billion global market with high single-digit expected growth rates.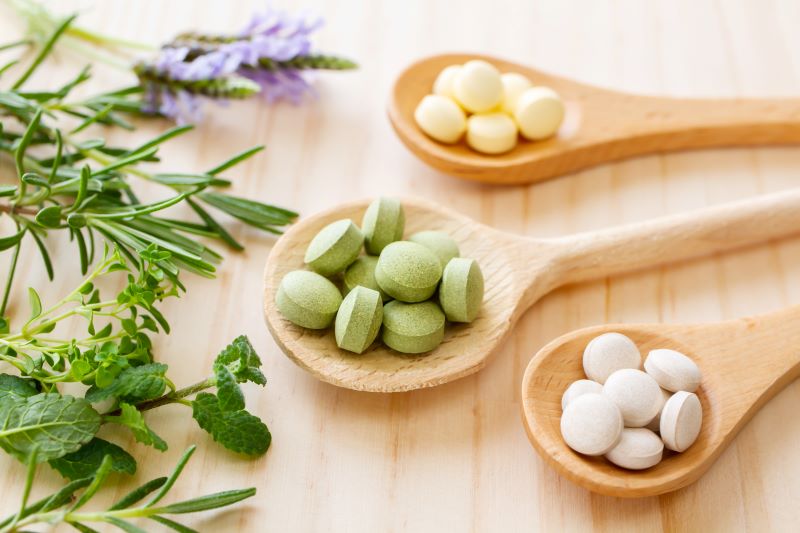 The term functional food can be difficult define. Broadly speaking, it refers to any food and beverage
items that claim to contain additives beneficial to people's health. This can be done by adding new
ingredients or increasing already existing ones.
Most food items claim to have some benefit for human health, so there is an inherent problem in
defining the market and its size. Estimates differ notably.
The Market Data Forecast report puts the global market size at $177bn as of 2022, with expectations
that it will grow to $276bn by the end of 2028. This implies a compound annual growth rate (CAGR)
of 6.7% between 2023 and 2028.
Grand View Research has a higher estimate, putting world market for functional food at $281bn in
2021 with expectations of it expanding by a CAGR of 8.5% through to 2030. The rising demand for
nutritional and fortifying food additives is expected to propel market growth over the forecast
period.

Precedence Research ups the ante even higher by valuing the global functional food market at
$305bn as of 2022 and forecasting it to reach around $597bn by 2032, implying a CAGR of 6.93%.
Clearly, measuring methodologies and definitions of what constitutes functional food vary greatly
among analysts. What they all seem to agree on, however, is that the functional food market is a
multibillion global market with healthy high single-digit expected growth rates.
We tried to narrow the working definition of "functional food" as much as possible when looking at
VC deals in that space. We have excluded cannabis and CBD-related products from this analysis as
this is a separate market in its own right, and, being much bigger than the rest of the still nascent
functional edibles area, would overshadow and obscure our analysis of it.
When looking at deal numbers and values, we have focused here mainly on drinks, sweets and gums.
As this is a very new area, the number of relevant deals we have found on PitchBook's database has
been relatively modest. We counted 134 deals since 2017, with a peak in 2021. Total estimated dollar
value of such deals — like deals in many sectors — similarly peaked in 2021 and have declined since.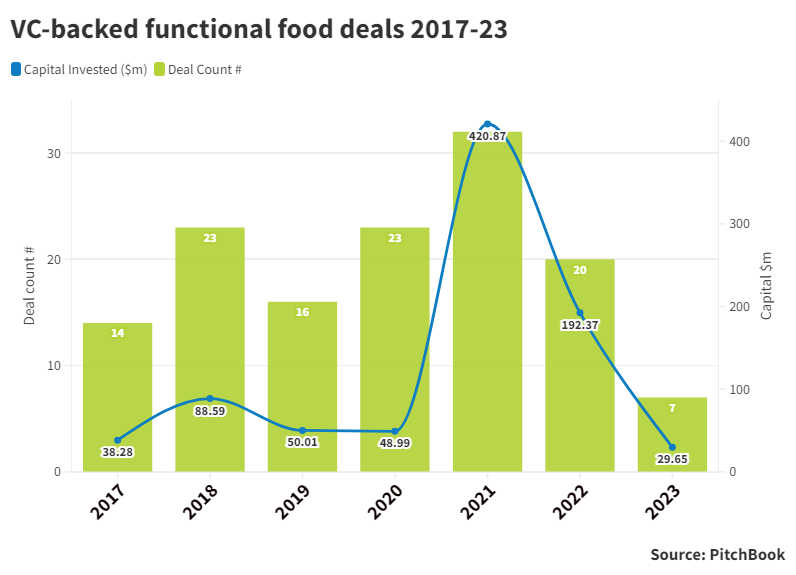 The majority of functional food VC deals have been in beverages, though their relative share has
been declining since 2017 and giving way to startups developing diet supplements, sweets and other
snacks.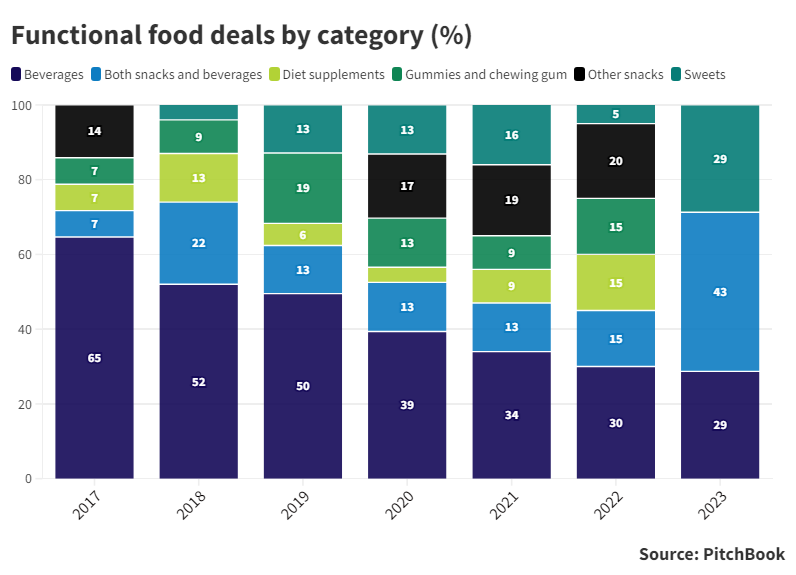 Functional drinks startups raised some of the largest funding rounds, like the $68m series B round by
water-based beverages producer Waterdrop. Waterdrop makes cubes of concentrated fruit and plant
extracts that can be added to water, and it has received backing from Germany-based venture firm
Simon Capital alongside tennis player Novak Đoković and Singapore ́s sovereign wealth fund
Temasek.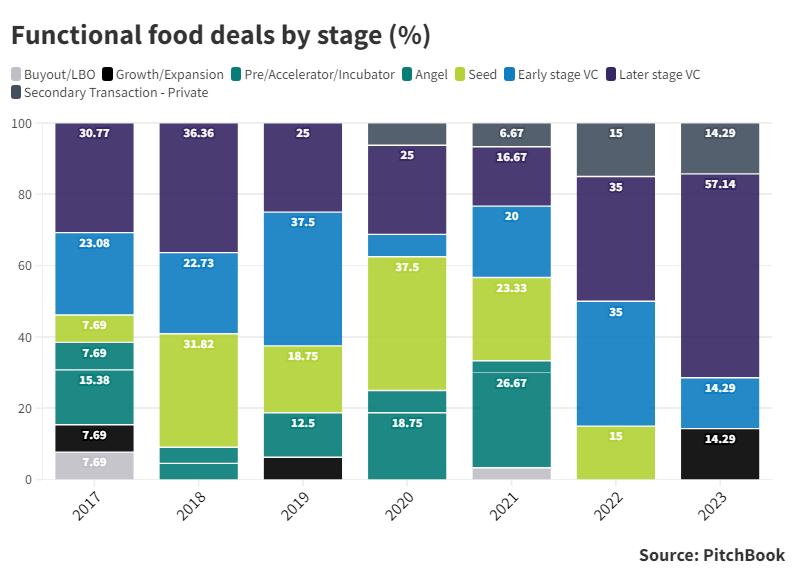 Given functional foods is a fairly nascent market, most of the startup funding deals we have seen are
for early-stage rounds, although we have seen some trending towards later-stage deals this year and
last year. Median deal sizes and median valuations in this area are also low with some spikes notably
this year. However, given the very small sample size, these should be treated with some caution.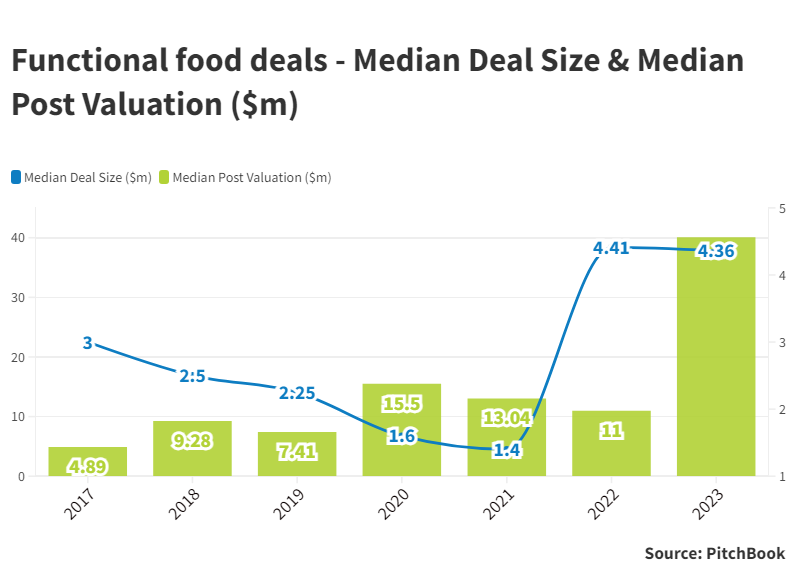 Btomorrow Ventures, the corporate venturing arm of BAT, has been the top investor in our narrowly
defined functional food category along with other corporate peers like SnackFutures Ventures –
venturing arm of food producer Mondelez, and eighteen 94 Capital, the venturing unit of cereal
maker Kellogg, among others.
Other CVCs were relatively less active in this space but often invested in the same startups. Henkel
Tech Ventures and ADM Ventures, for example, co-invested in $11m series A round raised by
Nourished. Nourished is the developer of patented 3D technology to create personalised vitamin-
induced gummies.
Geographically, most of the VC-backed functional food deals have taken place in the US and the UK.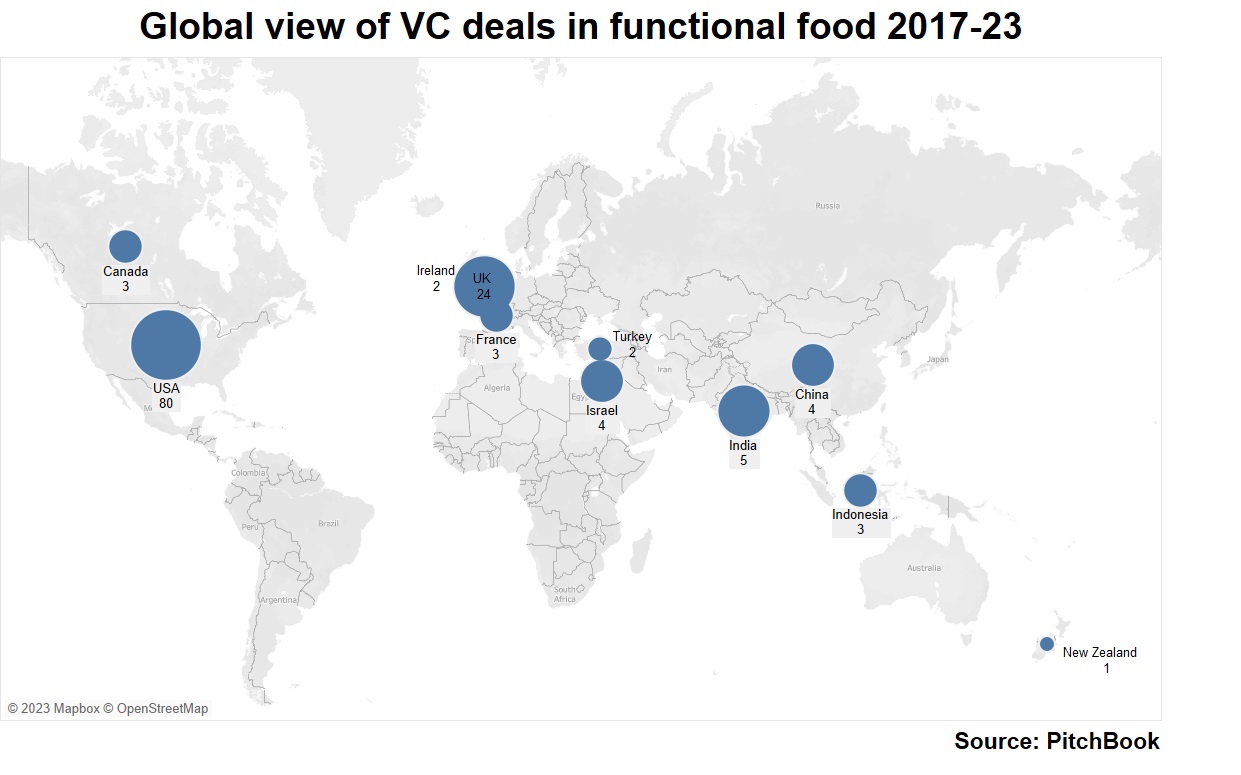 Fear, perception and consumer behaviour
Consumer perception plays a big role in the demand for functional foods. Consumer attitudes,
subjective norms, perceived behavioural control and health consciousness contributed significantly
to purchase intention towards dietary supplements, according to a recent study.
Heightened concerns about health, caused by the Covid-19 pandemic, may be contributing to
growing interest in functional food. There were several documented cases of panic buying of dietary
supplements during the pandemic.
This behaviour translates across to functional food, say experts from Precedence Research. The
primary motivations for people buying function foods, according to the report, are cardio and digestive health, improving immunity and weight management. Their estimated relative market
shares surpass significantly other uses like sport and clinical nutrition.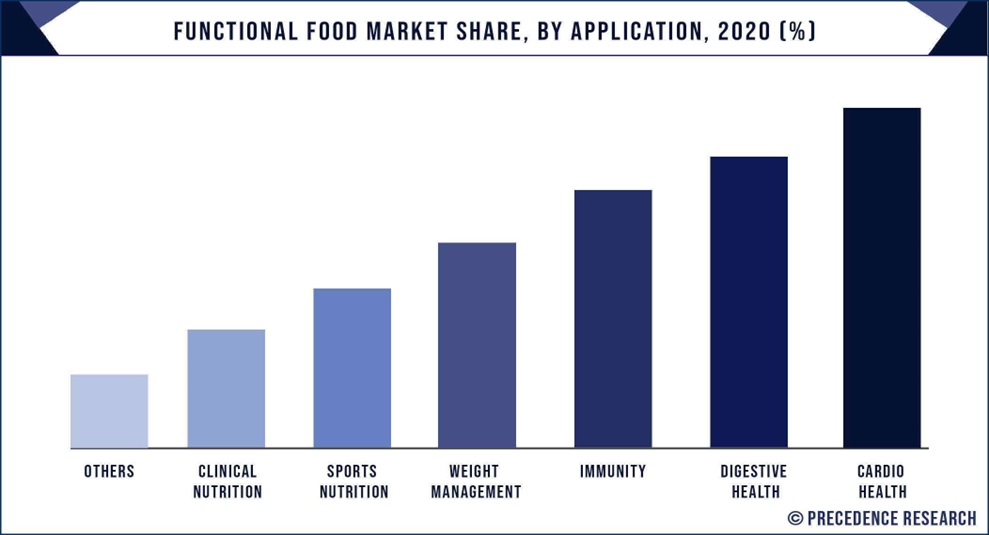 Demand side
Increased consumer awareness of health benefits and hectic lifestyles are the major driving force
behind the demand for nutrient-rich food in the US and across the globe. The Grand View Research
report notes that this has to do in part with ageing populations in developed markets that are
striving to maintaining good health and avoid rising medical costs. It is the growing interest in the
connection between well-being and healthier eating that is fuelling demand for functional foods.
However, the trend is by no means limited to developed economies only. The Asia-Pacific region was
pointed as the largest market for functional food in the year 2022 by the Precedence Research. The
market growth of functional food in the region has been enabled by rising disposable incomes,
alongside a burgeoning population ever so concerned with fitness and health, while consuming a
higher proportion of processed food.
The functional foods market is growing also due to increased research and development for new,
healthy food and drink options. Consumer goods companies today are developing nutrition bars and
various functional snacks (chocolates, candies, chewings gums etc.) to cater not only to fitness
enthusiasts but also to a broader consumer base increasingly looking for convenient nutrition. This
explains the growing global demand for functional meals.
Supply side
On the supply side, developments in food technology are making functional foods easier to produce.
Functional food manufacturers make use of technologies such as vacuum impregnation,
encapsulation (especially in probiotics) and edible coating.
Other more common nutritional additives used by the food industry include fibres, omega-3 fatty
acids, vitamins, minerals, etc.
The Coca-Cola Company's Vitaminwater, for example, introduced two new soft drink options in 2021:
'Look,' with blueberry hibiscus flavour, and 'Gutsy,' with watermelon and peach flavours, enriched
with vitamins.
Yoghurt producer Danone, which has been making gut-friendly drinkable Activia yoghurts for some
time, introduced a new version last year, with added zinc as well as vitamins C, D, and E to boost
immune system health.
The fact that established brands are repositioning their products in this way is a sign of growing
influence that the functional food idea is having on the industry.
Taste hurdle
By far the most significant commercialisation hurdle for any functional food items is taste. Functional
ingredients don't always inherently taste so good, so flavouring is a key to the sales success of
functional food, notes Nutritional Outlook magazine.
Consumers strongly associate certain flavours like citrus, ginger, lavender, and mint with well-being,
says Brittany Lisanti, a project manager at International Flavors and Fragrances (IFF), cited by
Nutritional Outlook. What is more, flavours appear to be also moving to more natural profiles, with
non-GMO, organic and sustainability certifications.
The same is true for colourants (also known as colour additives). About a third of consumers dislike
foods and drinks with new and experimental colours because such colours are perceived as
unnatural, found a survey by FMCG Gurus.
Products and ingredient insights
Dairy products dominated the global functional food market in 2022, when it comes to revenues,
followed by bakery and cereals, according to Precedence Research. The bakery and cereals segment
was projected to grow at a CAGR of nearly 8%, driven by demand for fortified snacks and cereal bars,
such as nutrition, energy and protein bars.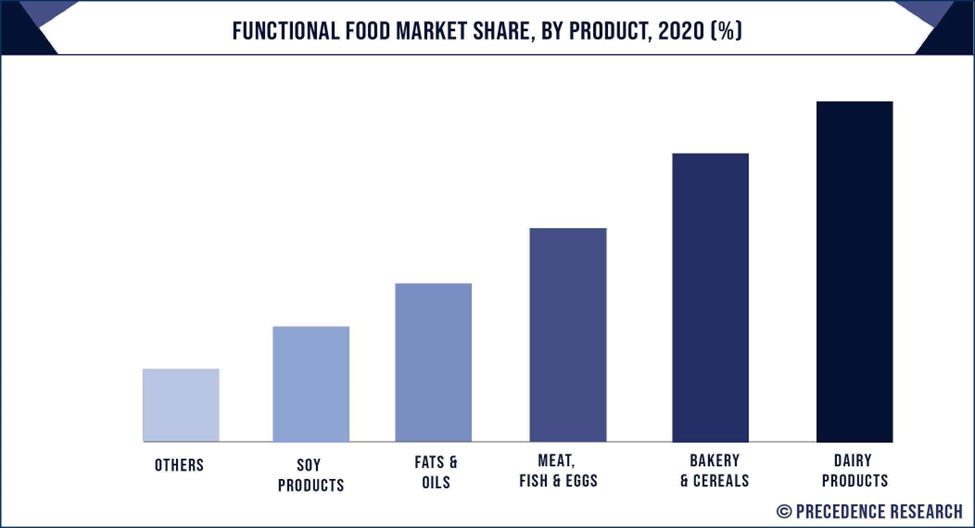 Today, the most common functional ingredients in foods are omega-3 in fish oils, probiotics in
yogurts and dietary fibre. The former is used to reduce risks of cardiovascular diseases, while the
latter two are meant to enhance the intestinal flora and lower cholesterol and regulate blood sugar,
among other things.
Aside from omega-3 and probiotics, other major ingredients segments within functional food include
dietary fibres, vitamin-enhanced foods and carotenoids.
Dietary fibre is naturally found in fruits, vegetables, whole grains and legumes and it is most often
commonly associated with relieving constipation. Its health benefits also extend to cholesterol
reduction, blood sugar control, maintaining a healthy body weight and reducing risk of coronary
disease and diabetes. It is the combination of all these benefits that are likely to drive demand for
dietary fibre, according to Grand View Research.
Common dietary habits in the developed world tend to leave people deficient in fibre. Children and
adults require anywhere from 25 to 35 grams of fibre per day to maintain good health, but most
Americans get only about 15 grams a day, according to Harvard's School of Public Health.
Vitamin-fortified foods are a rapidly growing segment of the functional food market. This segment is
anticipated to grow at an estimated CAGR of 9.7%, says Grand View Research. Functional ingredients
from this segment include vitamin A (retinols and other), vitamin B (folic acid), vitamin C (ascorbic
acid) and vitamin D (cholecalciferol). The demand for vitamin-based functional foods has increased
due to heightened consumer interest in dietary supplements for preventive healthcare purposes and
general increased health awareness.
Carotenoids constitute another ingredient segment which is expected to grow at 7.2% from 2022 to
2030, according to Grand View Research. Carotenoids refer to any of a class of mainly yellow, orange,
or red fat-soluble pigments, including carotene, which give colour to plant parts such
as ripe tomatoes and autumn leaves. There is also scientific evidence suggesting their consumption
can play a part in reducing the risk of eye disorders, cancer and diabetes.
Carotenoids are also extremely flexible, as they are found in foods as sources of vitamin A, natural
colours, antioxidants and health-promoting substances, says a recent scientific paper from the
Journal of Food Bioactives, outlining their uses and applications. Carotenoids come in a variety of
forms in the market, including lutein, beta-carotene, lycopene, astaxanthin, zeaxanthin,
canthaxanthin and annatto.