Corporate venture investors appear to be becoming more concerned about the financial returns of their funds, according to our latest GCV LinkedIn Poll. A difficult investment climate, with valuations of startups down, may be making even strategic investors keen to show good financial returns.
While traditional venture capital investors have a single goal in mind: to produce a high net return, corporate venture capital units are generally balancing several aims — both making a return and investing strategically to benefit the parent company long term, whether to get ahead in a changing market or bring essential services into the fold.
The way that corporate investors handle this balance can vary greatly.
Last year, when we polled CVCs in our annual survey (published in the World of Corporate Venturing  2023, there was a sizeable minority with either no financial goals or a mandate simply to not lose money.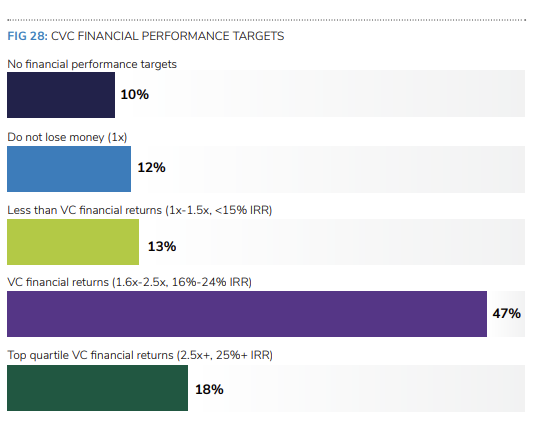 However, the vast majority were aiming for the same level of financial return as VCs — some of them aiming for the top level of VC returns.
We wondered if these numbers might have shifted over the past year, as falling valuations and down rounds for the startups in their portfolios have put investors under pressure. It appears there might indeed be a shift.
To get a sense of potential changes, we recently held a poll on LinkedIn and just 18% of CVC units who took part said they had no financial goals/wanted to avoid losing money, fewer than last year. Some 54% were aiming for VC-like financial goals.
The LinkedIn poll isn't a big enough sample size to be sure if this shift is really a trend. We are hoping for a more comprehensive look at this through our GCV Keystone Annual Benchmarking Survey.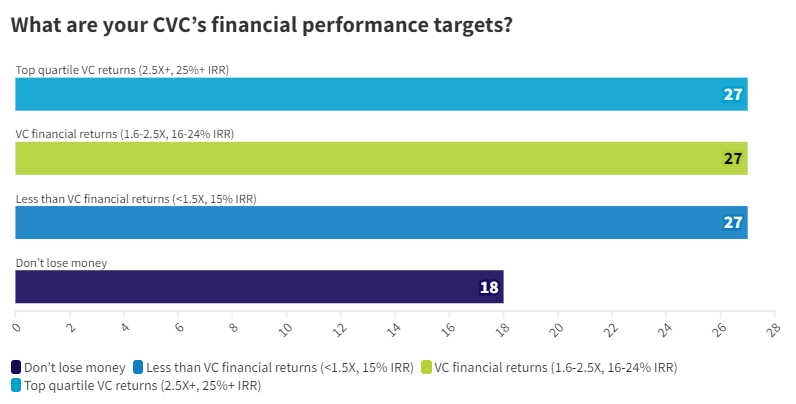 If you haven't already done so, please  fill out the survey so that we can capture your data an make this a truly representative study — what is your view on financial returns and has this changed in the past year? (All respondents will get a free copy of the WoCV report 2024.)