CVCs appear to be increasingly comfortable with taking a leading role in startup funding rounds — does this mark a permanent shift?
Corporate venture capital units have often been seen as followers in startup funding rounds, rather than the leaders setting up and doing the due diligence for the deal.
Last year 43% of our 2022 Annual Survey participants said they prefer to follow, while only 11% preferred to take a leading role. However, a recent poll of our LinkedIn followers shows that that may be changing, with 15% of respondents saying they would take a leading role.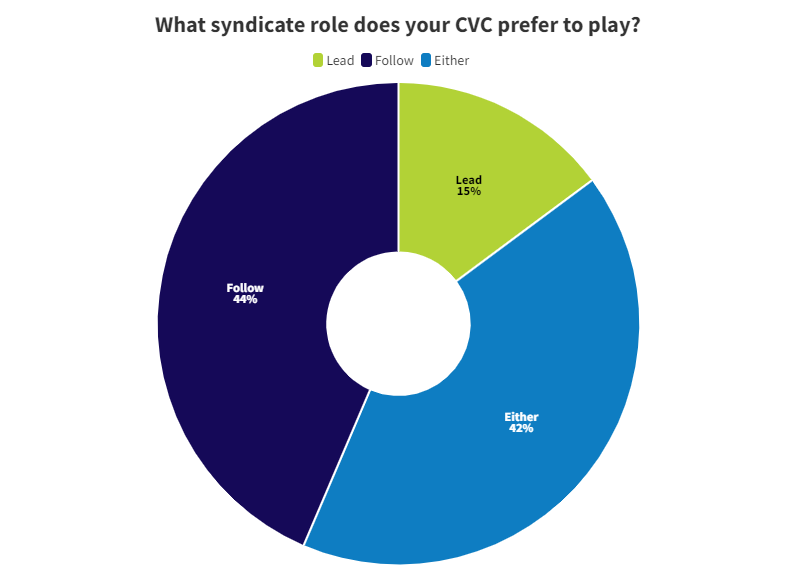 It is a small but noticeable shift, and it could simply reflect the fact that CVC units are maturing and gaining confidence as the sector matures. Some 42% of the respondents in our LinkedIn survey said they were equally confident leading and following, compared to 46% in the annual survey. But the shift is towards more corporate investors adopting lead roles as their primary strategy.
It could also reflect a more general shift in the investor community to backing more 'deeptech' investments, such as AI or quantum computing. CVC investors often have sector knowledge that makes them ideally placed to take a lead in setting up the funding deals for these startups, rather than simply being a follower in the deal.
The full annual survey should allow us to see whether this really is a robust trend or not. If you haven't already filled in the GCV Keystone Annual Benchmarking Survey please take a moment to add your data to this, this is an important way to get the full picture of the current state of corporate venturing.
All respondents will get a free copy of the survey report when it comes out in early 2024.
To learn more about trends in the corporate innovation industry sign up to our newsletter and follow our social media for all updates.