The corporate venturing industry is pushing towards a 50:50 split in senior investor roles.
Corporations are marking International Women's Day with a record number of female heads of their corporate venturing units.
Fifteen per cent of heads of units – 210 out of 1,387 in total – were female, according to GCV Analytics.
Slightly less than half of corporate venture units (48%) are still populated either exclusively or mainly by men, versus 53% from the previous reading of this indicator, which suggests a steady improvement, according to GCV Analytics in its annual survey for the World of Corporate Venturing 2022 report.
Moreover, 35% claim to have hired a relatively even gender split (versus 31% according to last year's survey), also indicating an improvement.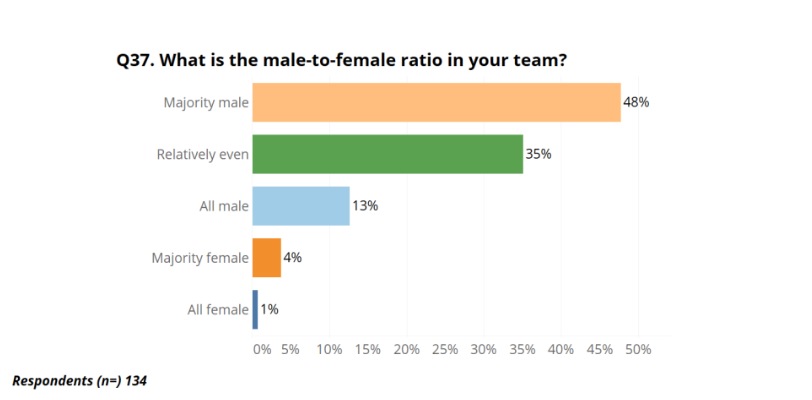 Source: World of Corporate Venturing.
More broadly, there is encouragement for the next generation, as 41% of the GCV Emerging Leaders and Rising Stars award winners this year were female. (Nominations and data are being analysed for the GCV Powerlist awards for heads of unit which will be announced at a gala dinner in May for the GCV Symposium in London)
Nearly a third of the attendees of the GCV Institute professional development programme last year were female and the community is increasingly collaborating to lift up their peers.
The upcoming Women in Venture lunch series, headed by Meghan Sharp, managing partner of Decarbonization Partners and former head of BP Ventures (pictured at September's lunch meeting in California), has meetings in London in May at the GCV Symposium, California in June at the GCVI Summit and representative sections planned for the Corporate Venture in Brasil and GCV Asia Congress events in Sao Paulo and Tokyo respectively, in the Autumn/Fall.
The positive trend for CVCs, which backed more than 5,000 deals raising an aggregate of near $300bn in capital last year according to GCV Analytics, contrasted with the overall venture capital (VC) industry.
The percentage of VC deals that went to female-led startups in the US declined in 2020: "This development, which comes as women are leaving the US workforce in droves, is especially bad news," according to Harvard Business Review.
In 2019, 2.8% of funding went to women-led startups; in 2020, that fell to 2.3%, Crunchbase figures show.
In 2021, companies founded solely by women garnered 2.1% of the total capital invested in venture-backed startups in the US, according to Pitchbook, though the percentage rose to about 7% when looking at deal volume.
This comes after years of increases. The 2.8% figure, while paltry, was an all-time high. And the situation is often worse elsewhere.
Last year, companies founded solely by women garnered just 1% of the total capital invested in venture-backed startups in Europe, Pitchbook said this month, and the relative few were dominated by UK-based female founders.
These falls were perhaps unsurprising, as when women venture capitalists do make the decisions they are twice as likely to invest in female founding teams.
Only 2.4% of founding independent VC partners are women, according to  report released by Women in VC in late 2020.
About 12% of decision makers at VC firms are women, and most firms still fail to have a single female partner, according to an analysis in 2020.
Similar data from 2016 to 2020 shows that only 10% of European VCs have a gender-mixed general partnership team, according to European Women in VC last year.
However, with the formation of European Women in VC and its New York-based peer, Women in VC, in the past few years, there is increased attention on the data to lead to change, often using corporate commitments*.
Astia Fund for example leverages a global 5,000-person community to invest in women entrepreneurs and their teams and is anchored by $10m from Mastercard.
*The first limited partner commitment by Mawsonia, the parent company of GCV and its sister titles, Global University Venturing and Global Impact Venturing, was to Black Opal Ventures.
Emerging Leaders 2022
Franziska Bossart, Ana Maury Aguilar, Marta Pinho, Sophia Nadur, Ornit Shinar, Rachel Muzyczka, Jessica Zeaske, Alisa Band, Marian Nakada, Priyanka Mitra, Tiffine Wang, Banafsheh Fathieh, Swapna Gupta, Mukaya "Tai" Panich, Rita Waite, Andrea Course, Lydia Jett, Cindi Choi, Lisa Coca, Tammy Mahn
Powerlist 2021
Maggie Wu, Suzanna Chiu, Annabelle Long, Lisa Smith, Meghan Sharp, Barbara Burger, Stéphane Longuet, Sunita Parasuraman, Angie Grimm, Kitty Agarwal, Amy Burr, Faran Nouri, Tamara Steffens, Jacqueline Krause, Lisa Lambert, Anja König, Barbara Dalton, Ilonka Jankovich, Carole Nuechterlein, Aruna Subramanian, Vanessa Indriolo Vreeland
**Female speakers at GCV Symposium include:
Irina Gorbounova, Shiva Dustdar, Rana Lonnen, Zoe Reich, Tara Bishop, Rinat Yogev, Kendra Rauschenberger, Suzanna Chiu, Sophia Nadur, Isabel Fox