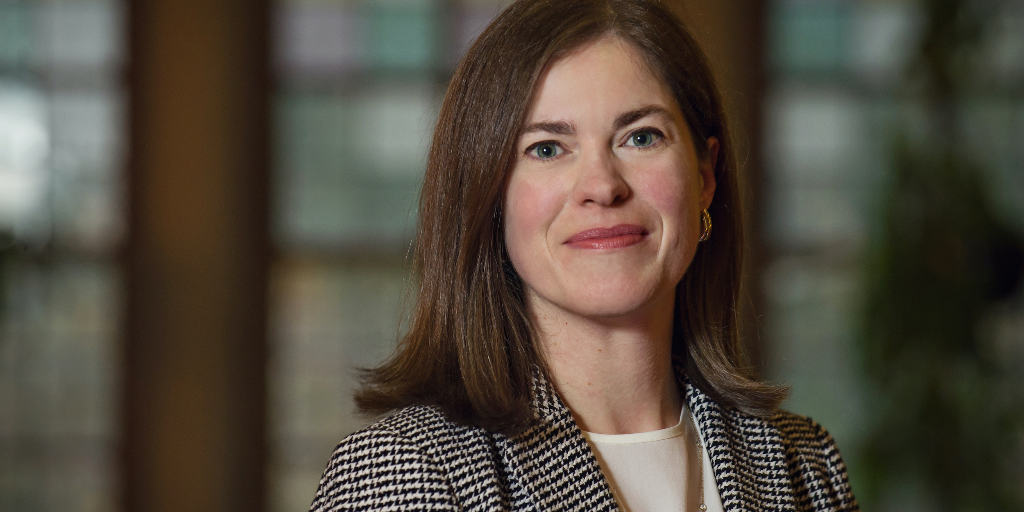 On this week's episode of the Talking Tech Transfer podcast, we talk to Kelly Sexton, associate vice-president for research – technology transfer and innovation partnerships, at University of Michigan about ways to tackle a lack of ethnic diversity in tech transfer leadership, find out what WIRM is and learn about the office's tradition of Nasdaq-style bell ringing for new spinouts.
Subscribe
Transcript
Thierry Heles: Kelly, thank you very much for joining us today.
Kelly Sexton: Thank you for having me and thank you for putting together this podcast series so that even though we are all working from home, we can still stay connected and have information exchange with each other. This is fantastic.
Heles: My pleasure. I am glad you have been enjoying it. To start with can you give me an overview of the University of Michigan's tech transfer and innovation partnerships, perhaps some key figures as well?
Sexton: I would be happy to. I like to explain the work that we do in a simple way. At University of Michigan tech transfer it is our job to make sure that every University of Michigan research discovery has its very best chance to change the world. From there, that is how I build out and explain the stats and what we do. For us, everything starts with University of Michigan's research enterprise. Last fiscal year that had $1.6bn in research activity across 19 schools and colleges and three campuses.
It is a massive innovation undertaking. Out of that huge amount of research there is a lot of innovations being created. To give you a sense of scale, last fiscal year, the one for us that just closed June 30, we had 522 new inventions submitted to our office for review and management.
I cannot tell you how seriously we take stewardship of these inventions. We think it is our privilege for these inventors to entrust us with their research ideas and discoveries, but we are having to do this at scale because 522 is a lot. Along with that last year, we filed around 450 patent applications and we saw just over 160 patents issued to University of Michigan.
We executed 268 licence and option agreements for those technologies. Thirty-one of those were with new startup companies that were formed in the same fiscal year. That is a new record for us, we do not know what normal is going to be in covid, but I feel like the new normal for University of Michigan is going to be 20 or 30 startup companies a year.
That is just the level of demand that we are seeing in interest from our faculty and interest in University of Michigan innovations from the entrepreneurs and investment community. We had $14.5m in licensing revenue last fiscal year as a result of this licensing activity.
To run this infrastructure, we have an amazing team. We are structured with a licensing team, we have a director of licensing and he supervises 13 licensing professionals, which includes a marketing analyst. We have two full-time licensing fellows, which is really our kind of entry level into the profession, and we have a rotating group of somewhere between five and 10 student fellows, typically PhD students at the university helping us with early-stage invention assessment.
We also have a team of three that oversees all our material transfer agreements. That is the type of contract that is needed to keep research reagents and tools exchanging between the university and industry and between different universities across the world. They also negotiate the intellectual property terms of most of the industry-sponsored research agreements that we enter in to as well. That is a significant amount of activity, but that is important to support our faculty and their efforts to bring additional research funding to their programmes.
We also have a Venture Centre and that team has a director of ventures and two associate directors, one over the physical sciences and one over the life sciences.
We also have a programme manager that oversees our startup incubator, which is called our Venture Accelerator. An important part of this team are our mentors-in-residence and at any given point in time we have between 10 and 13 mentors-in-residence. These individuals work with us typically on a half-time basis. Their job is to work with faculty and graduate students from the time that they have a great or sometimes crazy idea, and to help walk and mentor them through the process of taking that idea and hopefully moving it out into a startup company.
At any given point in time, this group is managing over a 100 startup-ish projects. Things that might one day become an actual startup company. Sometimes this mentoring can go on for months or years before a launch, and often it will continue for some time after the company has launched as well. This mentor-in-residence programme is really important to University of Michigan. It is also important to the state. It is partially funded by our state's economic development arm, called the Michigan Economic Development Corporation, and what that allows us to do is we have these mentors-in-residence they are supporting university of Michigan projects, but it is also part of a statewide hub.
Around the state we have six universities that are participating in this programme. Many have their own mentors-in-residence that are part of their campus, but we are also able to exchange mentors to support projects at other universities. If we have a specific expertise with one of our mentors at Ann Arbor, we are able to have them support a project from one of our neighbouring universities. It allows us to have this network of expertise that strengthens our overall ecosystem.
Heles: There have been a lot of numbers here, but you mentioned the 20 to 30 companies that you see going forward, which is certainly a high average ­­– definitely keeping up with the big boys, say University of Oxford here in the UK, for example. Can you talk a bit about UM's general approach to startup company formation?
Sexton: As I mentioned it starts at the very earliest stages. Again, we are very agnostic as to whether something should be a startup company or whether it should be a direct licence to an existing company. If you go back to the tagline for the office, making sure it has its best opportunity to change the world sometimes that is working with an existing business and we are happy to have our mentors-in-residence support those projects as well. We celebrate both kinds of outcomes.
With this amazing team of talent on the licensing side and on the venture side – we have deep industry expertise with our licensing team and industry, and entrepreneurial expertise on our ventures team – I like to create formats where we can come together to ensure that we are bringing the best knowledge and creativity and network connections of this team to bear at the earliest stages of inventions. For us this starts every Friday morning at 9am, whem we spend three hours going through typically between seven to 10 inventions in detail.
This will certainly always be after we have met with the inventor and sometimes it is after we have had the opportunity to speak with a couple of companies, get some early industry feedback, maybe have a prior art and early patentability assessment. This is really where we bring the team together and try to decide what the next steps are, if any, with that technology.
We have folks from the licensing team presenting this and the venture team is present. We call these the WIRM, which stands for weekly invention review meeting. The point of this is to think broadly about all the resources we can bring to bear. We are fortunate to have a programme in our state called the Michigan Translational Research and Commercialisation programme, or MTrac, on our campus. We have MTrac hubs around transportation and life sciences, other campuses have ag-biotech and advanced computing.
What this allows us to do is provide translational research funding for our very best technologies. We use these WIRMs as an opportunity to think about would this be a good project for an MTrac programme? Is it better suited for Coulter? Are there other translational research programmes that we can add? Then our mentors-in-residence get involved. Mentorship can take weeks, months, or years and we really try to meet the faculty where they are in terms of their goals and aspirations for their research.
We try to support them, push them just a bit to take advantage of all the great translational funding we have on campus. Take advantage of the fact that we are an I-Corps node. We have a National Science Foundation I-Corps node that is a wonderful opportunity for them to learn about voice of customer and customer discovery.
We try to help them take advantage of these programmes at the right time for them and at the right time for their technology and also to connect them with talent. That is one of the biggest value adds that our mentors-in-residence programme brings. These individuals are bringing not only their great industry and commercialisation expertise, but they are bringing their networks and they are able to help connect our projects with entrepreneurial talent.
We are an amazing, top-ranked university in a town of 130,000 people, so connecting with business talent is something we have to remain very focused on. Through this approach, once we get to the point of negotiating the licence agreement, one of our core beliefs is these are not zero-sum games.
We are here to build beneficial relationships for the university, not just for this project, not just for our office, but for University of Michigan. At the end of launching a startup company from University of Michigan, we want our inventors and we want the involved entrepreneurs to say: "That was a phenomenal experience. They were fair, they were honest, and it was clear they wanted to help make this happen." Because we want them to be successful with this startup and we want them to come back. We have worked with a lot of repeat entrepreneurs that have successfully launched multiple University of Michigan startup companies and taken them to exit and then returned to find their next idea.
We love when that happens. We want to make sure that we are laying the groundwork for that. One of the ways that we reinforce that idea and also celebrate the fact that we have launched a new startup company is with something called our startup bell ringings.
Heles: I have seen the pictures.
Sexton: Good. When we were in the office it was a Nasdaq-style bell and we were joking if we kept watching 30 startups a year, we were going to start giving out ear plugs to the team because the way we would do it.
It is really important to me. Tech transfer has a high failure rate. We are working with early science and it is often not glamorous. We have a huge, wonderful infrastructure supporting all of this work with the people that manage our patent dockets and billing and federal compliance, industry compliance. It is important to me that everyone feels connected with the mission of the office.
The startup bell ringing is a way we reinforce that. Everyone is invited. Typically, everyone would come out of their office and we would hear from the inventor, from the licensing manager, from the mentor-in-residence and from the entrepreneur, and everyone would tell their history with the project. Then the entrepreneur would talk about the vision for the future.
It was just such a great way to help us all feel connected and to just take one moment to pause and remember that at the end of the day, we are essentially amplifying the positive impact of University of Michigan research discoveries. It is wonderful to be able to take part in that.
In the time of covid we have moved the bell ringing online. I am pleased to announce that that is going well. The bell is still in the office. For now, we are asking the entrepreneurs to create some sort of bell or ringing device that is unique to them iandn the company and that has been fun too, to see what people come up with.
Heles: I like that. Seeing the pictures, they just looked like a fun thing but the way you talk about it, it just really brings home how important that is for the office and for the inventors and the team, bringing it all together. I really like that. That is lovely.
Slightly related. How does University of Michigan fare when it comes to women and minority founders? Are you looking at increasing the engagement? Do you need to increase engagement? Are you doing fantastically well?
Sexton: We absolutely need to increase the engagement. The question is how, and so the first piece of this for me is really trying to understand the data.
For the two years that I have been here, we have started tracking that data because we cannot keep our heads in the sand. We have to understand what it says, even if it is not what you want to see, so we can understand the extent of the challenge. For us, everything starts with the inventions.
Our first step was just understanding what is the gender breakdown in invention disclosure submitted to our office, and how does that translate into patenting activity? Because that is the on-ramp to the innovation pipeline and I should say with everything we approach this with an understanding that we are connectors between the University of Michigan research community and the entrepreneurial and venture communities. We have to make sure that we are reaching as broad and a diverse of a swath of University of Michigan inventors 8as we can to help welcome them into this activity.
Underpinning all of this is the strong belief that we face a lot of difficult challenges. To solve these, we need 100% of our innovators having the tools and the ability to make contributions. We cannot do this with one arm tied behind our backs. We think diversity is going to lead to improved outcomes for our work and for society.
The first step for us was looking at the gender issue in patenting. What we found was for our patents is we are seeing 34% of University of Michigan patents in the last three years listing one or more women as an inventor. The national average is 21%. At the current trends, it would take until 2090 to reach parity, I think it is the latest number on the national scale.
I feel good that we are doing better than the national average but that is still not good enough because again, the metric is one or more women and most patents have multiple inventors. There is no reason it could not be 100% of innovative teams to have one or more women as part of it. There are ways we can improve that.
For us it starts with understanding how people find their way to tech transfer on campus, and it typically comes from mentorship. If 20 years ago, we were mostly working with white male inventors, today those are the mentors that are directing their mentees to come find us.
We have to break out of simply relying on network effects and focus on proactive outreach. We found that saying "you would be great at this, you should really apply to go to this pitch competition, you should take advantage of this translational research funding, you would be great at this" has been really impactful. We had some great women innovators on our campus, doing more to help highlight their success and go to their department chairs and say, "do you know you have this amazing woman in venture and your department, and that she has launched a very successful startup company. You should consider nominating her for this award." We have had good success with this and plan to build on it.
Moving to the founder side, what we found when we looked at our startup data – and again this is something we have just started looking at – going back over the last two years, was that around 17% of our startups have a woman as a founder. The national data for that is around 7% of Fortune 500 companies have women as CEOs. The most recent venture data shows a 20% national average of women-founded companies to receive venture investment. We are almost tracking the national average. Clearly, we have work we need to do.
Around 45% of our companies are minority-led, looking back over the last two years of data, and that is compared to a national average of 23% of minority-founded companies to receive venture investment. That may be an area that universities tend to excel at because a lot of our founders are technical founders, and the faculty of our university tends to be welcoming of international scholars from across the world.
In fact, that has been a great strength of our research ecosystem for many years. Present climate notwithstanding and beyond the scope of this podcast, it is absolutely one of our strengths.
What do we need to do to improve this? One is again more outreach and encouraging our women innovators to engage in this activity, attracting more women entrepreneurs to work with the university. We also need to make sure that women are in the room when funding decisions are being made. There are a lot of opportunities there, especially if you think about angel networks and recruiting more high-net-worth women to consider becoming angel investors and opening up that network to them.
We also need to look at ourselves and I am very proud of our mentors-in-residence programme, but it is about 30% female and that could be higher as well. Something we need to consider is how can we attract more diverse talent to our pool of mentors-in-residence.
Heles: On a slightly related question, as a woman in tech transfer leadership specifically how are we doing on diversity at the top of offices? How can we get more women to the top of these organisations?
Sexton: I think in terms of gender diversity tech transfer is one of those professions that has done well. I do not know the national stats, but I think the fact that from its earliest days you had women role models like Kathy Ku at Stanford and Lita Nelsen at MIT. We have had examples of what outstanding woman leadership at the top would look like and that encouraged and enabled more women to view themselves in that role and to enter the profession.
Where we really struggle is with the minority leadership in tech transfer and quite frankly, the minority participation at any level of tech transfer is a challenge. What can we do about it? This is something we have been doing a lot of soul searching about. We have a national advisory board and we have asked them for advice about what to do about this.
I think it comes down to: one is role models, one is mentorship, one is sponsorship, and we need everyone. We need the women leaders and the male leaders to take ownership of the sponsorship role. It is the step beyond mentorship where you are not just giving advice, but you are saying: "I want you to apply for this position and I want to write a letter of recommendation for you. You should consider doing this and I am going to encourage that and put in a good word for you and create an opportunity for you."
We need to think about how we recruit interns and fellows into our programmes. A lot of times that occurs through network effects and we know that network effects have inherent biases built into them.
We need to think about outreach to HBCUs to recruit internships and posting our jobs on places like the AWIS, Association of Women in Science. National Society of Black Engineers is one that has been recommended to us. We need to think about how people get into the field of tech transfer, because there is not one career path, it is often through an internship or a fellowship and I think we should start there.
Heles: If I am correct, you were a postdoc fellow at Stanford's Office of Technology Licensing in 2004 and then you became a licensing and contracts attorney in 2006 before joining North Carolina State University, and then eventually university of Michigan in 2018.
What piqued your interest in tech transfer and what prompted you to join University of Michigan?
Sexton: Yes, I was a postdoc at Stanford and like many labs at Stanford and in the Bay Area we were involved in patenting. Our principal investigator had relationships with a number of biotech companies and I became interested in thinking about what life was like outside of a lab. At that point, after five years of graduate school and then a postdoc, I really did not know but at that point I had three alma maters and I went through the alumni databases for my undergraduate university, University of Georgia, for my grad school, University of California, San Diego, and then for Stanford.
It was like an Excel spreadsheet and I was looking for people who had PhDs, but who were not working at universities. I just started calling people, "and what do you do and what is that like?" I learned about a lot of different professions and tech transfer seemed like one where I could gain great exposure to the intersection between science, business and law.
It just so happened that I was at the university that had what is perhaps the best tech transfer office in the country, and one of the best in the world certainly with amazing leadership at the time in Kathy Ku, and I found a wonderful mentor and sponsor in that office who was willing to take me on as an intern, Gregg Kyle, and from then I was just hooked.
I love being able to apply my scientific background to the work. I loved learning about patent law and contract law and working with companies and learning how we could connect science with their needs.
From there, I spent around 12 amazing years at North Carolina State University and really loved everything we were able to accomplish there. I appreciated watching the entrepreneurial because system in the research triangle region heat up and start to take off. To be able to watch that and to play a role in it was incredible.
Then, University of Michigan called and it was a fork in the road for me. I felt at a minimum it will be a great opportunity to do a deep dive into another university and into another tech transfer office, and I would bring that knowledge back and it would make me a better leader. I undertook it as fact-finding and this will make me a better leader of my current role. I really fell in love with the tech transfer team at University of Michigan.
I can honestly say, I am just humbled every day to get to work with them, and I have learned so much from them. It is really great place to work, I fell in love with the campus and the science. It is one of the leading universities in the world, and it is also in terms of research the largest public, and that is a real responsibility and a unique opportunity to be able to lead tech transfer at a university that values 'providing an uncommon education for the common man', was our founding philosophy.
This university has taken great strides in terms of affordability. If you are a family in the state of Michigan earning under $65,000 a year, your child can attend University of Michigan tuition-free. It is called the Go Blue Guarantee. That public university mantra and the size and impressive quality of the research enterprise, I talked to some of my mentors at North Carolina State and remember one, Dennis Kekas, who said "you cannot pass that opportunity up, you will regret it the rest of your life, you have to go."
I did and pandemic aside, it has been truly wonderful. I miss going into the office mostly because I miss working face-to-face with such a great group, but we have managed to make do with virtual meetings as well.
Heles: That is wonderful. No ambitions for leaving the University of Michigan anytime soon from the sounds of it either.
Sexton: No, my husband and three kids said this is it, we are not following you anywhere else. So, there is that as well.
Heles: Something else entirely and is it is very early days for this, of course, but how important was the launch of the $130m Great Lakes Discovery Fund in May and what are your hopes for this partnership with Deerfield?
Sexton: I think it is greatly important to the university. This is not unique to University of Michigan; it is a challenge for all of us. Our scientists excel at understanding the molecular mechanisms underlying human disease. This is our strong suit.
If you think about the overall drug discovery process, we are heavily weighted on the very early side, identifying novel and interesting targets, coming up with assays to interrogate those targets, and that is when both our expertise and the funding start to trail off.
When you think about high-throughput screening, about hit to lead optimisation, candidate selection, both the funding we receive from the federal government and our infrastructure starts to get a bit lighter as you get later and later along the journey, as well our expertise starts to taper off. What we need to do if we want to live up to our aspiration and making sure every research discovery has its best opportunity, is to create the infrastructure to give them that opportunity.
Our hope is that new alliances, like the one with Deerfield, is going to bring both the funding needed to advance our drug discovery projects, but also importantly the expertise to our campus to help come up with the roadmap, the value inflection points, the go, no-go decisions, the killer experiments to really advance these therapeutics to the clinic.
At University of Michigan, we are always in the top five for National Institutes of Health funding in the country. With that comes an obligation to make sure that we are taking our knowledge and developing new cures for diseases. I view that as a trust the public has placed in us.
We have a little over 100 drug discovery projects on our campus, and these are constantly being renewed by all the federal funding for research. In those WIRM meetings we are seeing one or sometimes two new drug discovery projects being presented to us for help every week. We view working with Deerfield as one additional resource that we can bring to our faculty to help connect them with funding and expertise to advance those projects.
My hope is that we will see more therapeutics brought to the clinic to address unmet needs through this alliance.
Heles: Fingers crossed. It certainly sounds like you are off to a great start and a great partner. I know Deerfield is just been starting these partnerships all over the US, they are really going for it and as you said, they really bring great expertise as well.
Sexton: They are putting the infrastructure behind it. They definitely have a thesis about the types of projects that they believe they can add value to. It will not work for every one of our projects. They will likely pass on projects that we still believe have great value and we are going to remain committed to those, to finding other avenues for partnership. We view this as, with 100 or so therapeutic projects we are going to need a lot of these types of alliances.
We also announced a $10m alliance with Spark Pharma, which is another pharmaceutical company that is going to be conducting a similar programme across our campus. We are constantly talking to other biotech and pharma companies. University of Michigan is much too big for a one-size-fits-all approach, and our faculty are too unique as well. We are really excited about the Deerfield opportunity and about the future of our therapeutic portfolio.
I just got an email today about a fifteenth, but as of yesterday we had 14 therapeutics that were in some phase of the FDA approval process. I think we are at 15 today to give you an idea of the opportunity and the promise.
Heles: Congratulations on that as well.
Sexton: Yes, thank you. Excited about it.
Heles: I think there will be a couple of weeks before the podcast comes out, who knows we might have to update the numbers and come back to you.
Speaking of funding when you were at NC State, you co-founded an alumni angel network. Would you say those initiatives, which obviously have been replicated by Tony Armstrong at IU Ventures and others, are particularly useful to institutions that are not MIT or Stanford, with dozens of VCs literally down the street? Are you doing anything at Michigan to replicate that as well?
Sexton: I should mention here that this entire model I think is largely John Glushik's contribution to the world. I will never forget when John and Eric Toone, who was then at Duke, came to NC State and they said we think we have come up with a model for creating alumni angel networks that could work at any major research university. We are piloting it at Duke, it is really gaining traction. We want to do something big for the region and for our state, for that to happen, we need all three universities of the research triangle to come along.
We want NC State to create this and where we are going to open our books and we are going to open the template to help you do that and we want to work with you. I got goosebumps.
I had been, at that point, in the region for around a decade and I can say it was one of the few times in the entrepreneurial ecosystem where the three universities really worked incredibly hard and incredibly well together with virtually zero competition. It was just a wonderful example of when you find the right collaboration things can really take off.
Just a word about that model. It is a network and the university's role in that is to invite alumni to join as members. They typically pay an annual fee of between $1,000 and $2,000 per member. The university's role is to manage a process for curating and presenting university-affiliated startup companies to this network and the types of companies that are affiliated with the university.
Yes, it is the tech transfer startup companies, but really the bigger bucket and the bigger opportunity are all the startup companies that are created by our alums around the country, it is a great opportunity for engaging alums to invest in the university's best and brightest.
I think the three networks and the triangle have enjoyed considerable success. I believe between the three of them their members have invested north of $20m across a number of startup companies. When you think about angel investors investing at the earliest stage for companies it is a significant amount of money.
I applaud what Tony is doing at Indiana University with creating an angel network that fits their university's and their region's needs. We have not yet done anything like that at University of Michigan, but with one of the nation's largest living alumni basis and the fact that we know many of our graduates go on to be highly successful entrepreneurs, you might imagine this is something I would love to explore further here. But I have only been here two and a half years and I had been at NC State a decade and had built up a lot of trust to lead something big like that. Give me a little bit of time at University of Michigan to continue socialising.
Heles: I will cut you some slack. This is my favourite question, and it is usually the one that people hate. What is your favourite spinout that has come out of University of Michigan during your time there so far?
Sexton: I can see why people dislike this. May I present more than one?
Heles: You can have a couple that is fine. You are allowed more than one favourite child.
Sexton: Awesome, thank you. The first one I want to mention did not come out during my tenure, but I want to mention it because it is absolutely so cool and so timely.
This was one of our first legal tech startup companies and it came out of the scholarly work of a University of Michigan law professor, JJ Prescott, who realised that the court system was completely lacking in innovation. He knew through his work that this led to negative outcomes and racial disparities.
You can imagine if you have an outstanding warrant or if you have a speeding ticket, for you and me – or me, speaking in the US for the US judicial system – to take a day off of work. I am a salaried employee and I have childcare for my kids. I can make that work.
But for someone who is struggling, who has to care for their children, who cannot take time off work or who is caring for an ailing parent, or maybe does not have transportation, this comes at a massive transactional cost. That often leads to fairly small fines escalating into something that is completely out of control and out of proportion.
He created an online dispute mediation platform called Matterhorn. We worked with him to come up with the business plan, recruit the entrepreneur. Today the startup company, Court Innovations, their product Matterhorn is being used in courts in 16 states. It is being used by over 100 courts and mediation centres.
Through the tool, citizens have settled over 110,000 cases online. The research shows that this is completely eliminating racial bias in these outcomes. It is reducing and eliminating socioeconomic bias in the outcomes. And you can do this without leaving your home. It is allowing these courts in the time of a pandemic to continue operating and to allow the citizens to continue having access.
For this work, Prof Prescott was recognised this year as the University of Michigan distinguished university innovator of the year. I really love that story because it shows that we are all innovators and it does not have to be something that is a medical device or widget. In a world where software is everywhere, we want to be sure we are reaching out to other parts of our campus to invite those researchers and those scholars to work with us so we can increase their impact.
To your question of one that is launched since I have been here, I will try to stick with just picking one. This one had the distinction of being our first virtual bell ringing contestant.
This is a startup company called BlueConduit. It started, as many of our startups do, as an academic project. In 2016 and 2017, they built a predictive model to help the city of Flint understand where to focus their remediation efforts. They used a big data approach to help the city identify where lead-contaminated water lines would be found.
Every time you go to do one of these digs, it takes several thousand dollars. Understanding where to prioritise and where to target those efforts creates significant value. It quickly became apparent to the team that this was no longer an academic exercise. They needed to build a sustainable infrastructure around it. That was where our office became involved and helped them with the business plan through to launch, and is continuing to provide support and mentorship. Today they are continuing to work with Flint. They are also providing the service to 30 towns around the country.
For me it is another wonderful example of how research is incredibly important and publishing papers is important, but to really have impact at scale, sometimes you need to build a basis to be able to sustain that growth and service.
Heles: I do not hear too much of Flint anymore after the initial reporting internationally, but I am glad that people are still caring about what's happening to that town and try to improve the situation.
Sexton: Absolutely, there is so many wonderful projects underway between the university and that community and this is one example of an outgrowth of that.
Heles: Final question, an open-ended one. Is there anything that we have not talked about yet that you want our listeners to know about?
Sexton: Yes, there is, and I would be remiss if I did not mention something important that we are doing to address the early-stage funding gap for University of Michigan startup companies.
While the angel network is a long-term aspirational goal, something that is much more near-term and more concrete is we are working to create an evergreen source of seed investment capital for University of Michigan tech transfer startup companies. This is called the Accelerate Blue Fund. We received the approvals last fall to raise this fund through philanthropy.
The fact that we are raising it through philanthropy is what allows it to become an evergreen fund. Raising a first fund is always challenging. Raising a first fund during a year like 2020 has been really interesting, but we have had some great conversations with University of Michigan alumni and with corporate sponsors.
I am pleased to share that we are over halfway to our first close goal of $2m. We have a simple thesis behind this fund. We propose that by providing risk-tolerant seed capital to the very best University of Michigan tech startup companies we can help them to de-risk the technology being developed, making them more attractive for downstream investment by investors both in our region and around the country.
We think that the Accelerate Blue Fund is going to help them attract business talent and we are going to keep them focused on those value-creating milestones through this fund.
The second thing that I would like for your listeners to know is, especially those that are investors: we would love to connect with you. University of Michigan maintains communication relations with over 450 angel and venture investors around the world. For these firms and individuals, we communicate with them on a quarterly basis using our pipeline report.
This is our effort to curate all of the amazing startup projects and startup companies that are percolating through, have recently launched and are out the door and raising funds from University of Michigan.
Our pipeline report has them sortable by technology, by investment-readiness level, by technology-readiness level and by sector. I hear this repeatedly from investors around the country that say, "well, I wish every university made this so easy".
That is my ask for the listeners. We would love to have you on that report and to be connected with you.
Heles: Where do they go to get the reports? Do they get in touch with you?
We have a meeting with everyone first because we have to vet them and make sure that they are an accredited investor. Have them reach out to me and I am happy to talk to them and connect them with our director of our Venture Centre and we can start that conversation.
Heles: My emails are always open to anyone who hears this and wants to get in touch with Kelly. Let me know.
Kelly, thank you so much for taking the time out of your busy day to join us on the podcast today and for sharing all your insights.
Sexton: Absolutely and again, thank you for doing this. This is a wonderful resource for everyone.