Global University Venturing's data review and roundup of funds investing in spinouts.
It is a true testament to the health of the university venturing ecosystem that since Global University Venturing published its first data review and roundup of funds investing in spinouts and startups last year, we have added more than 50 vehicles to our database.
Only a few of these were additional raises for existing funds – for example the Engine, backed by Massachusetts Institute of Technology, had raised $150m by April 2017 but added another $50m to its coffers in September.
In fact, between January 2017 and April 2018, GUV has added 63 funds to its database – a staggering number for a period of just 16 months. We have included a full list of all funds in this magazine.
Just as hearteningly, GUV has tracked 1,954 deals and 197 exits over the 2013 to 2017 period – and 2,151 transactions certainly feels like a milestone worth celebrating.
So let's begin by taking a look at investment activity over the past five years. It is undoubtedly great news that 2017 outperformed all four preceding years in terms of number of investments with 478 deals, though the total amount invested continued to drop.
It is questionable whether the $9.3bn in 2015 was ever a sustainable level and there is an argument to be made that more spinouts receiving slightly less money is better for the ecosystem than fewer companies being showered with cash.
By all accounts, 2015 was an exceptional year that followed the highly anticipated flotation of immunotherapy developer Juno Therapeutics just before Christmas. The company, launched by a range of cancer research centres, had raised $310m in just two rounds.
If that seemed a lot at the time, Immunocore, an immunotherapy firm that traces its origins back to University of Oxford, attracted $320m in July 2015 – the largest funding round for a Europe-based biotechnology developer yet.
The same year also brought us Denali Therapeutics, which launched with $217m in funding to develop treatments for neurodegenerative diseases.
We will continue to see companies raising big rounds, of course, but the sheer number of such deals coming in the space of those 12 months is likely to remain a rare occurrence.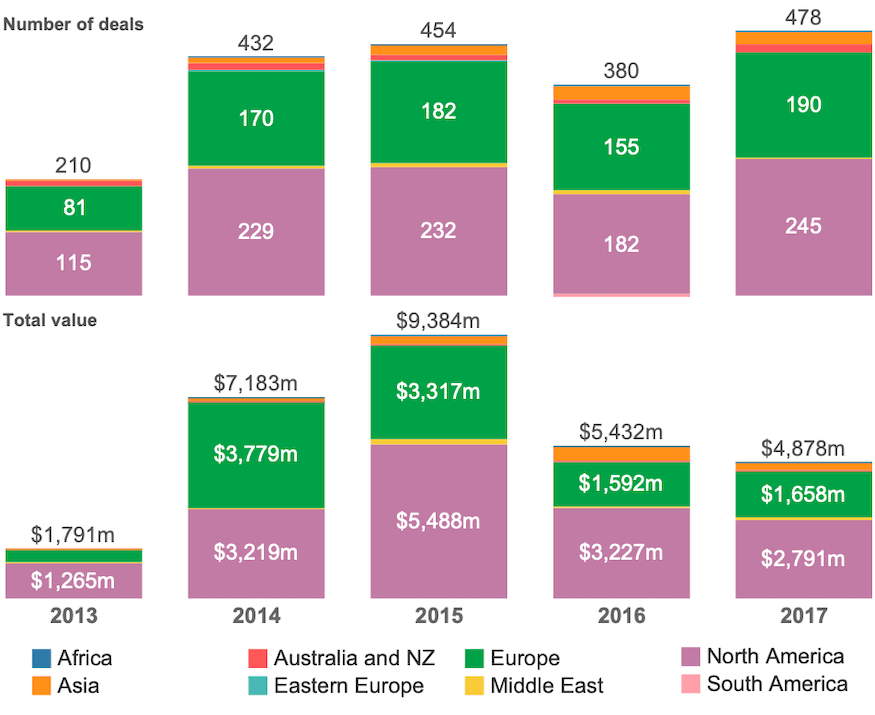 Universities also had a lot to celebrate when it came to exits in 2017, which had experienced a significant dip in 2016 to its slowest level since Global University Venturing started tracking the sector. Indeed, at 55 transactions and close to $2.9bn in 2017, the ecosystem has experienced its highest rate over the past five years and the total value was slightly above the five-year average of roughly $2.8bn.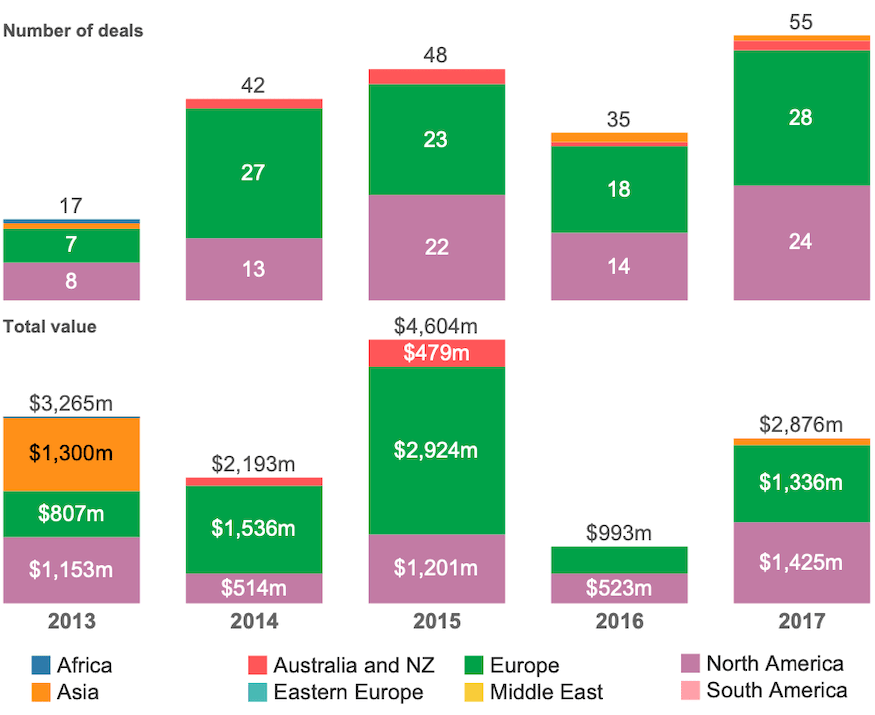 New university venture funds remain a relatively low proportion of overall funds. However that is not entirely surprising. Despite blockbuster funds such as Oxford Sciences Innovation, which now stands at $730m, or even multi-university initiatives such as the University Bridge Fund, which was launched by Trinity College Dublin and University College Dublin and is managed by Atlantic Bridge, many institutions still rely on outside resources and expertise.
One recent such partnership was that of business school Insead, which signed a strategic agreement with venture capital firm Luxury Tech Fund in March 2018 to drive research into luxury technologies and boost entrepreneurship among faculty, staff and students.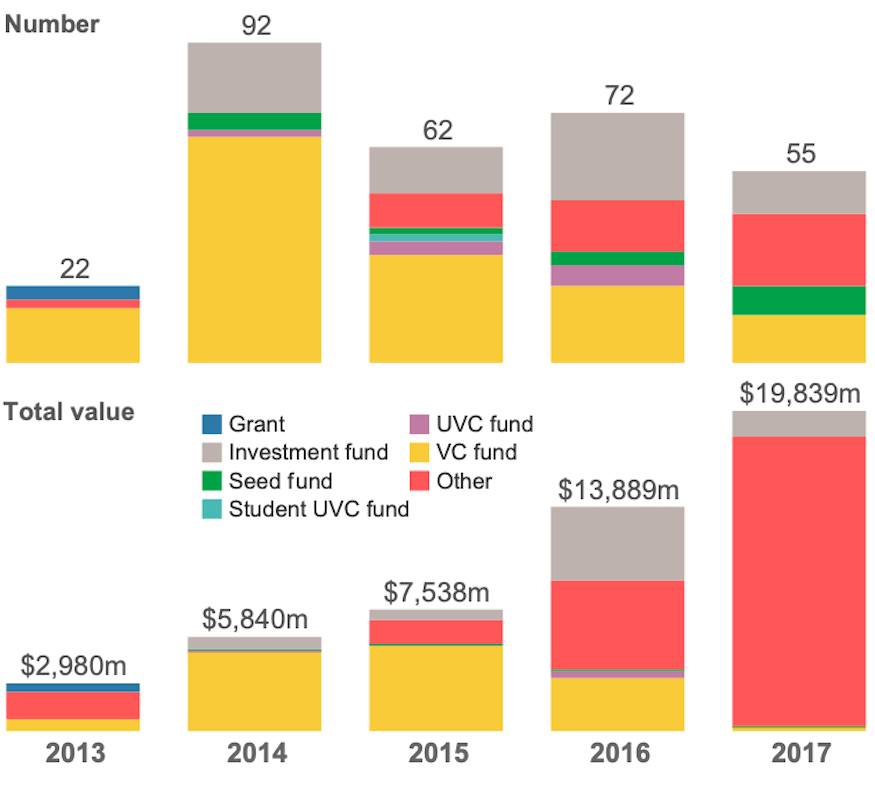 One important takeaway however is that despite only 55 funds being added last year, their total capital has continued to grow – and this trend appears to be continuing into 2018, with venture capital firm Qiming Venture Partners attracting $935m last month for its Qiming Venture USD Fund VI from limited partners including Princeton University, Massachusetts Institute of Technology and Duke University.
Bluefield Innovations also launched an interesting model last year when it partnered Johns Hopkins Medicine for a $65m commercialisation vehicle, only to follow it up with another such fund of the same size with Vanderbilt University in March 2018.
The number of deals that included a university backer has largely remained steady over the past four years. It is also interesting that corporate venturing units are maintaining their interest in the sector, though that figure has dropped slightly compared with the relative heights of 2015.
At 809 investors in 2017, spinouts clearly had no issue raising capital and it is heartening to see that government participation has increased while other types of investors, such as VC firms, continue to be the biggest players. Again, that is no surprise, of course.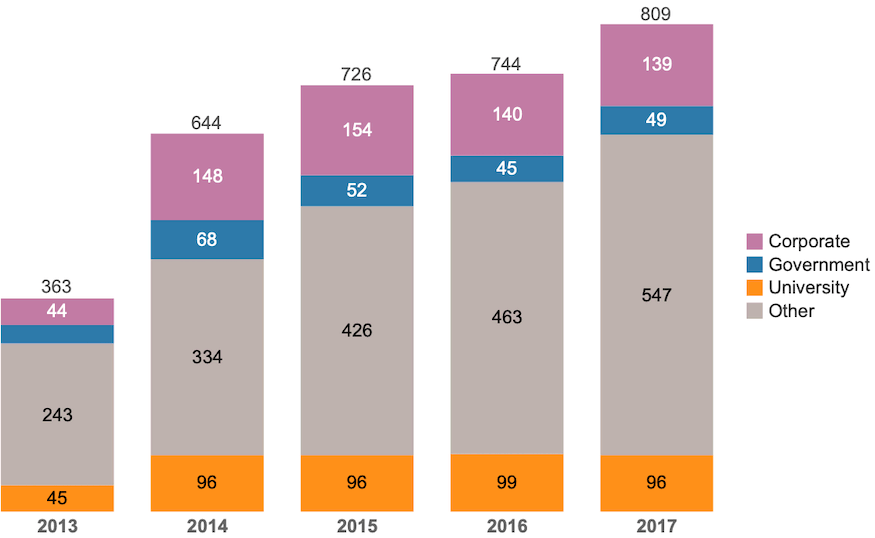 There are no real outliers when it comes to the top 10 universities for capital raised and number of deals by their spinouts, though it is interesting to note that the two charts do not exactly correlate. Fred Hutchinson Cancer Research Centre may look like an odd entry, but it was one of the centres responsible for Juno Therapeutics, which has also licensed some of its technology to Cell Medica, the immunotherapy developer that took home $73m in a series C round led by commercialisation firm Touchstone Innovations in March last year.
Top universities by capital raised by their spinouts

Top universities by number of deals in their spinouts

Let's break down the backers in the top 10 universities by number of deals and capital raised. University of Oxford, University of Cambridge and University of California Berkeley clearly demonstrate their global impact by boasting impressively long lists of backers.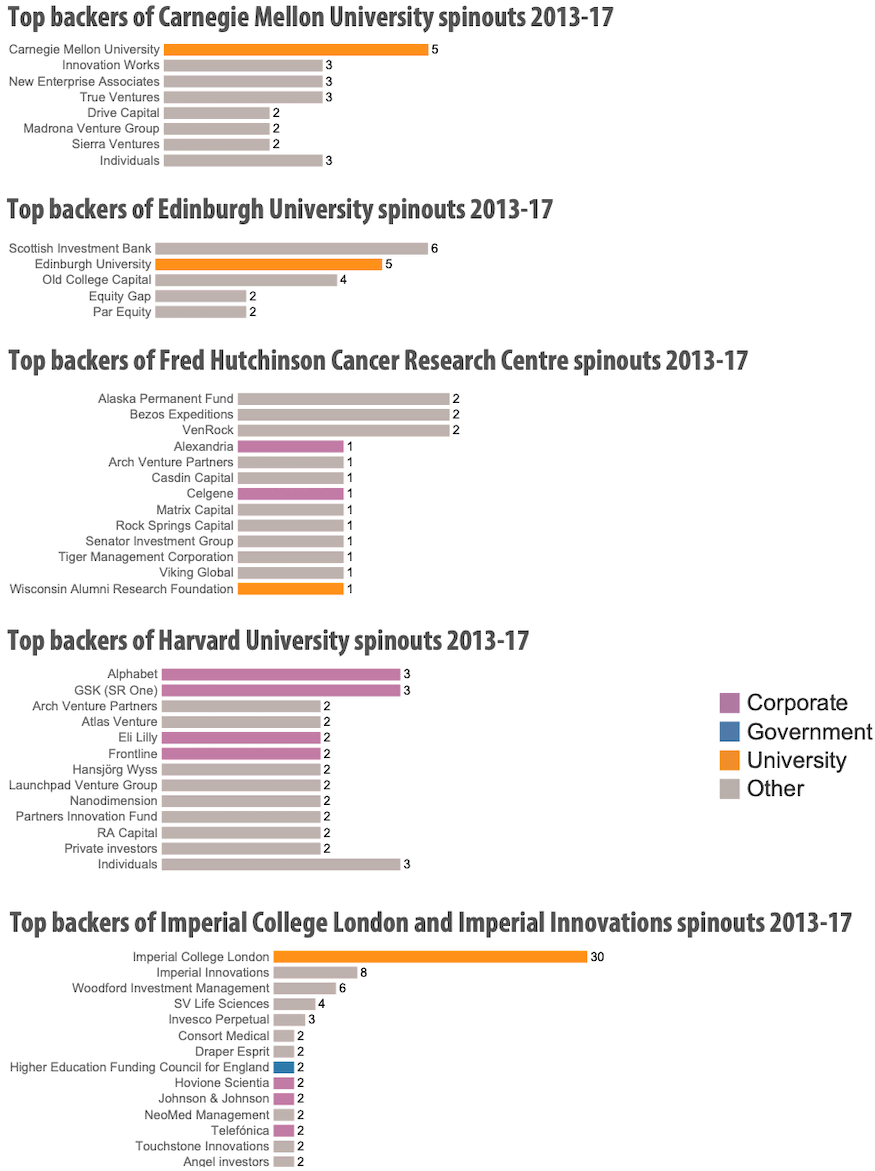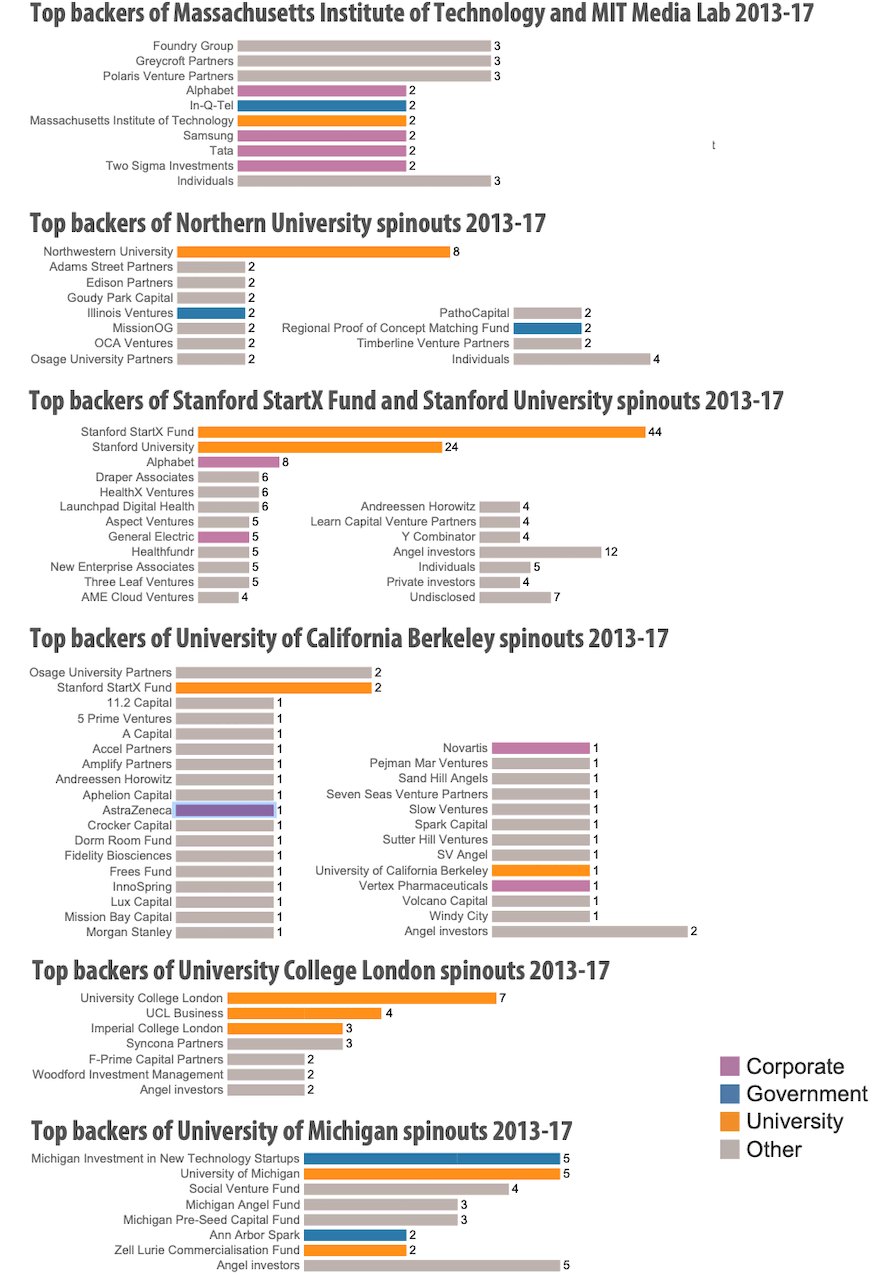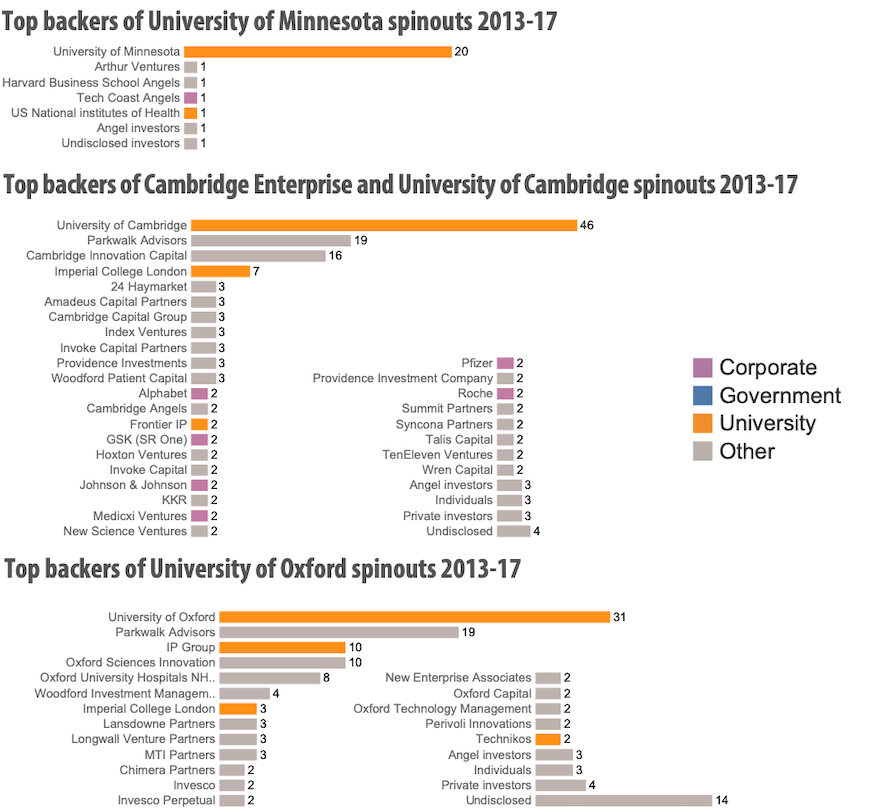 Who are the biggest backers in spinouts? Interestingly, the state of Bavaria leads the pack, ahead of corporates Celgene and Alphabet. But when it comes to exits, the Dutch government has achieved most success so far – though corporate Amgen is neck and neck with that effort.
The presence of Woodford Investment Management is also notable here and underlines how much spinouts can be exposed if there is not a high diversity of investors. The firm has long been keen on the ecosystem, owning shares in IP Group, Allied Minds and countless spinouts, but has been suffering from a cold streak of late.
It began with portfolio business Circassia, an allergy treatment developer spun out from Imperial College London that led to the UK biotech sector's largest public listing in 2014 with $332m in proceeds. Despite being a darling of the sector, Circassia's phase 3 clinical trial failed to prove its cat allergy therapy was more effective than a placebo in 2016.
After a phase 2b trial for a dust mite allergy treatment also failed a year ago, the spinout announced it was giving up on allergy treatments and halted all investments in that area. Circassia's shares, which were worth £3.53 ($5.78) at their height in 2014, have barely scratched £1 since mid-2016.
Woodford was also affected when Allied Minds undertook a $147m writedown in April 2017, cutting off funding to seven spinouts.
And in April 2018, another one of Woodford's portfolio companies, degenerative diseases-focused drug developer Prothena, saw its shares collapse by two-thirds after a key project failed to deliver. Prothena had actually been one of the largest items in the firm's Woodford Patient Capital Trust in 2017.
It has not all been bad news for Woodford, of course, even if that is what the headlines would have one believe – for example, the firm supported a takeover bid by its holding IP Group of another holding, Touchstone Innovations, last year, which was successful.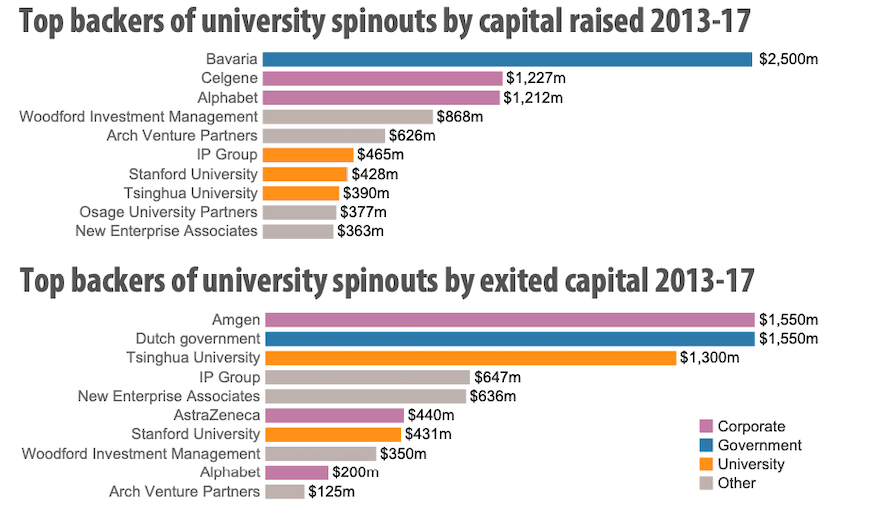 Intriguingly, the ranking looks rather different when considering the number of deals conducted. Here, Stanford-StartX is ahead slightly of Parkwalk Advisors and University of Cambridge. And when it came to the number of exits, public-private partnership High-Tech Gründerfonds, Imperial College London and Stanford University were all at the top.
With five years' worth of data now at Global University Venturing's disposal, it is becoming increasingly clear that the ecosystem is not just a fad but is continuing to deliver solid results year on year – even if progress is not necessarily an upwards trend across the board.
It also bodes well for the years ahead – as Global University Venturing discussed in its editorial in the April 2018 issue, a recent study by Anderson Law has shown that spinouts have a significantly higher survival rate than traditional startups.
And the first quarter review of 2018 in last month's issue only went to underline in what great shape university venturing is.