Oncology Q1 2022 editorial by James Mawson, editor in chief, Global Corporate Venturing
Cancer is a condition that ruthlessly hijacks, replicates and fortifies human DNA, to the cost of countless lives.
As, however, reporter Callum Cyrus found in his prior in-depth look at oncology spinouts for Global University Venturing (GUV), cancer has been targeted for thousands of years with the likes of Sidney Farber and Mary Lasker in the 20th century seeking to convince the government, public and the medical profession that a "war" on cancer could be won, with sufficient will and funding.
"Their efforts were not without error. Breakthroughs descended into despair as patients relapsed. And yet our understanding of cancer has gradually improved, alongside advances in radiation therapy, surgery and cytotoxic drugs."
Perhaps the most exciting initiatives have come through a cultural change to fund basic research and encourage translation into drugs and treatments, as well as the blending of biotech and big tech worlds, as described by Tony Hickson from Cancer Research UK in his podcast with GUV editor Thierry Heles.
The blending of big data and artificial intelligence (AI) with biology is aiding drug development. The world's first AI-designed drug to enter the clinic is from UK-based Exscientia, while a recent profile of a Bristol spinout, CytoSeek, shows the time required to translate ideas into action.
New insights
The fusion between big tech and biotech is creating unusual insights. For example, Israel-based Nucleai's artificial intelligence platform has been adapted from technology used to gather intelligence about military targets from geospatial data coming from satellite and high-altitude images and now applied to the mapping of biological microenvironments.
The company is tackling the question why so many cancer patients fail to respond to immunotherapies, such as checkpoint inhibitors. Being able to identify those that are likely to respond could allow for targeted use immuno-oncology drugs, potentially saving money for healthcare systems.
In specific treatments, attention is increasingly focused on immunoncology and a multi-modal/-omics approach with Innovate UK's Integrated diagnostics programme showing clear research wins, such as with Switzerland-based drugs maker Roche, or in breathomics as a promising (liquid biopsy alternative) approach to non-invasive pan-cancer diagnosis.
More broadly, there are breakthroughs in all stages of cancer's evolution, from Lightpoint, an example of next-generation cancer surgery, to Oxford spinout Owlstone Medical in diagnostics and Seismic, the latest startup from serial entrepreneur Tim Springer (of covid-19 vaccine developer Moderna fame).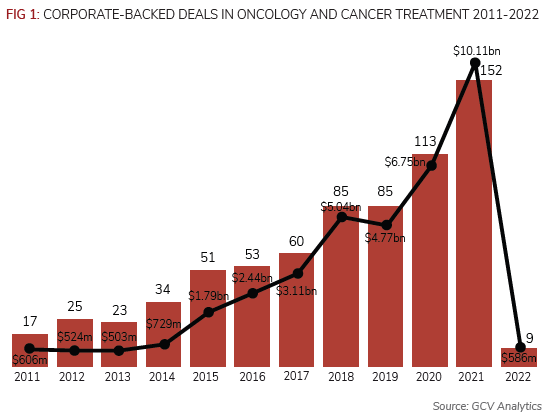 Fighting together
But all these initiatives require an ecosystem to support, whether governments and charities and foundations supporting basic research and proof of concept and seed funding to working with corporate and later-stage investors to scale up opportunities. The partnership has worked with about a 10-fold increase in capital and startups targeting cancer.
The war has yet to be won given half of the population is some areas are expected to get cancer and three-quarters die from it, but the direction of travel is positive with improved longevity and better survival rates. From a death sentence to treatable illness is the goal.
Download the GCV Healthcare Q1 2022 supplement here and the GCV Oncology Q1 2022 supplement here.