Oil and gas companies backed just 32 startup deals with a total estimated value of $1.23 in the first quarter of the year.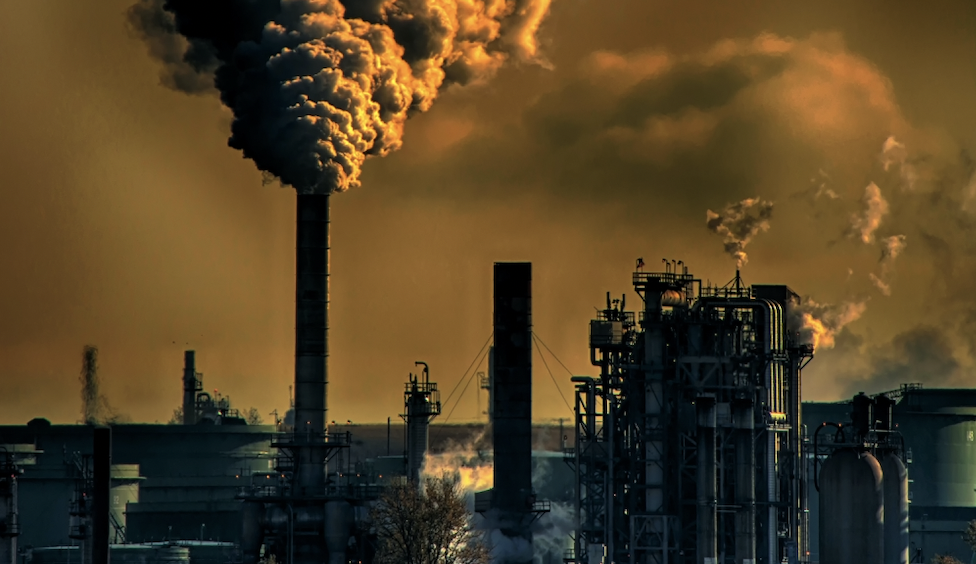 Oil and gas companies backed just 32 startup funding rounds in 2023, down from 46 deals from the same period in 2022. The total estimated dollar value of those deals stood at $1.23bn, a fraction of the estimated $2.39bn deal value of Q1 2022, when energy markets were buoyant owing to strong commodity prices and the squeeze on oil and gas supplies after Russia's invasion of Ukraine.
Q1 2023 is a further slowdown from the previous three quarters, which registered 37 deals each. Total estimated dollar amounts fluctuated between $1.4bn and $2.4bn.
Few exits occurred, reflecting a lack of appetite and overall bearishness in public equity and M&A markets.
On a sector-by-sector basis, the number of deals in cleantech and IT increased in 2022 but fell in areas such as core oil and gas operations, transport and mobility. The same happened in the first quarter of this year.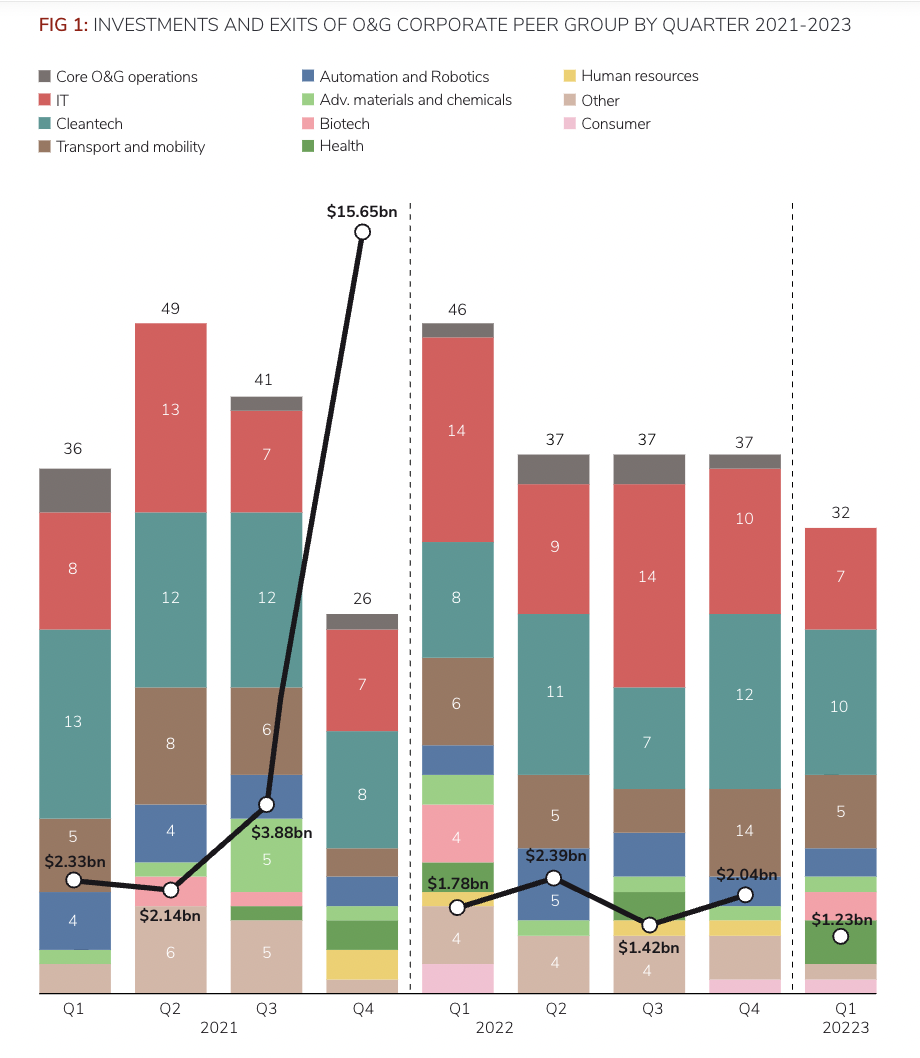 The average size of deals that oil and gas corporate venturing units participated in was $44m in Q1 2023. This figure is slightly lower compared with the average for all of 2022 ($60.7m). This may be due to the disruption caused by the collapse of Silicon Valley Bank, which reverberated through the global venture capital sector. The potential of a recession and a corresponding drop in commodity prices may be making investors take a slightly more cautious attitude.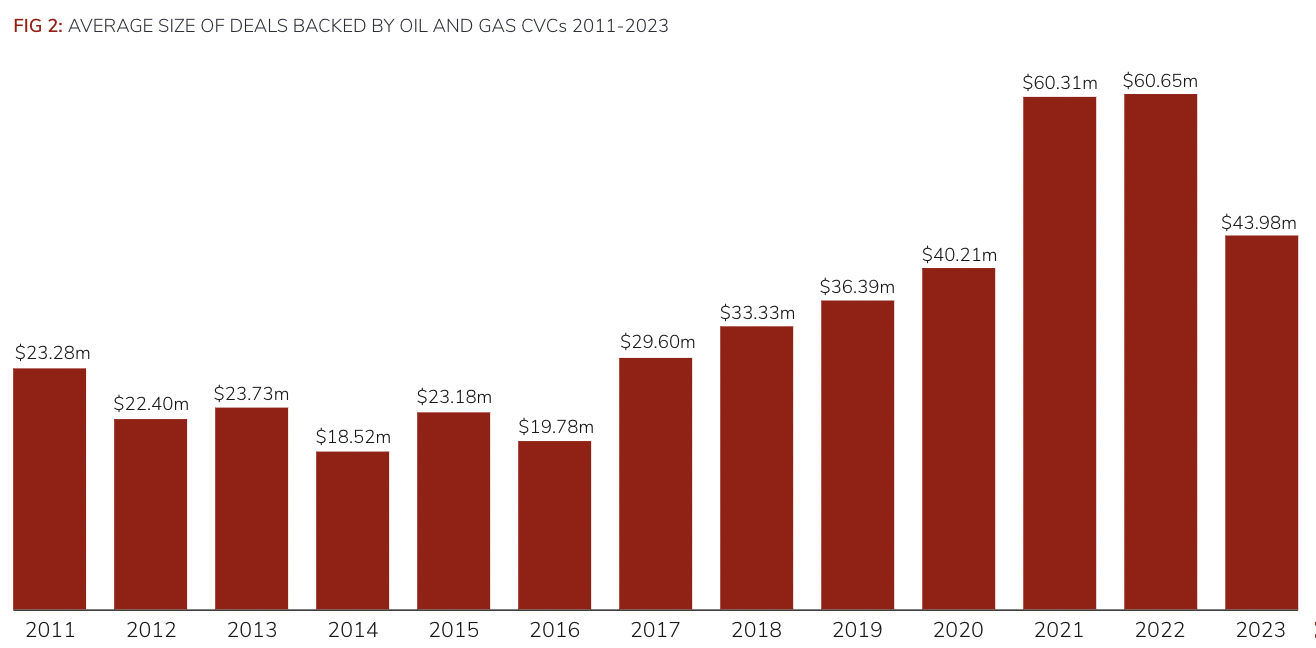 Shell and Chevron have taken the lead in cleantech investments since 2014. Saudi Aramco and Chevron lead on investments in IT technologies, whereas Total, Shell, BP and Chevron invested the most in transport and mobility startups.
Over the years, corporate venture investors have shifted to non-core areas, primarily IT, cleantech, transport and mobility. Such non-core businesses are the most disruptive to the core business of oil and gas companies. For example, the increasing adoption of electric vehicles may affect a large part of the customer base of oil and gas companies.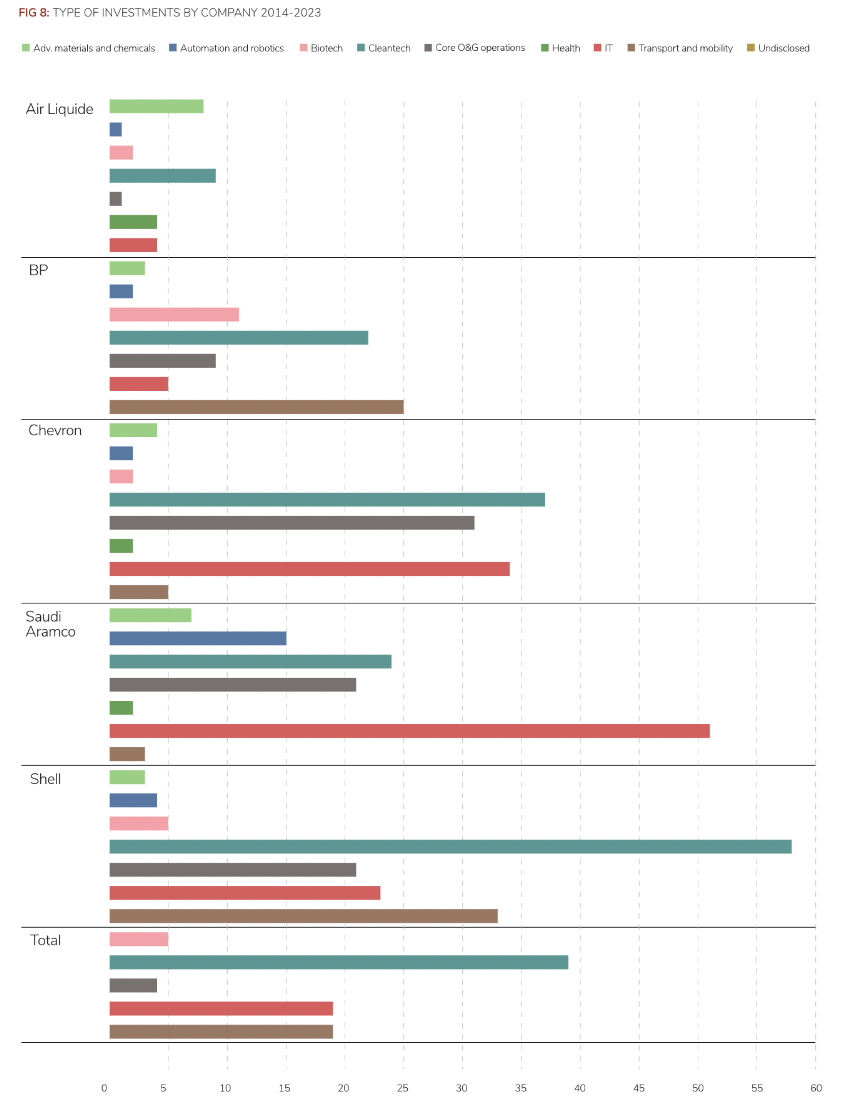 There has also been a growing digitisation of industrial activities, which exerts a tangible impact on production and efficiency. Energy storage, carbon capture, thermal energy and hydrogen-related technologies were among of the most popular investments in the first quarter of 2023.
Oil and gas majors Chevron, Equinor and Saudi Aramco were the most active in the top
deals by dollar size.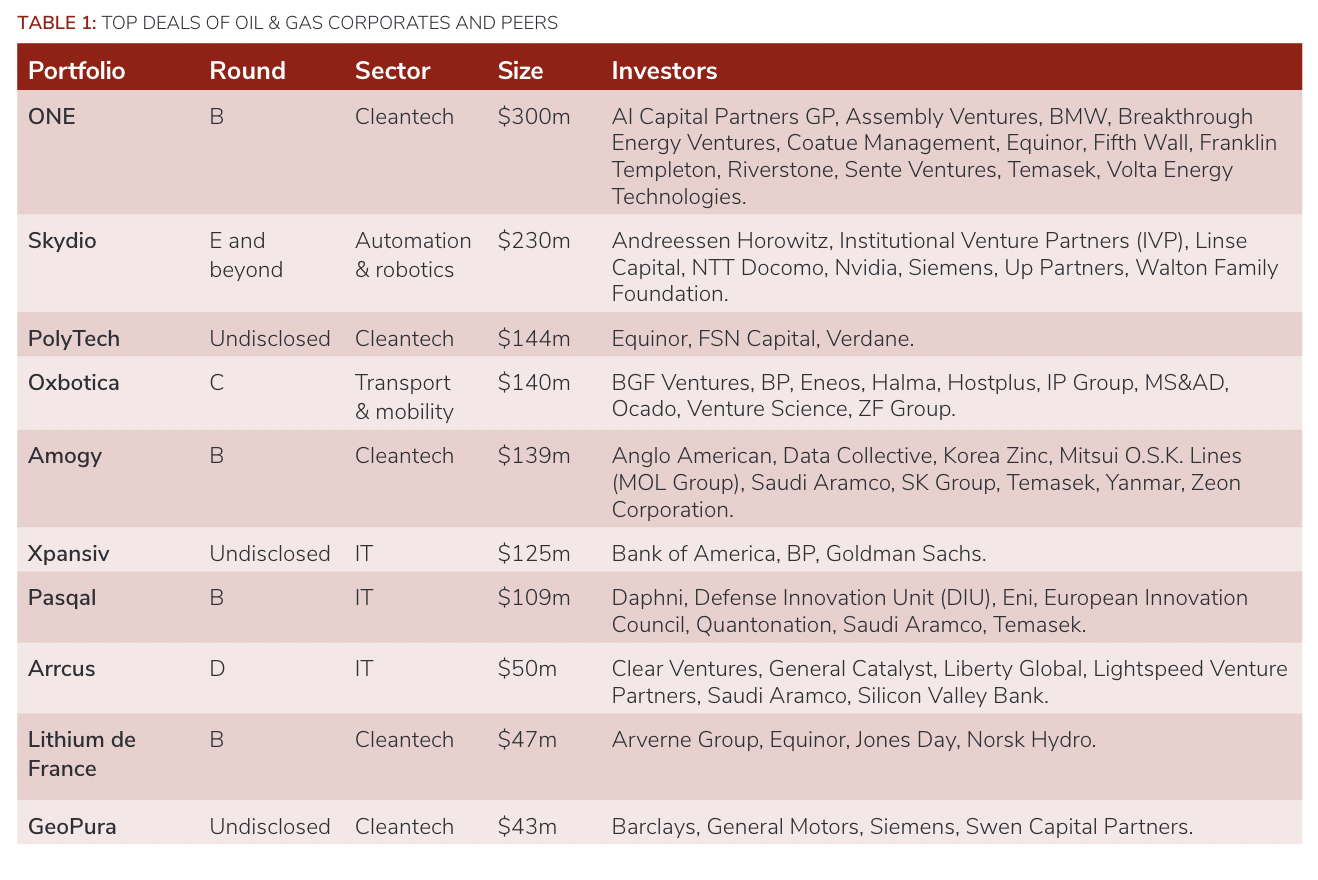 Crude demand to peak
The International Energy Agency stated that demand for crude could reach a record peak in 2023, driven by a spike in consumption in China, a top global importer. The surprise oil output cut by OPEC+ members in early April 2023 could potentially exacerbate a projected supply deficit.
According to data from the US Energy Information Administration (EIA), the available weekly stock of crude is still moving in a "normal" five-year range, statistically speaking.
The recent OPEC+ decision to cut oil output by around 1.16m barrels a day caused the EIA to revise its forecast on the Brent global crude benchmark spot market, which it expects to average about $85 per barrel.
The price forecast "reflects a forecast for less global production in 2023 and a relatively unchanged outlook for global oil consumption", discounting the possibility of economic slowdown damping fuel demand.
Higher oil prices are positive for corporate venturing because more capital will potentially be available
for VC and innovation investing. The EIA also forecasts that West Texas Intermediate futures will move from below $60 to nearly $135 a barrel by the end of 2023. It expects the price to average around $80 a barrel.
The stock of gasoline seems to bemoving outside and below the five-year range because of a shortage of refining capacity. This could lead to higher inflation in the US economy. But the EIA predicts little impact on US gasoline prices. It expects gas prices to average about $3.50/gal between April and September.
The EIA also expects natural gas prices to average below $3.00/MMBtu for 2023, implying a larger than 50% drop compared with last year. This forecast is based on the rise of natural gas inventories above five-year ranges and natural gas prices stabilising in Europe.
---