Global Energy Council Q1 2022 editorial by James Mawson, editor in chief, Global Corporate Venturing
To transition to a clean energy economy, abundant energy storage must be deployed quickly and at scale to allow supply to match demand when both can be variable.
Under traditional energy systems, power from nuclear plants has been effectively constant, with top-up or base load from coal or gas as demand from industry or consumers required. Relying more on renewable sources, such as solar and wind, makes the supply side vulnerable to the weather.
Countries, therefore, are exploring other options, including wider-area transmission networks, such as cables from North Africa to the UK, improved energy efficiency to tamper demand and giving greater control to the end-user through software.
US-based Fermata Energy's bi-directional electric vehicle (EV) charger and software can put power from stored energy in EV batteries directly back into the grid, building, or home. This functionality turns EVs into energy storage resources.
In July 2021, as part of their participation in the 5G Studio, a collaboration between US-listed phone operator Verizon and Newlab, Fermata Energy's V2X energy management software used Verizon's 5G Ultra Wideband network to react to changes in the grid based on near real-time data and with near-zero latency. Through this partnership, Fermata Energy was connected to Verizon Ventures, the corporate strategic investment arm of Verizon, which contributed to its $40m round in January.
"Distributed energy use and storage continue to grow in importance, in part due to the fast-growing EV space," said Kristina Serafim, managing director of Verizon Ventures. "Both 5G and mobile edge computing are integral to the future of managing and tracking distributed clean energy."
High Demand
There has been increased interest in the demand-side of energy investing from other CVCs, too. A record number of corporate-backed venture deals last year came with nearly an order of magnitude increase in deal value, according to data provider Pitchbook.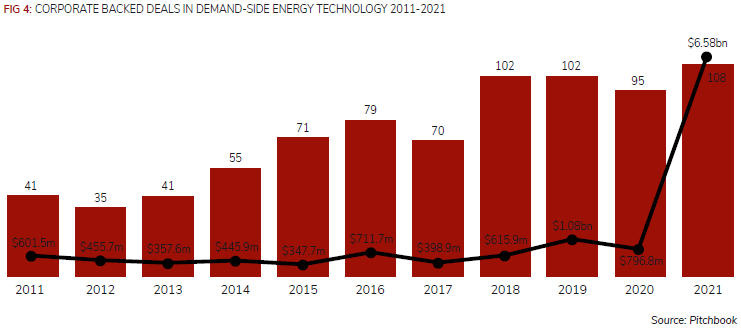 Particularly active in the sector were traditional energy groups, such as Shell, TotalEnergies and Equinor.
This is part of massive investments made in climate tech, with funding having increased 210% over the past year, according to the Financial Times.
"There have been some stunning advances in the efficiencies and cost dynamics of solar, wind and battery technologies. Many investors are betting big on hydrogen, next-generation nuclear and carbon capture, too. Further out, hopes are rising that nuclear fusion and space-based solar power may provide carbon-less sources of energy across the world," said the FT.
According to PwC's recent State of Climate Tech report, around 6,000 investors, ranging from venture capital and private equity firms to government funds and philanthropists, have backed more than 3,000 climate tech startups since 2013. In total, investors have sunk about $222bn into these startups.
But at the heart of the innovations will be technology to align supply and demand.