HR software provider Employment Hero has scored a unicorn valuation as it looks to strengthen its international presence - and Seek could have the ideal CVC profile to help.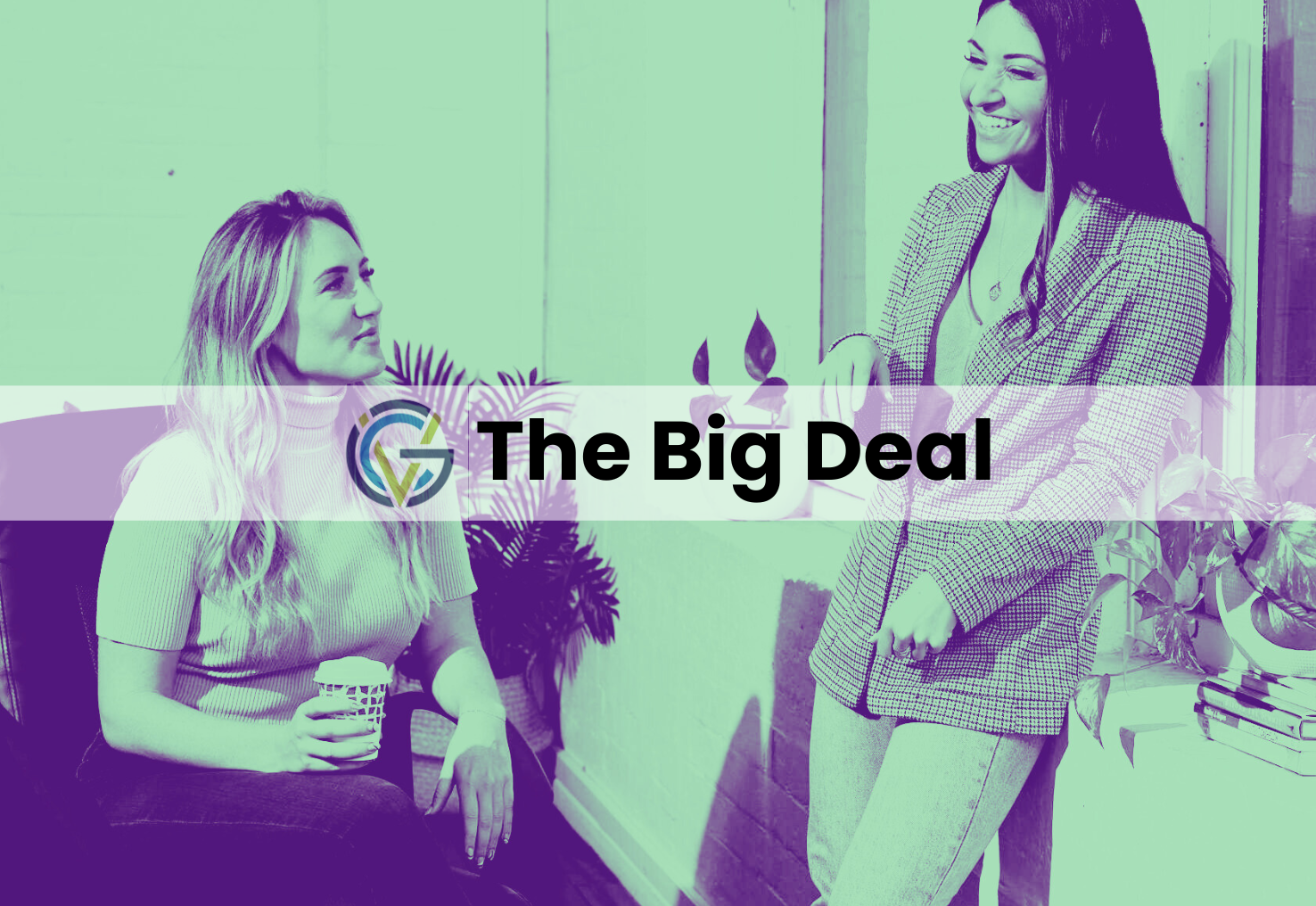 Human resources software producer Employment Hero became Australia's latest billion-dollar company this week following an investment round that included local employment marketplace Seek.
Employment Hero's cloud software platform allows businesses to automate back-office functions like recruitment, payroll and benefits, as well as providing learning and development tools for employees. During the Covid-19 pandemic when home working increased dramatically, it also developed tools to help companies monitor their teams remotely.
Seek, which has backed a number of emerging recruitment and HR startups, was part of a A$263m ($168m) series F round led by growth equity firm TCV. The round gave Employment Hero a $1.36bn valuation, and existing backers Insight Partners, AirTree and OneVentures also participated.
Although many growth-stage startups have struggled to raise money in the past two years, particularly at the higher end, Employment Hero has bucked the trend. This round comes 18 months after a $129m round also backed by Seek that closed at an $890m valuation.
The funding will support an ongoing growth drive that will involve the company doubling its team in the UK – a market where it has 20,000 business customers – to 180, it told TechCrunch this week. Its other core countries are Australia, New Zealand, Singapore and Malaysia, but the UK represents its first big market outside the Asia Pacific region, following in the footsteps of some of Australia's most successful startups.
The country's most highly valued venture-backed companies are largely in the enterprise software sector: most notably, graphic design tool provider Canva, financial technology producer Airwallex and workplace training provider GO1 (see below). These are in addition to publicly-listed success stories like workplace collaboration platform Atlassian and buy now, pay later service Afterpay.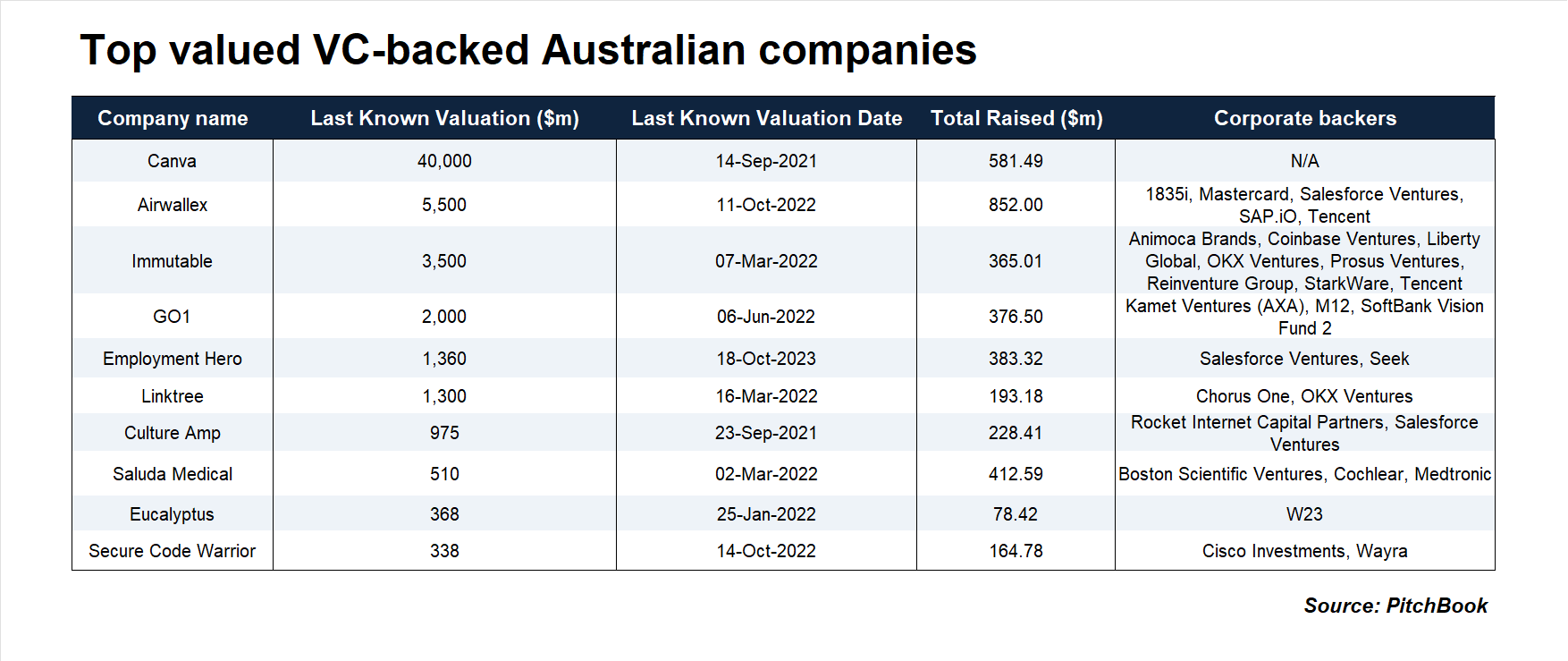 All of these companies are marked out by their willingness to expand internationally, setting up offices in the United States and sometimes elsewhere, targeting a fixed enterprise market and establishing themselves as global businesses. Employment Hero may not have imminent plans to enter the US fully, but it has taken steps to internationalise.
CVCs can help with international growth — but are they doing enough in Australia?
The other success factor for Australian startups is being able to raise funding, and corporates have played a part in that – albeit not quite as much as they could.
Seek stands out as one of the most active Australian corporate venturers, having backed Employment Hero since its 2018 series B round, alongside Go1 and the likes of employee support platform Sonder, on-demand staffing system Sidekicker and Hireup, the creator of a recruitment platform for support workers.
But corporates as a whole are not overly active in Australia's startup scene. Less than a third of the country's VC deals this year have included a corporate according to Pitchbook data, but the encouraging sign is that involvement has gradually increased over the past decade. The country's two biggest years, in 2021 and 2022, were also the years when corporate VCs were most active proportionally.

The advantages a corporate backer can bring go beyond money: they can help with the internationalisation process that turns a regional player into an international challenger. This is perhaps even more pronounced when an Australian corporate like Seek can provide access to resources in home and overseas markets together with the expertise necessary to expand elsewhere.
Examining the most active CVCs in Australia, Seek perhaps stands out among the domestic banks and retailers as having the kind of international presence that can help with that expansion. Atlassian also runs an investment arm, but it's based in Silicon Valley and has a portfolio that reflects that. Local telecoms firm Telstra has spun off its own CVC unit and its strategy also leans heavily towards the US.
Australian startups are best advised to look for local CVC investment for its first couple of rounds and then to an international investor when they begin to reach global scale. But they may be hard-pressed to find those international backers.
Salesforce Ventures has been the country's most active CVC, having set up a $50m Trailblazer Fund in 2019 (and invested in Employment Hero two years later), but it shut its Australian office earlier this year as part of a cost-cutting exercise. Few if any others maintain a presence in the country.
In a post-Zoom world this may not matter. Software companies don't need to invite an investor to their HQ to demonstrate the product and investors now operate internationally without leaving the office. Perhaps Employment Hero can be a standard bearer of the next wave of Australian tech companies going global and help break the continent's relative geographical isolation.