It pays to invest in these companies. Research shows they are less likely to fail and will attract two to three times more investment.
It is official: making the world a better place is not only a good thing to do, it makes good investment sense as well.
Startups focused on sustainable development goals (SDG), such as climate action and clean energy, were less likely to go out of business in the past six years than those who did not focus on these areas, new research by NGP Capital shows.
"That perceived trade-off that investing in purpose-driven companies will mean lower returns simply doesn't exist anymore," said NGP Capital's managing partner, Bo Ilsoe.
The Nokia-backed venture capital firm looked at 2,292 startups from Europe, the US and Israel that had been founded no earlier than 2015 and raised at least one equity funding round, and found a meaningful difference in survival rates. Some 4.5% of non-SDG-focused startups in that cohort had ceased operations, compared to just 2.6% of the SDG-focused ones.
The findings came as a surprise to the NGP team, Ilsoe said, and he couldn't entirely explain the trend.
"It could be that purpose-driven businesses are more successful in retaining staff, and they may resonate better with consumers, making them more robust," he said.
SDG-focused startups were also more likely to have closed a series A or growth round and would typically raise two to three times the amount secured by their non-SDG counterparts.
The median round size for startups with no SDG focus was $2.4m, but startups focused on sustainable goals like Zero Hunger, climate action and clean energy typically logged upwards of $5m.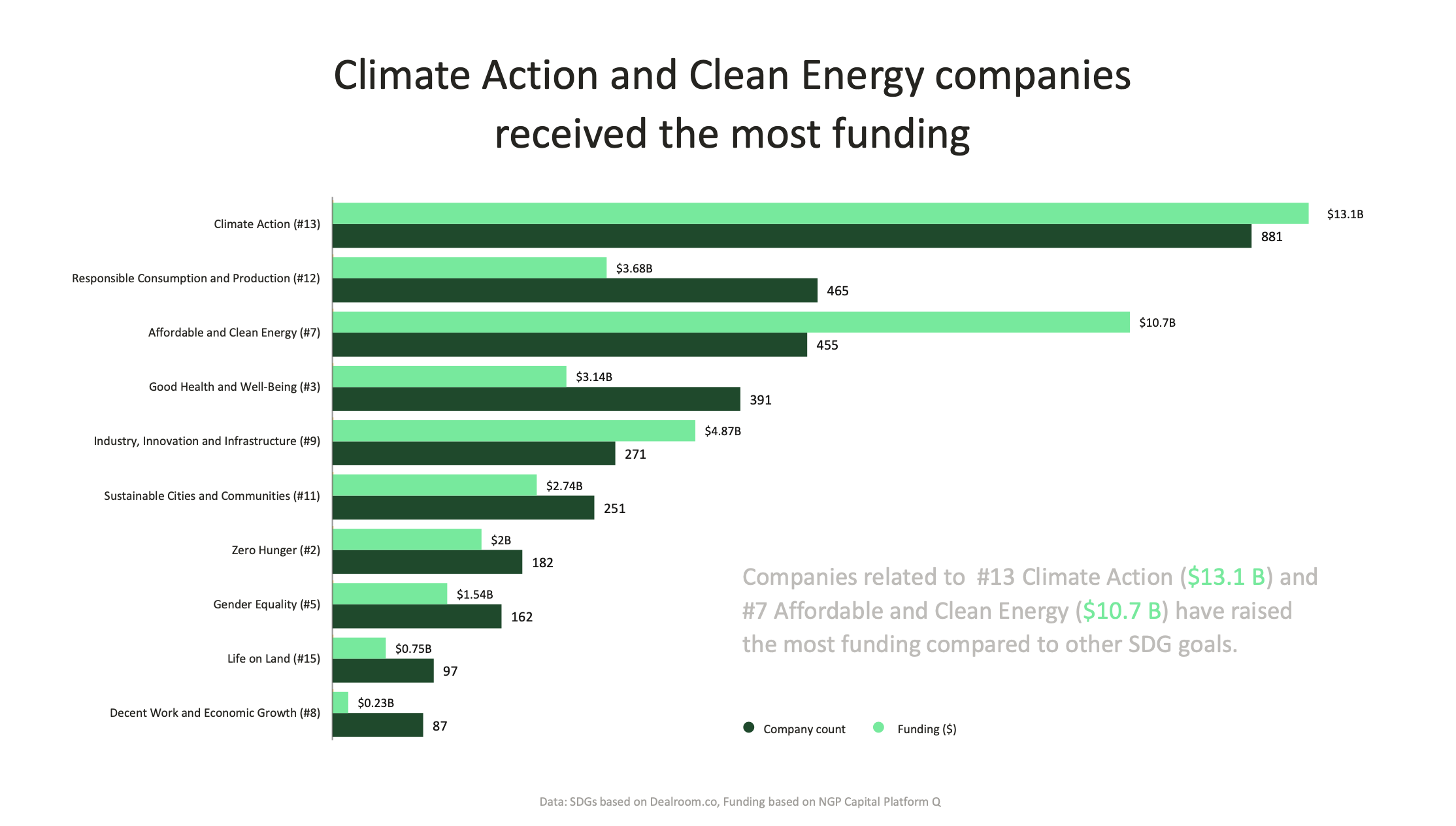 SDG-related startups are becoming more attractive for investors, who are coming under pressure to get their ESG house in order as the European Sustainable Finance Disclosure Regulation (SFDR) kicks in. All institutional investors now have to report how they take sustainability factors into account.
"Everyone will have to articulate how they think about ESG and it can't just be lipstick on a pig," Ilsoe said.
NGP Capital has invested in a number of businesses that can, broadly speaking, be put into the SDG bracket, including Clue, the developer of a women's health and fertility monitoring app, and Shippeo, which helps to rationalise freight and logistics. They didn't make these investments because of the SDG element, Ilsoe said, but it has been a welcome bonus.
SDG-focused startups are becoming increasingly mainstream. SDG startups founded in or after 2015 raised $24.2bn in venture funding last year and accounted for 8.4% of total global funding raised. This is up dramatically from 2015, when their share of the pie was just 1.4%.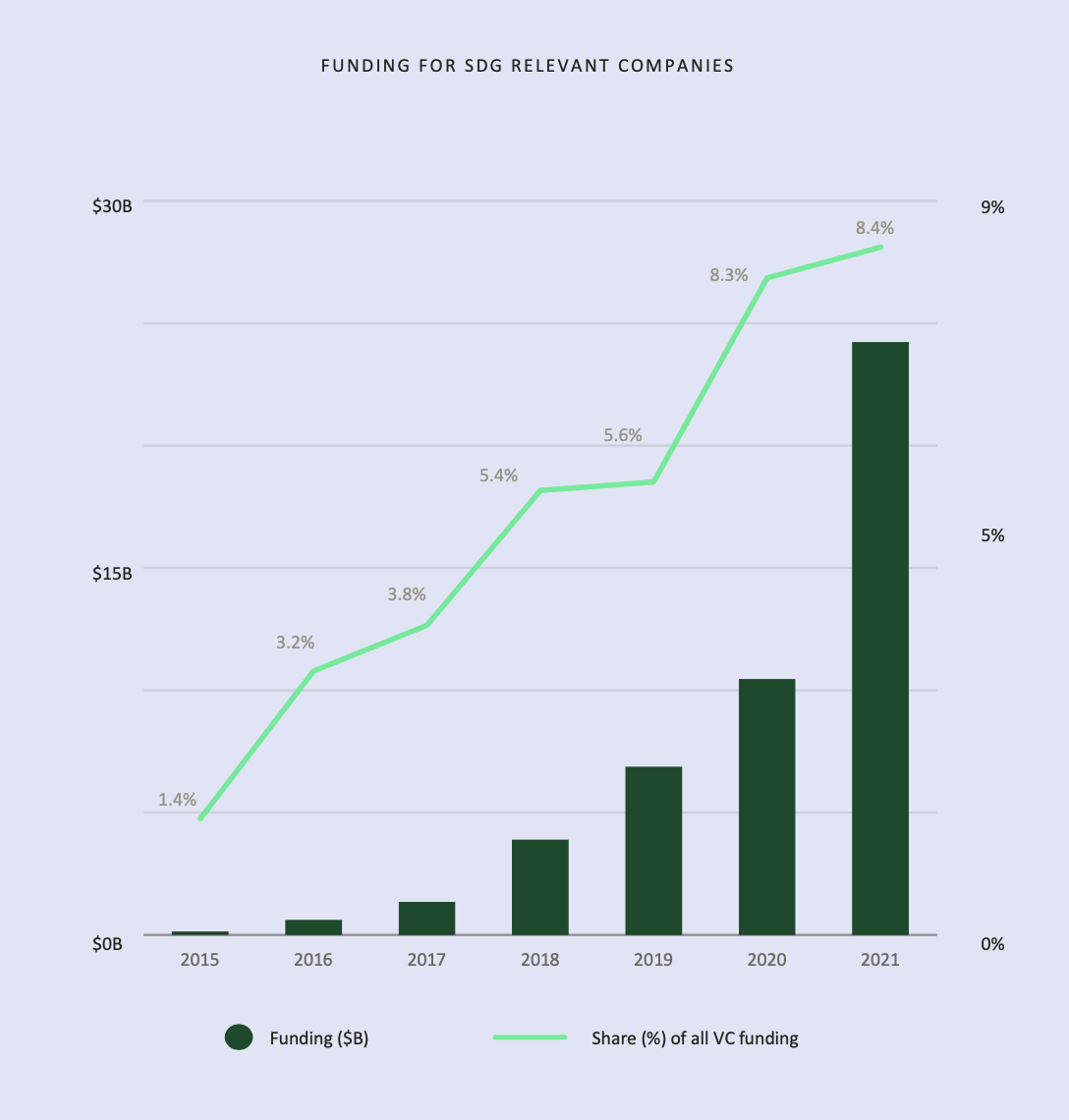 Europe is far ahead on this trend: European SDG startups raised some 14.7% of the total funding there in 2021, compared to just 6.2% of the total for their US counterparts.
The one downside of sustainability-related startups was that they seem slower to reach an exit. Some 7.3% of non-SDG-focused startups in the NGP study had achieved an exit since 2015, compared to 5.5% of those with an SDG focus.
Photo by Guillaume de Germain on Unsplash.